How to Choose a Fashionable Pair of Jeans for a Man
Every man's casual wardrobe needs a perfect pair of jeans that suits him for a variety of social events. A man can either to choose to dress up with that favourite pair of jeans, or dress down with something more suitable for the weather or event. However, many denim jeans come in a variety of different styles. Eg. Slim fit, relaxed, etc. Some men have difficulty when it comes to choosing the perfect fit and style that suits their needs. Some of the most common styles for men's jeans are:
Skinny Jeans
Designed with a tighter / narrow fit at the ankle and the pant legs. Made to look the wearer look thinner.
Loose Jeans / Relaxed
Designed to have a very loose fit so they don't hug any part of the wearer's legs.
Regular
The classic cut follows a straight line from the hips to the ankles. The ankle hole is wider than the skinny jeans, but smaller than the relaxed fit. The Regular fit is essentially the "average" fit.
High Rise vs Low Rise
The rise is the distance between the bottom of the crotch and the waist of the jeans. Low Rise jeans are very short and closer to the navel, high rise jeans are closer to the belly button. Depending on the body type certain styles are considered to be more fashionable. Eg. Someone who is bit more plump wearing low rise jeans can end up with a "muffin top butt" sticking out the top, which isn't attractive to see because it ends up looking like a plumber's butt.
How are Jeans sized?
In inches, the numbers are something like 32*36, wherein the first number is always the waist size and the second number is the length of the inseam of the leg (the inseam is the seam that goes from the crotch to the ankle).
Fashion Trends
Over time fashion trends continually change every year, including things like the type of wash (vintage wash, stone wash, acid wash), the material of the denim, the stretchiness of the denim, the physical weight/thickness of the denim, and colour trends. Eg. khaki jeans for men or a grey jeans outfit. The Hipster Fashion Cycle dictates that older styles become popular again, often with new variations on older themes. Fashion trends tend to repeat themselves after 35 years. So whatever fashion styles were popular in 1987 could potentially become popular in 2022.
---
The Hipster Fashion Cycle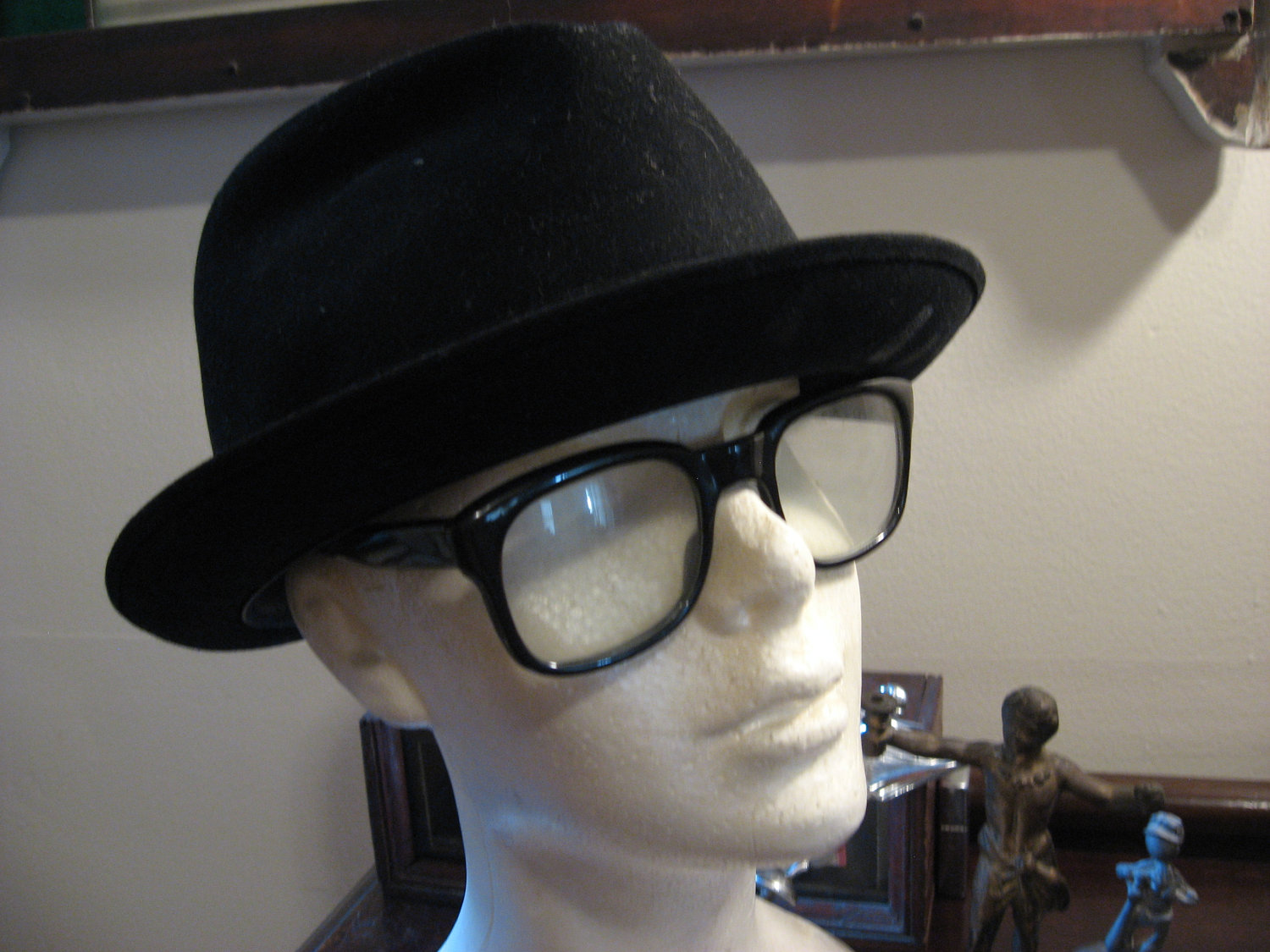 By Monique Bellamont - February 2012.
See that hat that hipster is wearing?
Its a Hamburg. Or if it has a feather in the side its a Swiss. Some people mistakenly call them fedoras, but they're not.
The problem with hipster hats like the Hamburg however is that these things go in trends. It is a bit like James Laver's Law of Fashion, which explains how trends come and go.
James Laver's Law of Fashion
| | |
| --- | --- |
| Indecent | 10 years before its time |
| Shameless | 5 years before its time |
| Outré (Daring) | 1 year before its time |
| Smart | Current Fashion |
| Dowdy | 1 year after its time |
| Hideous | 10 years after its time |
| Ridiculous | 20 years after its time |
| Amusing | 30 years after its time |
| Quaint | 50 years after its time |
| Charming | 70 years after its time |
| Romantic | 100 years after its time |
| Beautiful | 150 years after its time |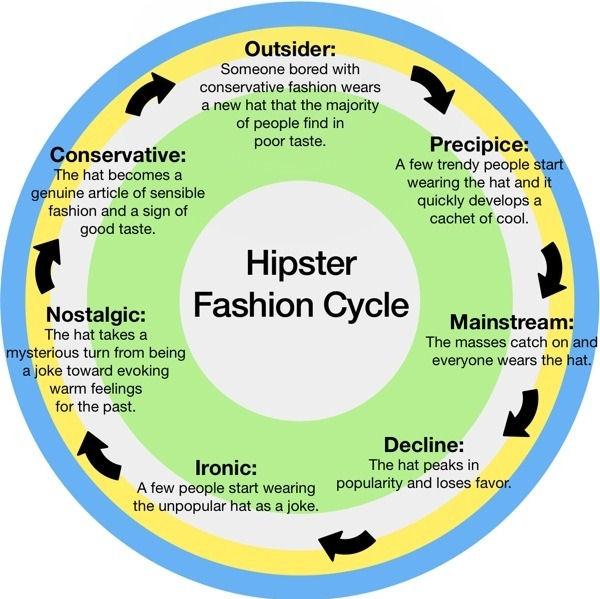 Using Laver's standard we can determine that the heyday for the Hamburg was during the 1920s and 1930s. By the 1980s the hat had become "quaint" and by now it is considered "charming", which makes it an ideal target for hipsters (because hipsters love to be charming).
This fashion cycle isn't just limited to hats either. It applies to art, dance, music and many other things. That is why swing music suddenly became kewl again in the late 1990s. Its why many household appliances now use art deco designs. In other 30 years we will suddenly think that fashion and items from the 1950s will be the kewlest things since sliced bread.
Mens Hats keep changing, but there isn't a lot of new options coming out. Which is why keep bringing back the old things and reinventing them.
As time wears on we will see more and more people breaking with the conservative standard and wearing things unusual. City people wearing cowboy hats is something I have been seeing more of. Bizarre as it may seem, its the new trend. Not sure if its reached a fad yet... but give the hipsters time, they will see the benefits of wearing cowboy hats once the allure of the Hamburg has worn off.
Rugged, manly, adventurous cowboy hats... quaint and charming.
---
Hungry for more fashion commentary? Visit our blog: Fashion Salon.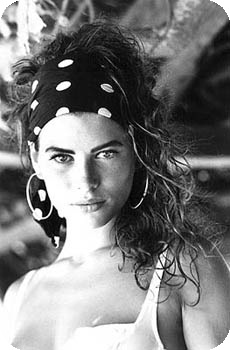 Fashion Do's and Don'ts
& How to Survive When You Have Nothing to Wear!
By Monique Bellamont - August 2009.
RULE #1: Fashion rules are there to be broken.
RULE #2: Having fashion sense is all about knowing what looks good on YOU, not what looks good on Paris Hilton or Naomi Campbell.
RULE #3: When fashion magazines or self-proclaimed experts say something is "Over, Bourgeois, Tired, Common, So last year or Very yesterday/last week/last century" it means the person talking now considers that particular style or colour to be out of style and are now pushing the next big thing, which they will usually describe as being "New, Now, Fresh, Brave, Chic, Divine, Girly, Love, Important, or To die for."
RULE #4: Don't listen to fashion magazines or self-proclaimed experts. They are just copying what everyone else is saying.
RULE #5: Trend setters either create something new or go retro to bring something from the past and make it new again. Trend followers are just copycats with no fashion sense of their own.
RULE #6: When picking out something to wear or shopping, always ask several things: A. Is this practical? B. What if it rains? C. Can I afford this? D. Will I ever wear this or am I just filling my closet with things I will never wear? E. Does it actually look good on me or am I just fooling myself?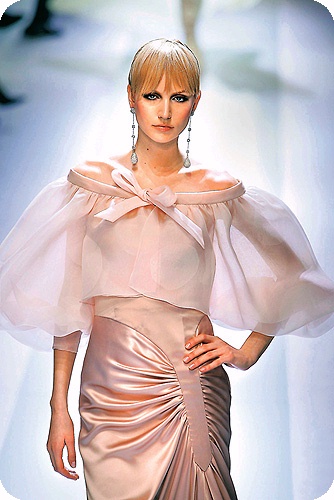 RULE #7: Some colours match, some don't, but does it really matter? Sometimes you want to wear opposing colours because it will stand out more.
RULE #8: Just because it is a men's shirt, pants, socks or whatever doesn't mean it won't fit or suit you. I happen to believe men's briefs look very good on women.
RULE #9: Before stepping outside ask yourself "What if I die today and this is the clothing I am found wearing? Do I want to be found dead wearing corduroy pants and a leather thong?" (Or whatever you happen to be wearing!)
RULE #10: Last but not least, passe means that something has been already. Avante garde means nobody has ever done it before. See the difference? Don't misuse terms.
This season its all about what clothes just scream embellishment and look pretentious. No wait, that is every season. Every fashionista is always trying to look better than she really does, but far too many lack the common sense to realize they look like they are trying too hard to be kewl... understand the difference? These people are poseurs. They buy the latest shoes, the newest glasses (which may or may not be retro), the kewlest, most decorative jeans they can find and the end result is someone who is wearing a mish mash of competing styles... if a guy dressed that way we'd call him a douchebag. When a girl does it she is a douchebaggette.
And I will not apologize for saying that. Some people just try too hard and it shows. They flaunt their new fashion, but in reality its not new because they're copying what everyone else is doing. Worse, the poor girl is copying all of them at the same time. Please people! Don't be a douchebag(gette)!
Far too few women and girls out there know how to use a sewing machine... sewing is so easy its amazing more people don't take it up as a hobby or turn it into a profession. Everyone needs clothes. Clothes wear out. Clothes go out of fashion. Clothes don't fit like they used to. The fashion industry is everywhere and it is one of the oldest professions the world has ever seen.
And if you are on a budget, what could be cheaper than needle, thread and some fabric? True, some fabrics can be pricier than others, but if you shop around you can rip apart old clothes, 2nd hand clothes and recycle the old fabric to make something which is kewl, unique and nobody else has it.
People will wear what is convenient sometimes so if you are on a budget do some research and see what is out there. There are a tonne of YouTube videos on how to make your own clothing, sew, knit, darn socks, do your hair, clean fabric stains, etc. all on a budget. It won't take too much time or research and the next thing you know you will be a bit of an expert on the topic.
If you become really obsessed you can also take evening or weekend classes on fashion design. Many cities and large towns have clubs and classes you can join if you look hard enough. They're always looking for new members.
The beauty of fashion is that you can always match things with other things. Once you have bought a good sized wardrobe (or have sewn your own) you can coordinate clothing to create specific looks. To do you will need a good size full length mirror and test the mirror's quality to make sure you look good in it.
After that you are pretty much set.
I recommend reorganizing your closet by colour, not by type of clothing. Make it into a rainbow. It is faster to find a specific piece of clothing when you only have one yellow sweater and its the only sweater in the yellow section. Other people like to organize their closets using different methods, but it doesn't really matter which method you use so long as it WORKS.
My last tidbit of advice? If old people are wearing it then it is officially out of style. Thats right. If your mom or grandmother starts wearing low cut jeans that shows off her ass crack its time to rip those jeans apart and reuse the fabric. Happy sewing!