Fashion Designers L to M
The Fashion eZine - Designers
---
This Website is Best Viewed Using Firefox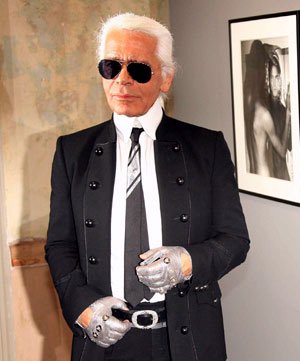 Karl Lagerfeld
Karl Lagerfeld (born Karl Otto Lagerfeldt on September 10, 1933) is widely recognized as one of the more influential fashion designers of the late 20th century. He has collaborated with a variety of different fashion labels, with Chloé, Fendi and Chanel the most notable. But with contracts with companies internationally, throughout his career, he has probably built the most complicated resume of any designer. Furthermore, he has his own labels, which he launched in the early 1980s, including perfume and clothing. He has also played a role in equipping leading artists.
Karl Lagerfeld was born as the only child of Christian and Elizabeth Lagerfeld in 1933 in Hamburg, Germany. His father was a member of a Swedish merchant-banking family and made his fortune introducing condensed milk to Germany. His mother, Elizabeth, was German. Lagerfeld was born 10 years after the couple's marriage, when his mother was 42 and his father 60. He has several half-siblings from his parents' previous marriages. A Catholic baptismal record indicates his birth date as 10 September 1933 but Lagerfeld states he was born in 1938. German birth records are not open to public inspection. The German newspaper Bild am Sonntag has quoted his former teacher and classmates as confirming the earlier date.
Together with his mother, Karl Lagerfeld emigrated to Paris in 1953. In 1955, at the age of 22, Lagerfeld was awarded a position as an apprentice at Pierre Balmain, after winning a competition for a coat sponsored by the International Wool Secretariat. He told a reporter a few years later, "I won on coats, but actually I like designing coats least of all. What I really love are little black dresses."
Yves Saint Laurent also won the contest for a dress award. "Yves was working for Dior. Other young people I knew were working for Balenciaga, whom they thought was God, but I wasn't so impressed," he recalled in 1976.
In 1958, after three years at Balmain, he moved to Jean Patou, where he designed two Haute Couture collections a year for five years. His first collection was shown in a two-hour presentation in July 1958, but he went by the name of Roland Karl, rather than Karl Lagerfeld (although in 1962, reporters began referring to him as Karl Lagerfelt, and Karl Logerfeld.) That first collection was poorly received. Carrie Donovan wrote that "the press booed the collection." The UPI noted: "The firm's brand new designer, 25-year old Roland Karl, showed a collection which stressed shape and had no trace of last year's sack." The reporter went on to say that "A couple of short black cocktail dresses were cut so wide open at the front that even some of the women reporters gasped. Other cocktail and evening dresses feature low, low-cut backs."
Most interestingly, Karl said that his design silhouette for the season was called by the letter "K" (for Karl), which was translated into a straight line in front, curved in at the waist in the back, with a low fullness to the skirt.
His next collection, for Spring 1959, was a vast improvement according to Carrie Donovan, who noted that the press "applauded widely and even shouted several bravos." She wrote that "His clothes... have a kind of understated chic, elegance, and just plain 'class' that has not been seen on this side of the Atlantic since Molyneux and Mainbocher closed up shop." His skirts for the Spring 1960 season were the shortest in Paris, and the collection was not well received. Carrie Donovan said it "looked like clever and immensely salable ready-to-wear, not couture." And in his Fall 1960 collection he designed special little hats, pancake shaped circles of satin, which hung on the cheek. He called them "slaps in the face." Karl's collection were said to be well received, but were not groundbreaking. "I became bored there, too, and I quit and tried to go back to school, but that didn't work, so I spent two years mostly on beaches – I guess I studied life."
After leaving Patou in 1962, he immediately launched himself as a freelance designer, working with brands such as Mario Valentino, Repetto, and the supermarket chain Monoprix. With money from his wealthy family, he set up a small shop in Paris. At this time, he would often consult with Madame Zereakian, Christian Dior's Turkish fortune teller. Lagerfeld later said, "She told me I'd succeed in fashion and perfume."
In 1963 he began designing for Tiziani, a Roman couture house founded that year by a man named Evan Richards (b. 1924) of Jacksboro, Texas. It began as couture and then branched out into ready-to-wear, bearing the label "Tiziani-Roma -- Made in England." Lagerfeld and Richards sketched the first collection in 1963 together. "When they wound up with 90 outfits, Tiziani threw caution and invitations to the winds, borrowed Catherine the Great's jewels from Harry Winston, and opened his salon with a three-night wingding," according to one report in 1969.
Lagerfeld designed for the company until 1969. Elizabeth Taylor was a fan of the label (she to Evan as "Evan Tiziani") and began wearing it in August 1966. Gina Lollobrigida, Doris Duke and Principessa Borghese were also customers while Lagerfeld was designing the line. He was replaced in 1969 with Guy Douvier. In 1964 he began freelancing for Chloe in Paris, which would become one of his most important positions. At first he designed just a few pieces a season, but he eventually began designing the whole collection.
In 1970, while maintaining his position at Chloe, he began designing for the Roman Haute Couture house Curiel (the designer, a woman named Gigliola Curiel, died in November 1969.) It was a brief collaboration. His first collection was described as having a "drippy drapey elegance" designed for a "1930s cinema queen." The Curiel mannequins all wore identical, short-cropped blonde wigs. He also showed black velvet shorts, to be worn under a black velvet ankle-length cape. His Chloe collection for Spring 1973 (shown in October 1972) garnered headlines for offering something both "high fashion and high camp." He showed loose Spencer jackets and printed silk shirt jackets.
He designed something he called a "surprise" skirt, which was ankle-length, pleated silk, so loose that it hid the fact it was actually pants. "It seems that wearing these skirts is an extraordinary sensation," he told a report at the time. He also designed a look inspired by Carmen Miranda, which consisted of minibra dresses with very short skirts, and long dresses with bra tops and scarf shawls. In 1972 he began his long collaboration with Fendi, designing furs, clothing and accessories.
At the time, he had also been maintaining a design contract with the Japanese firm Isetan, to create collections for both men and women through 30 licenses; had a lingerie line in the US, produced by Eve Stillmann; was designing shoes for Charles Jourdan, sweaters for Ballantyne, and worked with Trevira as a fashion adviser.
In the early 1990s he once employed strippers and the late Italian adult film star Moana Pozzi to model his black-and-white collection for Fendi and causing US Vogue editor in chief Anna Wintour to stand up and leave the show.
He has produced legendary pieces like the shower-dress, with beaded water streaming down the front; a car-dress with a radiator grille and fender, and a multitude of outstandingly eccentric hats.
Lagerfeld, along with Calvin Klein, was the target of a pieing by PETA in 2001 at a fashion premiere at Lincoln Center in New York City In 2004 he designed some outfits for the international music artist's Madonna Re-Invention tour, and recently designed outfits for Kylie Minogue's Showgirls tour.
According to some reports,he will design a dress for Mariah Carey's upcoming "M by Mariah Carey" perfume promotion. Recently, Lagerfeld collaborated with the international Swedish fashion brand H&M. On November 12, 2004, H&M offered a limited range of different Lagerfeld clothes in chosen outlets for both women and men. Only two days after having supplied its outlets, H&M announced that almost all the clothes were sold out.
Lagerfeld has expressed a lack of fear that working with lower-end brands will taint his image, although in the past he has worked closely with the exclusive hosiery designer Wolford. Lagerfeld is also a photographer. He produced Visionaire 23: The Emperor's New Clothes, a series of nude pictures of South African model David Miller. He also personally photographed Mariah Carey for the cover of V magazine in 2005.
The designer was also the subject of a French reality series called Signé Chanel in 2005. The show covered the creation of his Fall/Winter 2004-2005 Chanel couture collection. It aired on Sundance Channel in the United States during the fall of 2006. On December 18, 2006, Karl Lagerfeld announced the launch of a new collection for men and women dubbed K Karl Lagerfeld. The collection will include fitted T-shirts and a wide range of jeans.
Lagerfeld is also famous for a dramatic transformation of his body, when he lost 42 kg (roughly 92.6 pounds) in 13 months. "I suddenly wanted to dress differently, to wear clothes designed by Hedi Slimane," he said. "But these fashions, modeled by very, very slim boys—and not men my age—required me to lose at least 40 kg. It took me exactly thirteen months." The diet was created specially for Lagerfeld by Dr. Jean-Claude Houdret, which led to a book called The Karl Lagerfeld Diet.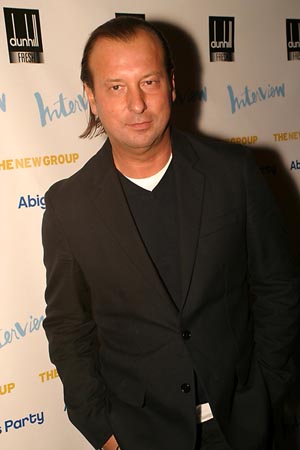 Helmut Lang
Helmut Lang was born in Vienna in 1956. Having originally been trained for a financial career, Lang only decided to move into fashion after he failed to find the perfect jacket and T-shirt in the shops and was forced to make his own. "I wanted to be an artist but I was so in awe," he later explained to Vogue in September 1998. "I had a Catholic education, which leaves you with a great big helping of guilt and unworthiness that I went to business school instead."
Lang opened his first shop to such acclaim that, in 1986, the Austrian government invited him to contribute to a national exhibition at the Pompidou Centre in France. His designs went down a storm, and, by the end of the year, he had staged his first catwalk show in Paris. But Lang was not built for the "heat of the fashion cauldron". Though continuing to show there, he soon moved back to Vienna. His early shows were intimate - even cramped - affairs. While executive editor of Frank, his close friend Kim Stringer explained that this was largely because "he was always worried that no one would turn up, so he invited everyone he knew".
In keeping with his modest reputation, he remained based in Vienna, resisting the lure of the four major international fashion capitals, until the late Nineties, when he finally relocated to New York. In April 1998, three days before he was due to show his first collection in the US, Lang decided to change his plans and broadcast it to the world instead, live on the Internet. That spring, Lang finally began to really cash-in on his achievements, with the launch of his own lower-priced jeans collection.
The following season, Lang raised eyebrows once again, when he announced that he wanted to leapfrog the collections in London, Milan and Paris and show in mid-September, almost two months before the rest of the New York shows were scheduled to start. Though a Manhattan newcomer, Lang proved to be something of a pied piper, as a dozen designers, including Donna Karan, Calvin Klein, Vivienne Tam and Nicole Miller soon followed suit.
In 1999, Lang sold a majority stake in his business to Prada.