Fashion Designers G to H
The Fashion eZine - Designers
---
This Website is Best Viewed Using Firefox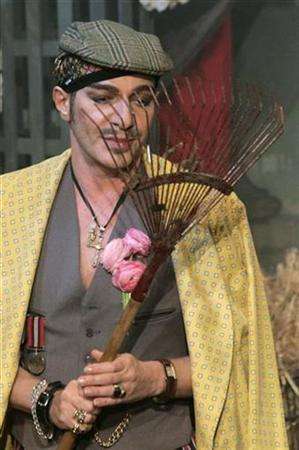 John Galliano
Born in Gibraltar in 1960, Dior's chief designer John Galliano graduated from London's prestigious St Martins College of Art & Design with a first-class degree in 1983.
His graduation collection, called 'Les Incroyables' and inspired by the French Revolution, met with immediate acclaim (Vogue's Spy column described Galliano as "a modish costumier, with a preference for romanticism and androgyny"). The collection was snapped up in its entirety by Joan Burstein, who put the designs in the window of her South Molton Street boutique, Browns, during London Fashion Week. Among those who saw the display was the French designer Joseph, who placed an order with Galliano, sparking feverish interest in the fabulously inventive young graduate.
Galliano officially launched his own label in 1984, producing historically influenced designs laced with a contemporary edge. Part romantic, part maverick, Galliano was always a couturier at heart and delicate bias-cut gowns and superbly tailored suits fast became his trademark. In 1987, they won him his first British Designer of The Year award. But his financial difficulties did not end, so in 1990, Galliano turned his back on London and joined the ranks of international designers seeking their fortunes at the ready-to-wear collections in Paris.
Before securing a contract with luxury conglomerate LVMH Moet Hennessy Louis Vuitton, Galliano faced bankruptcy on more than one occasion despite consistent critical acclaim. His salvation was the loyalty he inspired in other figures within the fashion business, like Kate Moss, who were prepared to work for little more than love in the early years.
Happily, in 1995, Galliano was appointed chief designer at Givenchy, becoming the first British designer to head a French couture house. He grabbed headlines with a series of risque designs aimed to transform the profile and fortunes of the back-dated company. A year later, on 14 October 1996, Galliano was awarded the glittering prize of the house of Christian Dior - Givenchy's stablemate at LVMH. His first couture show for Dior coincided with the label's 50th anniversary, 20 January 1997.
These days, between his label and Dior, Galliano is responsible for producing six couture and ready-to-wear collections a year and a new mid-season range under his own name. He also follows a rigorous exercise regime, which sees him rise at 6am each morning to complete a gruelling, 40-minute aerobic session with his personal trainer, before embarking on a 10-minute stretch, 150 push-ups and a six-mile jog along the banks of the Seine. "Working flat out, it was a necessary step to take," he once said. "It helps to concentrate the mind and I find that I have so much more energy and focus." In 2000, he went as far as to claim that he also had found his inspiration for the couture collection of boho-meets-hobo chic he unveiled that January during his jogging sessions, as he ran past les clochards, the homeless people, lining the river, adding that he hoped to expose the pure decadence of the couture by "turning it inside out".
Galliano won the title British Designer of The Year in 1987, 1994, and 1995. In 1997, he shared the award with Alexander McQueen, his successor at Givenchy.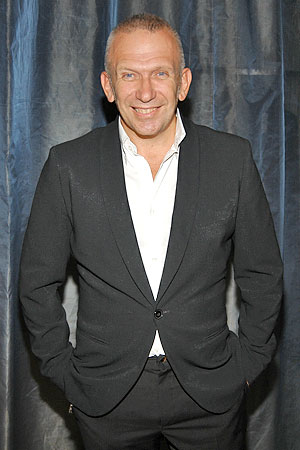 Jean Paul Gaultier
Born on April 24, in 1952, Jean-Paul grew up in a self-contained Parisian suburb. He spent a large part of his youth skipping school to stay at his grandmother's house, drawing imaginary high fashion collections and listening to the gossip of the ladies of the town who came to her for beauty treatments and tarot readings.
Obsessed with haute couture, the shy ingenu was supported in his design ambitions by his parents - albeit with some reserve - and started his first job on April 24, 1970, working for fashion house Pierre Cardin after school. The position proved an all-consuming passion, and in his own words Jean-Paul "failed brilliantly" after taking his final exams.
A dark period followed, when, as the most junior member of Cardin, Jean-Paul was made redundant because the house was over-staffed. Overcoming this eventually, he worked briefly for Jacques Esterel, where he learnt much of what was to become his signature style, and at the couture house Patou. Returning to Cardin in 1974, he was sent to Manila to represent the company. His designs proved hugely popular among Philippines' powerful clients, so much so, he says, that the government refused him an exit visa when he wanted to leave. Finally, he claimed that his grandmother had died and went home.
Returning to France in July 1975, Jean-Paul raised the money to present his first collection, with the help of Francis Menuge, the man he has described as the love of his life. It was not until 1978, though, that he received the financial backing to produce his own line. The platinum blond went on to make the Eighties his own, becoming a part of the pop culture he had so closely followed. Jean-Paul's controversial designs, including dresses for men, and stints as a presenter on camp UK television show Eurotrash confirmed his cult status.
Superstar Madonna certainly agreed, commissioning Jean-Paul in 1990 to design for her Blonde Ambition tour, where he produced outfits including her trademark pointed basque and bra, a look he had previously shown on the catwalk. In 1997 the controversial Frenchman designed the sumptuous Luc Besson film The Fifth Element, and achieved his childhood dream of releasing his own couture line. And in 2003, fashion house Hermes announced Gaultier would take over as chief designer, the first time in 25 years the creative Frenchman has designed for any label other than his own.
It seems Jean-Paul will always be set against the spirit of his contemporaries. After shaking up the world of fashion as a youth, questioning accepted tenets and originating presentation techniques now built upon by designers such as John Galliano, his couture skills are increasingly rare among the creators who have followed in his footsteps.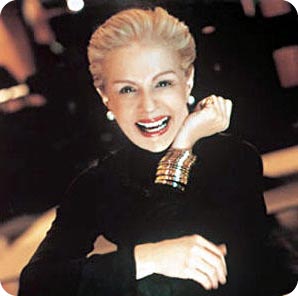 Carolina Herrera
Carolina Herrera was born in Caracas, the capital of Venezuela on the 28th of August 1969. According to her, reality and fantasy blend together in her childhood memories. She probably had such a happy childhood that she finds it hard to believe that it was not a dream.
She grew up in the family hacienda, where she played in a garden filled with every type of flowers. When the little girl breathed in the scent of those beautiful colourful flowers, she did not imagine that one day she would create one of the most famous perfumes of our time: 212.
However, flowers were not the only things that she loved as a child. Like her mother, Carolina has always adored animals. "I grew up surrounded by big and small dogs and when I was nine years old", she recalls, "I was given a beautiful puppy to look after. That is where my love of dogs come from".
Apart from her love of animals, her parents also instilled in her a sense of responsibility and the gift of organisation from an early age. She was at boarding school for a while, even though her most vivid memories are of the days spent at home: her cousins, parties, that kitchen which became an ideal place to let her imagination fly... Carolina recalls: "I adored the kitchen of that house, I loved to sit on a seat and watch what was going on there. I carefully examined each object as each of them contained their own world. It was an old place, similar to a cave. It took me back to the Middle Ages. It also was a laboratory where my grandmother, an excellent cook, managed to create the most unexpected and delicious flavours".
Yet, above all, what was deeply forged in those happy childhood days was the lasting feeling of belonging to a family to whom she is totally devoted. She is still very close to her sisters and in particular to her younger sister, Patricia, who she often telephones. Carolina and her father send each other numerous e-mails every week.
When she was very young, Carolina Herrera learnt to trust in herself and her instinct. Her imagination was more important than any toy when it came to playing. In fact, creativity is a fundamental part of her: "Creating things with my imagination as a child has helped a great deal in my work for the Carolina Herrera brand. To help in the birth of a product such as 212 or in the CH line of clothes requires a huge dose of imagination".
The British School of Caracas was where many hours of her childhood were spent. Times of learning: "When I started, I didn't speak a work of English. The first word I learnt was pillow. I was totally lost and I thought all the teachers were crazy. I still have my exercise books and I look at them from time to time". Her first school, the first homework… and her first boyfriend: a young man called Philippe.
When she was 12 years old, Carolina moved to New York with her parents. She had a British accent from her years at the British School of Caracas, which she soon had to adapt to the way that New Yorkers speak. There were many changes: uniform, girls' school, going by herself to school. "Changes, "she recalls "that my parents had to adapt to and give me more freedom and more free time. I started going out with my friends and boys telephoned me at home, but I also began to discover that marvellous city of New York, with its taxis, its subway, its parks, its museums… All of which I miss when I am away on a trip."
When she finished school, she went to college in Poughkeepsie, where she studied Bio-chemistry and Bio-psychology. When she graduated, she thought about continuing in this area and began to work in a laboratory at the Rockefeller University. "I then felt as if my heart was telling me that this was not the right thing for me. One evening, I meet a film director who was looking for a production assistant. We talked for a long time and, even though I told him that I had no experience of the film industry, he took me on".