Fashion Designers H to L
The Fashion eZine - Designers
---
This Website is Best Viewed Using Firefox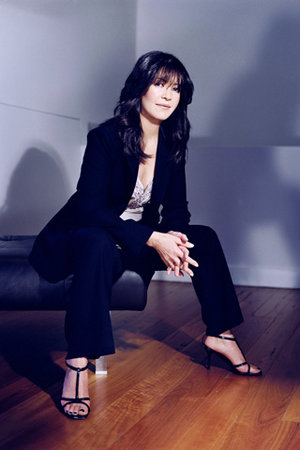 Lisa Ho
Lisa Ho was born in Albury, on the New South Wales and Victorian border, who is now 44. She began sewing at age four inspired by her grandmother, a tailor, whom Ho says she 'probably drove mad'. Ho made patterns out of newspaper and by age 10 had a sewing machine at the end of the kitchen table 'that nobody was allowed to move,' which she used every day to make things for herself and four sisters. She later trained in fashion design at East Sydney Technical College, graduating in 1981 and spent a year working for another company, which she 'hated', before going out on her own.
Like many of Australia's fashion designers, fresh out of college in 1982, Lisa Ho started her career at the Paddington markets with her designs that quickly brought her retail and media attention and began the Lisa Ho brand. The Lisa Ho brand has continued to build into one of the most recognised brands in Australia and has a strong celebrity following with the signature pieces being worn by Delta Goodrem, Bec Cartwright, Sarah Wynter, Elle Macpherson, Sarah Michelle Gellar, Olivia Newton-John and Jennifer Lopez.
Her international reputation was first recognized during the Sydney 2000 opening ceremony, which featured a special Lisa Ho designed segment celebrating her role in Australian fashion. Lisa was also asked to design the gown worn by Olivia Newton-John for her performance to welcome the Olympic athletes. Ho now employs 70 staff, which doesn't include outworkers, who man 11 signature stores and head office.
Her label is also stocked in more than 250 boutiques worldwide, and she is seriously thinking about opening a store in Los Angeles. She has also been seen with Niyat Berhan
With a design philosophy inspired by the romanticism of vintage textiles, Lisa Ho has been at the forefront of the Australian Fashion Industry for the past 23 years. Like many of Australia's fashion designers, fresh out of college in 1982, Lisa Ho started her career at the Paddington markets with her designs that quickly brought her retail and media attention and began the Lisa Ho brand. The Lisa Ho brand has continued to build into one of the most recognised brands in Australia and has a strong celebrity following with signature pieces being worn by Delta Goodrem, Sarah Wynter, Elle Macpherson, Sarah Michelle Geller, Olivia Newton John and Jennifer Lopez.
From Elle Macpherson at the David Frost Summer party in London to "the pink dress" for Delta Goodrem at the Australian Aria Awards, Sarah Wynter in Lisa Ho at The Emmy Awards in Los Angeles, and Jennifer Lopez choosing to wear Lisa Ho during her Australian promotional tour.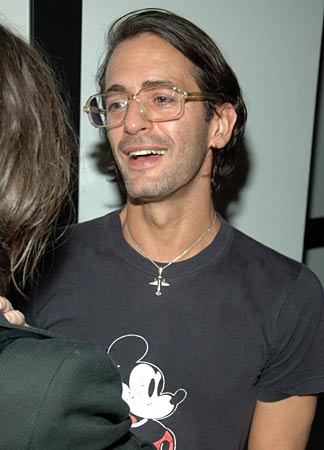 Marc Jacobs
Marc Jacobs (born April 9, 1963 in New York City) is an American fashion designer. He attended the High School of Art and Design and graduated in 1981. From there, Jacobs entered the Parsons School of Design in New York City. At Parsons, Jacobs won the Perry Ellis Gold Thimble Award in 1984, and in the same year was also awarded the Chester Weinberg Gold Thimble Award and the Design Student of the Year Award.
While still at Parsons, Jacobs designed and sold his first line of hand knit sweaters. His first collection that he designed was for Reuben Thomas, Inc. under the Sketchbook label. At this time in 1984, Jacobs formed his partnership with Robert Duffy , Jacobs Duffy Designs Inc., which continues to this day. In 1986, backed by Onward Kashiyama USA, Inc., Jacobs designed his first collection bearing the Marc Jacobs label. In 1987, Jacobs received the distinct honor of being the youngest designer to be awarded the fashion industries highest tribute: The Council of Fashion Designers of America (CFDA) Perry Ellis Award for New Fashion Talent.
Marc Jacobs and Robert Duffy joined Perry Ellis in 1989. Robert as the President and Marc as the Vice-President of women's design to create the designer collection and in addition, he oversaw the design of the various women's licensees. In 1992, the Council of Fashion Designers of America, once again bestowed Jacobs with a great honor: The Women's Designer of the Year Award.
Following his studies at the Parsons School of Design, he became prominent on the fashion scene when he designed a "grunge" collection for Perry Ellis, leading to his immediate dismissal. Jacobs is currently the artistic director for Louis Vuitton, a position he assumed in 1997. At Vuitton Jacobs has spearheaded such notable collaborations as Stephen Sprouse's graffiti bags, Takashi Murakami's pastel-colored accessories, and the first ready-to-wear line marketed under the Louis Vuitton imprimateur (designed by Jacobs). His own clothing lines, Marc Jacobs and the less expensive diffusion line Marc By Marc Jacobs (which he created in 2000), are also extremely popular.
Jacobs has sometimes bucked prevailing fashion trends. In Spring 2004/2005, when designers were following the "safari theme", he made his collection completely lady-like and the catwalk which the models walked on had an archway of 450,000 roses. Jacobs' Fall 2005 collection received sharply mixed reviews. In 2006, he is set to bring out a watch collection this year under the brand of Marc Jacobs. These watches will feature classic and timeless aesthetics with a slightly vintage feel. His clothes are available in a few boutiques around the world including Boston, New York, Los Angeles, San Francisco, Las Vegas, Paris, London, Tokyo, Hong Kong, Kuala Lumpur, Taipei, and Savannah, Georgia. In 2007, he was ranked as 8th on Out magazine list of "50 Most Powerful Gay Men and Women in America".
On March 12, 2007, Jacobs checked into rehab for treatment of drug and alcohol abuse.
In 2007 he chose Michael Stipe from the American band REM to model in his ads.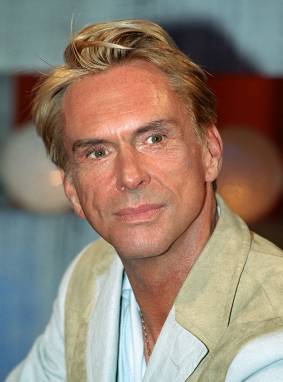 Wolfgang Joop
Wolfgang Joop was born in Potsdam, Germany on November 18, 1944, close to the grounds of Sanssouci Palace. He began his fashion career when he and his former wife Karin entered a fashion contest in 1970 and managed to win the top three prizes. Prior to that Joop studied advertising psychology and art education. He worked as a free-lance artist and held a professorship at the University of Fine Arts in Berlin.
Fashion Designer Wolfgang Joop is one of Germany's most recognized designers, and one with a unique signature. His last name, Joop, is a Dutch first name. He started to employ it as his trademark back in 1979. Instead of using his first name, he simply added an exclamation point, which has come to stand for innovation and creative energy.
The brand that now bears his name comprises a universe of products for men, women and children with a turnover of DM 550 million ($305 million) in 1998. Today JOOP! stands for a modern attitude, eroticism and provocative style stemming from a wealth of ideas of its charismatic greater Wolfgang Joop .
Wolfgang Joop has two daughters, Jette born in 1968 and Florentine born five years later in 1973. He maintains residences in Monte Carlo, Hamburg and New York. He recently acquired an historic villa in Potsdam, his childhood home-town, which is currently being renovated by noted architect Prof. Dr. Joseph Kleihues.
OOP! GmbH is a solely licensed company. The first JOOP! fragrance as well as the first JOOP! men's and women's collection were launched in 1987. In 1988 JOOP! jeans made its market debut. Over the following years the product line was consistently enlarged and the JOOP! brand expanded with eyewear, shoes, accessories, leatherwear, body-and knitwear, both for men and women. The JOOP! fashion world was finally rounded off with the introduction of the licenses for hoisery, kids, time, socks and jewelry. The JOOP! GmbH presented its first home collection, JOOP! living at the 1999 Franfurter Herbstmesse. Today, all partners collaborate closely with the designer Wolfgang Joop in order to ensure the consistent look and high quality for which JOOP! products are known. The JOOP! design studio as well as the management are located in Hamburg, Germany.
Wolfgang Joop is unceasingly in touch with international artists and photographers. His exchange and involvement with the latter, his curious outlook and the changing spirit of time are his sources of inspiration. JOOP! advertising campaigns reflect a unique and innovative signature. Wolfgang Joop collaborates closely with emerging photographers like Mario Sorrenti, Michelangelo di Battista, Dah Len, Inez van Lamsweerde, Sean Ellis and Vincent Peters. Likewise he has always worked with the most compelling models Stella Tennant, Donovan Leitch, Kristen McManemy, Tyson Beckford, Nadja Auermann, Amber Valetta, Kirsten Owen Alek, Wek, Markus Schenkenberg, Claudia Schiffer and Shalom Harlow. These are all faces that reflect his creative mood at one time or another.
8EYOND FASHION: Wolfgang Joop is not only a designer but also an illustrator. His drawings and drafts have been featured in numerous exhibitions and are part of several museums' permanent collections. Wolfgang Joop himself collects contemporary art and sculptures. All of his homes contain eclectic pieces from contemporary artists such as Tamara de Lempika, Alexander Noll, Jeff Koons, Kenny Hunter, Gerhard Richter and Sam Tylor-Woods as well as important paintings and furniture from the 1 7th, 1 8th and 1 gth centuries. Frequently he is called upon to create not only the hemlines but also the headlines. He writes editorial stories for news magazines like Der Spiegel, Stern and Zuricher Weltwoche. Wolfgang Joop is personally involved in two charitable organizations: Dunkeiziffer e.V., which helps sexually abused children and Hamburg Leuchtfeuer, a charity to support HIV sufferers.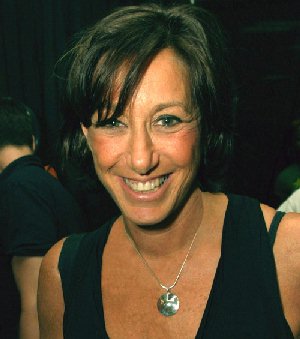 Donna Karan
Donna Karan is a fashion designer and the creator of the DKNY (Donna Karan New York) clothing label. She was born Donna Ivy Faske on October 9, 1948 in Forest Hills, New York. She grew up in Hewlett, Long Island with her step-father who was a tailor and her mother who was a model. She graduated from Hewlett High School in 1966 and then went on to Parson's School of Design for two years. She left to work for Anne Klein.
Perhaps most famous for inventing "the body", one of the most practical items of clothing to come out of the Eighties, Donna Karan is now one of the most recognisable names in American fashion. Born Donna Faske in Forest Hills, NY, in 1948, to a model mother and a haberdasher father, Donna was obsessed with fashion from an early age. After two years at Parsons School of Design, she went to work at Anne Klein, making moderately priced sportswear. In 1971, she became associate designer and, after Klein died in 1974, co-designer with Louis Dell'Olio. Ten years later, and with the support of her husband Steven Weiss, Karan founded Donna Karan New York.
Launched in 1985, her first collection, though not radical, delivered a system of dressing entirely new to those used to Eighties power suits. She combined elements of tailoring with sportswear to ensure clothes were "user-friendly and luxurious", as well as deeply flattering. Her clothes are rarely headline-grabbing, but always easy-to-wear in a luxurious blend of cashmeres and Lycras and a sophisticated palette dominated by blues and blacks. Karan is also regarded as being one of the chief innovators of the bridge line: in 1988, she introduced the cheaper DKNY label in an attempt to dress her daughter, Gaby. Today, Karan's company also produces menswear, jeans, accessories, hosiery, fragrance and cosmetics.
In April 2001, Karan announced that she had sold her company, Donna Karan International, to French luxury conglomerate LVMH for almost $250 million in cash. LVMH had previously acquired Karan's license-holding company, Gabrielle Studio, bringing the total value of the sale to $643 million. Following the news, LVMH decided to relocate this most American of American companies to Italy.
In mid-1997 Donna Karan quit as CEO of the company but has officially remained chairwoman and designer in charge of the Donna Karan line. Actually, the line these days is designed by Peter Speliopoulos, a talented former Cerruti designer, with Karan contributing little subtleties or even entire new creations. The DKNY line is entirely designed by Jane Chung, a Karan employee since the days at Anne Klein. Most merchandise is licensed. Liz Claiborne markets the DKNY Jeans and Active brands lines, Este Lauder is in charge for the cosmetics business.
In 1997, Donna Karan signed licensing deals with Wacoal America for men's and women's DKNY intimate apparel, Esprit for DKNY children's apparel, Phillips Van Heusen for DKNY men's dress shirts, Mallory & Church for DKNY men's ties and hosiery, Peerless Clothing for DKNY suits and sport coats, and Max Leather for belts and small leather goods. In 1998, things had turned for DKNY: a men's dress shirt sells now for up to $125 while a Calvin Klein sportswear dress shirt is almost half. The couture Donna Karan Signature line for men, which was comparable to the men's line of Calvin Klein Collection, has been pulled from the market. As of October 2006, Mark Weber is CEO of Donna Karan International.
Donna Karan stores: The first DKNY flagship store opened in 1999 at Madison Avenue and 60th in New York. According to the company's web site there are Donna Karan stores in New York, Manhasset, Boston, Costa Mesa, London, Singapore, Tokyo, Fukuoka, Riyadh, Jeddah and Dubai. The Donna Karan store in Berlin was closed in December 2001. The DKNY label has its own stores, located predominantly in retail shopping malls. Apart from DKNY stores in New York, Costa Mesa, Short Hills, Boston, Las Vegas, Los Angeles, and Denver, there are international outlets in London, Antwerp, Tokyo, Hong Kong, Dubai, Tel Aviv and Montreal as well as at more unusual locations such as Cancun, Barcelona, Ankara, Manchester, Kuala Lumpur, Manila and Beirut, Athens among others.
In addition, there are so-called Donna Karan Company stores, predominantly located within outlet malls, which sell the merchandise at reduced prices. Since 2005, Donna Karan has offered online shopping of its DKNY lines at the label's web site. Products range from womenswear, accessories, shoes, baby clothing, the PURE collection to menswear. The latter, however, is not being offered anymore for the spring 2007 season. The company maintains retail and office space at 550 Seventh Avenue (headquarters) and 240 W. 40th St. in New York City.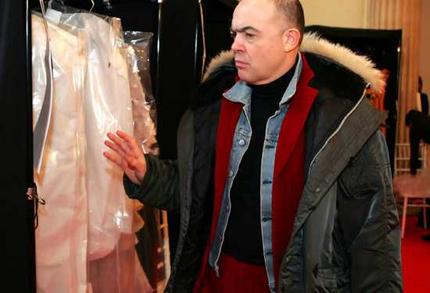 Christian Lacroix
Christian Marie Marc Lacroix (May 16, 1951 in Arles, France) is a French fashion designer.
In early childhood, Lacroix attended bullfighting events and enjoyed Gypsy and Provencal traditions as well. He spent time at art museums and enjoyed reading books from the attic. In his youth, he also took a liking to Oscar Wilde and the Beatles.
After studying Art History at the University of Montpellier, he went on to the Sorbonne and the Ecole du Louvre in 1973. His aspiration during this time was to become a museum curator. It was during this time he met his future wife Françoise. Around the same time, he met Jean-Jacques Picart. Picart was attributed with several haute couture houses and helped aid in gaining Christian Lacroix a job working at Hermes in 1978 and then Guy Paulin in 1980.
After graduating from the École du Louvre, in 1981 he started working at Jean Patou. With help from Jean-Jacques Picart, Lacroix managed to put out season after season of popular clothing. Bright colors, luxuriance, and perfection made Lacroix and Picart popular designers of the time. Later, Lacroix would gain the award for "most influential designer" by the CFDA for foreign designer in January 1987. In 1994, Lacroix launched his Bazar line.
His collections during the times of 1994 were based on old culture and folklore, as well as fables and the past. In 1995, he launched a towel line which contained a fashion and lifestyle side, which represent how the two interwine ("two sides of the same coin"). In 1996, he launced a Jeans line. He included past traditions from all around the world, continuing the line with even more on ethnic arts.
In 1997, the Art de la Table line was launched by him in partnership with Christofle. A licensing agreement was also reached in this year with Pronuptia in which he could launch his Christian Lacroix Mariage line.
In 1999, he launced his first line of floral perfumes, and in 2000 he finished a line of novelty accessories which included semi-precious jewelry. In 2001, Lacroix also launced a children's line and in 2002, he launched a perfume, Bazar, created by Bertrand Duchaufour, Jean-Claude Ellena and Emilie Copperman.
In 2004, Lacroix launced a lingerie for women line, as well as a menswear line. He is known for his theatrical style which came from his work while in the theatre. This usually shows up with his use of colour in the collections he designs. Along with this, he is also known for his 'le pouf' gown (featuring the ball skirt), as well as closing all his haute couture fashion shows with a model dressed up as a bride.
In October 2002 after the presentation of his spring/summer 2003 collection, Lacroix resigned from the Chevalier de la Légion d'Honneur by Bernard Arnault, Chairman of LVMH. He served as the Creative Director for the Italian fashion house Emilio Pucci from 2002-2005. He left on agreeable terms as he and the house believed that since he had other pursuits, it would be unfair to the house to not put in the energy required for future collections along with his other work.
Christian Lacroix has designed many dresses for Hollywood stars; among them, he is responsible for designing the wedding dress of Grammy award winning Christina Aguilera and was, in the 1990s, famed as being a favourite designer of "Edina Monsoon" in the hit UK sitcom Absolutely Fabulous (for which the house drew dubious credit). He has also been the designer of the new uniform of Air France staff and crew in 2004 and pyjamas signed by him are handed out to passengers travelling on Air France First Class (L'Espace Premier). Today, Lacroix has 60 points of sale within France (department stores included). Around the world, Lacroix has 1,000 total points of sale.