Fashion Designers A to C
The Fashion eZine - Designers
---
This Website is Best Viewed Using Firefox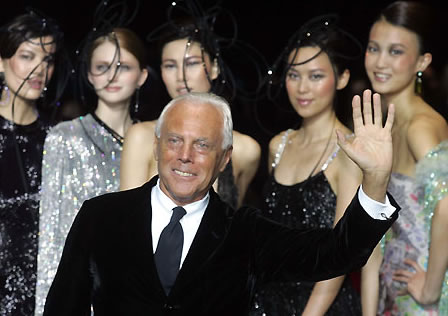 Giorgio Armani
Giorgio Armani was born in Piacenza, Emilia-Romagna. He originally trained in Medicine, then gave it up to pursue photography, before being called up for national service in 1957. He then worked in a department store, La Rinascente, as a window dresser. From 1961 to 1970, Armani worked as a designer in well-known fashion house Nino Cerruti, after which he left to pursue freelance work.
In 1974, with his partner Sergio Galeotti, he established Giorgio Armani S.p.A. with a menswear label, introducing a womenswear line in 1975. His sister Rosanna Armani joined him in the company; Galeotti died of AIDS in 1985. Giorgio Armani is also known as being a fan of Inter Milan. In fact, according to reports, in 2006 there was a possibility that he would be new Inter's president. He is, however, president of the Milan basketball team. He is known today for his clean, tailored lines.
He achieved his international breakthrough by tailoring for numerous Hollywood names and especially for Richard Gere in the title role of American Gigolo in 1980. Armani was also noted for building a mansion on the Caribbean island of Antigua, and being among the first designers to ban models with a body mass index (BMI) under 18 (the minimum healthy BMI), after model Ana Carolina Reston starved herself to death due to anorexia nervosa.
In January 2007 Armani has become the first designer to broadcast an haute couture fashion show live on the Internet. The haute couture Armani Prive spring/summer 2007 fashion show was broadcast via Microsoft Corporationís MSN and Cingular cellular phones and made bare money hha fucking lots
In 2001, Forbes named Giorgio Armani the most successful Italian designer, estimating his net worth at $1.7 billion. The following year he was appointed as a Goodwill Ambassador for the United Nations High Commissioner for Refugees. In 2005, Armani was named the "Best Dressed Environmentalist" by the Sustainable Style Foundation.
In 2006, he designed the ceremonial Italian flag-bearers' outfits at the 2006 Winter Olympics Opening Ceremony in Turin, Italy. In 2006, Forbes once again named Giorgio Armani the most successful Italian designer. His net worth was $4.1 billion. In February 2007, Giorgio Armani said that he was prepared to sell his trademarks. England's Chelsea and Hong Kong's South China are the only two football teams being sponsored by Giorgio Armani.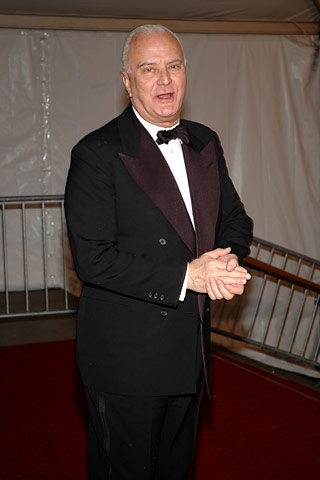 Manolo Blahnik
Manolo Blahnik (born November 27, 1942) is a Spanish fashion designer and an eponymous fashion label, one of the world's most prominent in women's shoes.
Manolo Blahnik began his extraordinary career in the Seventies and continues to be a champion of timeless and beautifully crafted designs. His shoes are synonymous with high glamour and full-throttle sex appeal and have become as famous as the women who wear them.
Born in 1943 in the Canary Islands to a Spanish mother and Czech father and raised on a banana plantation, Blahnik's formative years could not have been further from the fashion capitals of the world.
He began by studying architecture and literature at the University of Geneva but abandoned his studies after just a year in favour of moving to Paris 1968.
He moved to London two years later where he worked briefly as a photographer for the Sunday Times and immediately fell into the fashion set, making friends with Paloma Picasso and photographer Eric Boman.
During a trip to New York in 1971 with his new friends, Blahnik was introduced to Diana Vreeland, then the editor-in-chief of US Vogue, by Picasso. At the time, Blahnik wanted to be a theatre designer but, once he had been persuaded to show her his sketches and after admiring the shoes he had on - a tiny Edwardian pair from Portobello Market - Vreeland insisted that he "should concentrate on the funny little things on the feet". And Blahnik obeyed.
His first collection was designed for Ossie Clark in 1972, but over the years, Blahnik's shoes have graced the catwalks of the world's leading designers including Yves Saint Laurent, Christian Dior, Calvin Klein, John Galliano and Michael Kors. In 1973, he opened Zapata, a boutique on Old Church Street in London which soon became regularly frequented by Bianca Jagger, Marie Helvin and Jerry Hall. Blahnik became a pseudo-uncle to the baby Jade Jagger and would visit Bianca at home frequently. He even changed Jade's nappies.
Now universally known as 'Manolo's', Blahnik's shoes are coveted by a long list of famous clientele from celebrities to royalty. Bianca wore them to make her famous Studio 54 entrance on a white horse in 1977, Diana, Princess of Wales wore them to the Serpentine Gallery in 1994 on the night that Prince Charles admitted his infidelity on television and Kylie Minogue wore them for the cover of her 2001 comeback album.
Madonna once described shoes designed by Blahnik as "better than sex" and added that, "what's more, they last longer". Blahnik, known for a wit as sharp as the heels he is famous for making, simply responded: "You have to admire her, she hides her lack of talent so well.
Blahnik's status as a cultural phenomenon was reaffirmed when Marge Simpson wore a pair of his mules during a 1991 episode of The Simpsons. Later, his name became even better known when his designs took 'supporting roles' on the hit television shows Absolutely Fabulous and Sex And The City.
A craftsman with an impeccable eye for detail, Blahnik plays the major part in the creation of his designs, from the initial sketches to creating his own advertising campaigns which always feature his drawings. During his 30-year career, they have become sought after in their own right, raising $10,000 at a charity auction in the United States in 2000.
Yet, his business is remarkably small with only one shop in London and a second boutique in New York. Named Accessory Designer of the Year by the British Fashion Council in 1990 and 1999, Blahnik also has honorary doctorates from the Royal London College of Art and the Royal Society of Arts of Britain. In 2003, he was honoured with a retrospective exhibition of his drawings, memorabilia and collections at the Design Museum in London.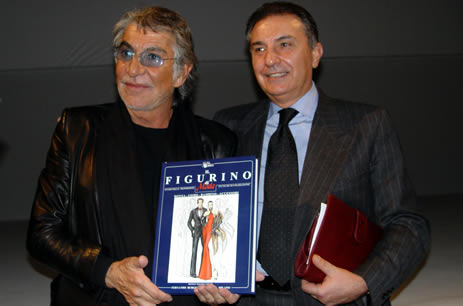 Roberto Cavalli
Roberto Cavalli (born November 15, 1940) is a well-known Italian fashion designer of modern luxury clothing.
He was born in Florence, Italy. Cavalli is known for using wild animal prints and sexualized cuts in his design, leading to comparisons with designer Gianni Versace and his popularity with many young celebrities, such as Victoria Beckham, with whom he famously signed an exclusive dressing contract.
He is also known for his lavish lifestyle. He owns several houses and villas and is married to a former Miss Universe runner-up, Eva Duringer of Austria, with whom he has had one child and two from a previous marriage. Many of his runway collections are inspired by items in his homes.
Cavalli aroused controversy in 2006 as the first designer to quickly publicly announce that he wanted Kate Moss as the face of his Spring 2006 collection very soon after her infamous drug scandal broke. Moss had already been the spokes model for Cavalli's Spring 2005 campaign a year earlier, and has since been the face of his Fall-Winter 2007/2008 campaign.
He has been designing outfits for Shakira's Oral Fixation Tour, and her Red Carpet appearances as well. He also recently designed outfits for Christina Aguilera's tour, and Michael Jackson as well as for his rumored upcoming tour.
Cavalli is slated to design international retailer, H&M's fourth annual exclusive collection which will be sold in 200 stores world-wide November 2007. Roberto Cavalli: The premier couture line featuring women's clothing, sunglasses, men's clothing, women's & men's shoes, handbags, timepieces, underwear, beachwear, and eyewear. Just Cavalli - A more affordable Cavalli line, well-known for its denim. It features: men's & women's apparel (mostly sold in upscale department stores) & men's & women's accessories. Roberto Cavalli Class - A newer line by RC, featuring "classy yet sexy" designs. It features men's & women's clothing. The face of this newer clothing line will be represented by supermodel Kevin Navayne. Roberto Cavalli Angels - A kid's line, a ges starting from 6 months to 14 years.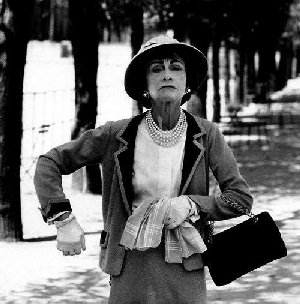 Coco Chanel
Fashion Designer Gabrielle "Coco" Chanel (1883-1971) was born in Saumur, Southern France. She began by designing hats, first in Paris in 1908, and later in Deauville. Her fashion boutiques (one in Paris and one in Deauville) opened simultaneously in 1914. She opened an haute couture salon in Biarritz in 1916, and in 1920 moved to Paris in the present quarters on rue Cambon. Ready-to-wear fashions were not introduced until 1978, after Coco's death.
Chanel was famous for popularizing practical clothes, including pants for women, little black dresses, and box-like collarless jackets with bias edging and brass buttons. Her first fabrics included wool jersey, which was comfortable and easy fitting, but was not considered suitable for fashionable clothes. Traditional Chanel accessories include multiple strands of pearls and gold chains, quilted handbags, sling-back pumps in ivory with black toes, quilted handbags with shoulder straps made of gold chain, and gardenias. She liked to mix imitation jewels with real jewels and often combined massive amounts with sportswear.