Fashion Designers D to F
The Fashion eZine - Designers
---
This Website is Best Viewed Using Firefox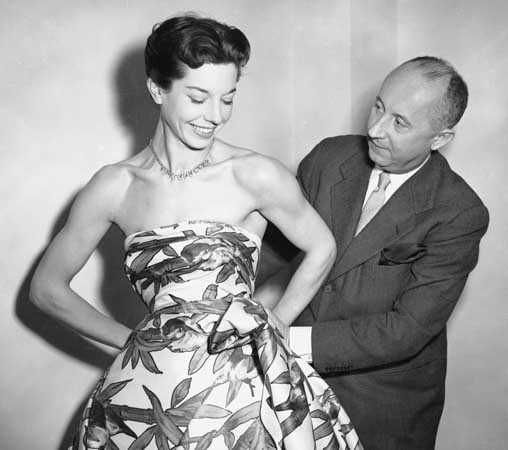 Christian Dior
Christian Dior (January 21, 1905 – October 23, 1957), was an influential French fashion designer. He was born in Granville, Manche, Normandy, France. Dior flagship boutiques are found in Paris, London, Milan, Tokyo, Shanghai, Hong Kong, New York, Boston, Los Angeles, Honolulu, Las Vegas, and San Francisco.
He was the younger son of Maurice Dior, a manufacturer of fertilizer and chemicals, and his wife, the former Madeleine Martin. Dior had an elder brother, Raymond, whose daughter was the Nazi sympathizer Françoise Dior. His sister was a member of the French resistance. Acceding to his parents' wishes, Dior attended the Ecole des Sciences Politiques from 1920 to 1925. The family, whose fortune was derived from the manufacture of fertilizer, had hopes he would become a diplomat, but Dior only wished to be involved in the arts.
After leaving school he received money from his father so that in 1928 he could open a small art gallery, where he sold art by the likes of Pablo Picasso and Max Jacob. After a family financial disaster that resulted in his father losing his business, Dior was forced to shut down the gallery.
In the 1930s Dior made a living by doing sketches for haute couture houses. In 1938 he worked with Robert Piguet and later joined the fashion house of Lucien Lelong, where he and Pierre Balmain were the primary designers.
In 1945 he went into business for himself, backed by Marcel Boussac, the cotton-fabric magnate. Dior's fashion house opened in December 1946, and the following February, he presented his first collection, known as Corolle. It was more famously known as the New Look. The actual phrase the "New Look" was coined by Carmel Snow, the powerful editor-in-chief of Harper's Bazaar.
Dior's designs were more voluptuous than the boxy, fabric-conserving shapes of the recent World War II styles, influenced by the rations on fabric. He was a master at creating shapes and silhouettes; Dior is quoted as saying "I have designed flower women." His look employed fabrics lined predominantly with percale, boned, bustier-style bodices, hip padding, wasp-waisted corsets and petticoats that made his dresses flare out from the waist, giving his models a very curvaceous form. The hem of the skirt was very flattering on the calves and ankles, creating a beautiful silhouette.
Initially, women protested because his designs covered up their legs, which they had been unused to because of the previous limitations on fabric. There was also some backlash to Dior's designs form due to the amount of fabrics used in a single dress or suit--during one photo shoot in a Paris market, the models were attacked by female vendors over the profligacy of their dresses--but opposition ceased as the wartime shortages ended. The New Look revolutionized women's dress and reestablished Paris as the center of the fashion world after World War II.
Dior died at the health spa town Montecatini. Some reports say that he died of a heart attack after choking on a fish bone. Time magazine's obituary stated that he died of a heart attack after playing a game of cards. However, the Paris socialite and Dior acquaintance Alexis von Rosenberg, Baron de Rédé stated in his memoirs that contemporary rumor had it that the fashion designer succumbed to a heart attack after a strenuous sexual encounter with two young men. His companion, at the time of his death, was an Algerian-born singer, Jacques Benita (born 1930).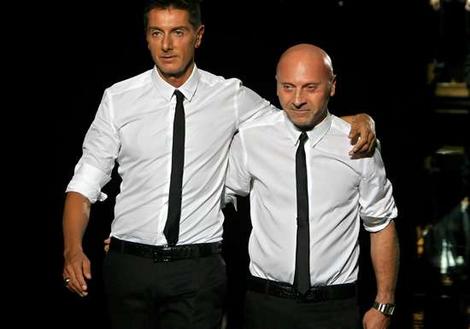 Dolce & Gabbana
Dolce & Gabbana (pronounced dol-che gabb-an-a) is a high-end fashion house started by the Italian designers Domenico Dolce, born near Palermo, Sicily, and Stefano Gabbana, born in Milan, Italy.
Dolce & Gabbana are very popular for their designs in the Hollywood industry; they have designed clothes for Madonna, Monica Bellucci, Ayumi Hamasaki, Isabella Rossellini and Kylie Minogue amongst others. The company is based near Milan (Legnano). The private life of Stefano Gabbana and Domenico Dolce became public in 2005, when they officially announced their separation. The business has remained unchanged and both continue to design together.
Design duo Domenico Dolce (b. 1958, near Palermo, Sicily) and Stefano Gabbana (b.1962, Milan, Italy) are known for making "stars look like stars". Their sexy styles are often to be seen on the likes of Isabella Rossellini, Demi Moore, Nicole Kidman and Madonna, for whom they created the now-famous "Kylie Minogue" tribute T-shirt. They also created the costumes for Madonna's Girlie Show in 1993, as well as Whitney Houston's 1999 tour.
Partners both in life and in business, the pair met while working as assistants in an atelier in Milan. Sharing a love of the baroque, they made their name together in 1985, when the organisers of the Milano Collezioni invited them to take part in a fashion show to launch "New Talents". The following year, they presented their first independent women's ready-to-wear show. Since then, they have introduced menswear and a line of signature fragrances, and opened shops in Italy, Japan, Hong Kong and, in 1999, in London (the London salon, designed by British architect David Chipperfield, is testament to the designers' love of mixing their own Mediterranean spirit with English eccentricity).
Originally inspired by eclectic, thrift shop Bohemia, Dolce & Gabbana's deeply coloured, animal prints have been described as "haute hippydom" taking inspiration in particular from Italy's prestigious film history. "When we design it's like a movie," says Domenico Dolce. "We think of a story and we design the clothes to go with it." They claim to be more concerned about creating the best, most flattering clothes than sparking trends, once admitting that they wouldn't mind if their only contribution to fashion history was a black bra.
D&G trademarks include underwear-as-outerwear (such as corsets and bra fastenings), gangster boss pinstripe suits, extravagantly printed and embroidered coats, and black. Meanwhile their fetish-meets-femininity collections are always backed by powerful ad campaigns, like the black-and-white La Sicilia, featuring model Marpessa photographed by Ferdinando Scianna in 1987. But fundamentally they are known for making women look, quite simply, devastatingly sexy. "They find their way out of any black dress, any buttoned-up blouse," says Rossellini. "The first piece of theirs I wore was a white shirt, very chaste, but cut to make my breasts look as if they were bursting out of it."
Once dubbed the "Gilbert and George of Italian fashion", Dolce and Gabbana gave their fashion interests a musical turn in 1996, by recording their own single, in which they intoned the words "D&G is love" over a techno beat. Newer to the design game than other heavyweight Italian fashion houses such as Versace and Armani, the pair acknowledge that luck has played its part in their phenomenal success. By 1997, their company reported a turnover of $400 million, prompting both designers to announce that they planned to retire by the age of 40 - a promise they happily did not keep.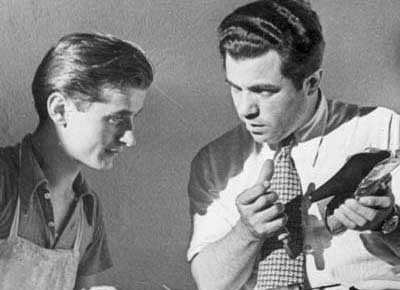 Salvatore Ferragamo
Salvatore Ferragamo (June 5, 1898 - August 7, 1960) was a 20th century Italian footwear designer, providing Hollywood's glitterati and many others with unique hand-made designs and spawning an emporium of luxury consumer goods for men and women, with stores in some of the most important cities of the world. Ferragamo started his career in California during the 1920s, initially creating specific designs for Hollywood productions.
The Company, Salvatore Ferragamo Italia S.p.A., founded in 1927, is one of the most prestigious and internationally known luxury brands, with more than 450 stores in over 55 countries. Footwear, handbags and small leather goods, scarves and ties, men's and women's ready to wear, bijoux, watches, fragrances and eyewear are the products created and marketed by Salvatore Ferragamo.
In addition to its historical Florence flagship store in Palazzo Spini Feroni, Salvatore Ferragamo has 2 flagship stores in Milan, 2 in Rome and another 14 stores in prestige high-streets in Naples, Genoa, Turin, Capri, Portofino and Venice.
In Europe it has 58 directly controlled stores, including a flagship in Paris's Avenue Montaigne and one in London's Old Bond Street. In France, Germany, the UK and Spain the brand is to be found in locations in major cities, as well as in Brussels, Montecarlo, Vienna and Amsterdam.
Salvatore Ferragamo operates throughout the territory from Canada to Hawaii, with 25 directly controlled points of sale. In the United States, Ferragamo holds 15 boutiques in California, Florida, Georgia, Hawaii, Illinois, Massachusetts, Nevada, New Jersey, and New York with three more planned to open in 2007 in Arizona, Michigan and Pennsylvania. Of particular note the flagship stores in New York (Fifth Avenue), Beverly Hills, Boston (Copley Place) and Honolulu. In addition to its free-standing stores, there are many shop-in-shops and corners in top American department stores.
Salvatore Ferragamo recently extended its direct control in Central and South America by setting up Ferragamo Mexico, which directly handles 10 points of sale in the country. It also has a select distribution circuit in numerous countries, from Venezuela to Brazil and Colombia. Salvatore Ferragamo has had directly controlled operations in this key country since the early 70s and can now count on a distribution network of 64 directly controlled points of sale.
It has two flagship stores, one in Tokyo, in the Ginza district, and the new flagship in Osaka, opened in October 2004. Twenty-seven percent of its revenue in 2005 (575m Euros) came from Japan only. Through its Hong Kong headquarters, Salvatore Ferragamo controls its distribution operations in the following ten countries in Asia and Oceania: Hong Kong (flagship in Canton Road), Taiwan, China (flagship in Shanghai), Korea (flagship in Seoul), the Philippines (flagship in Manila), Singapore (flagship in Paragon), Thailand, Malaysia (duplex flagship will be open at Pavilion Kuala Lumpur this September), Indonesia and Australia - totalling 64 directly controlled stores.
Salvatore Ferragamo was born in 1898 in Bonito, near Naples, Italy, the eleventh of 14 children. After making his first pair of shoes at age nine, for his sisters to wear on their confirmation, young Salvatore decided that he had found his calling.
He always had a passion for shoes. After studying shoemaking in Naples for a year, Ferragamo opened a small store based in his parent's home. In 1914, he emigrated to Boston, where one of his brothers worked in a cowboy boot factory.
After a brief stint at the factory, Ferragamo convinced his brothers to move to California, first Santa Barbara then Hollywood. It was here that Ferragamo found success, initially opening a shop for repair and made-to-measure shoes, which soon became prized items among celebrities of the day, leading to a long period of designing footwear for the cinema. However, his thriving reputation as 'Shoemaker to the Stars' only partially satisfied him.
He could not fathom why his shoes pleased the eye yet hurt the foot, so he proceeded to study anatomy at the University of Southern California. After spending thirteen years in the United States, Ferragamo returned to Italy in 1927, this time settling in Florence.

In 1927 he returned to Florence and began to fashion shoes for the wealthiest and most powerful women of the century, from the Maharani of Cooch Behar to Eva Peron to Marilyn Monroe. In 1929 he opened a workshop in the Via Mannelli, concentrating his efforts in experimenting with design, applying for patents for ornamental and utility models and some related inventions.

Forced to file for bankruptcy in 1933 due to bad management and economic pressures, Ferragamo nonetheless expanded his operation during the 1950 to a workforce of around 700 expert artisans that produced 350 pairs of hand-made shoes a day. Ferragamo was always recognized as a visionary, and his designs ranged from the strikingly bizarre objet d'art to the traditionally elegant, often serving as the main inspiration to other footwear designers of his time and beyond.

Salvatore Ferragamo died in 1960 at the age of 62, but his name lives on as an international company, which has expanded its operations to include luxury shoes, bags, eyewear, silk accessories, watches, perfumes and a ready to wear clothing line. At his death his wife Wanda and later their six children (Fiamma, Giovanna, Fulvia, Ferruccio, Massimo and Leonardo) ran the Ferragamo company. His most famous invention is arguably the "Cage Heel". Fiamma (Salvatore's eldest daughter prematurely died in 1998) inherited her father's inimitable talent and came up with the "Vara pumps" in 1978.

The Salvatore Ferragamo Museum opened in Florence in 1995. Located on the second floor of Palazzo Spini Feroni, the Museum extends over four rooms and comprises A collection of over ten thousand models of shoes created by Ferragamo over forty years, from the Twenties to his death in 1960. The Museum also has a small collection of period shoes (18th and 19th century), a collection of clothing from 1959 onwards, a collection of handbags from 1970, and a huge document archive.
Gianfranco Ferre
Gianfranco Ferre (15 August 1944 - 17 June 2007) was a fashion designer also known as "the architect of fashion" for his background and his original attitude toward creating fashion design.
Born in Legnano, Italy, he received a degree in architecture in 1969. Ferre began his fashion career in 1970 by designing accessories, then worked as a raincoat designer in 1972-74.
He started his own company Baila in 1974 and launched his signature collection for women in 1978. His first men's collection appeared in 1982, followed in 1986 by his first couture collection in Rome.
Ferre became Stylistic Director of Christian Dior in Paris in 1989, when he was chosen by owner Bernard Arnault to replace Marc Bohan. In 1996, it was announced that Ferre would end his engagement with Dior with the Spring 1997 collection for the label.
His own label is more relaxed and practical than Dior, with functional pockets and no big hats. Sophisticated white shirts have became the symbol of his personal signature in fashion design. Ferre appeared to be extremely critical of trends and fashion gimmicks.
He dealt with his demanding schedule, being responsible for a French top fashion brand and his own Italian label, by commuting between Milan and Paris in his private plane. Ferre had a lakeside home in Lake Maggiore, near Milan.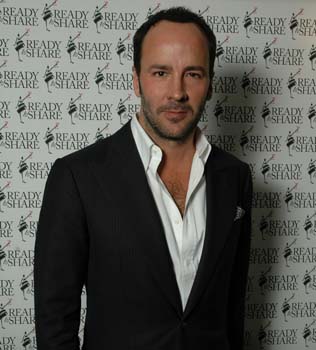 Tom Ford
Tom Ford (born August 27, 1962) is an American fashion designer. He gained international fame for his legendary turnaround of the Gucci fashion house and the creation of the Tom Ford label, becoming one of the world's most influential designers.
Ford was born in Austin, Texas and grew up in Santa Fe, New Mexico, where he graduated from Santa Fe Preparatory School in 1979. After graduating from the Parsons School of Design in 1986, initially having studied architecture, he took design jobs with Cathy Hardwick and Perry Ellis.
Ford's lover of nearly two decades, Richard Buckley, is a fashion and style journalist. Noted for his interest in modern architecture, Ford has commissioned houses from the Spanish architect Alberto Campo Baeza, the Japanese architect Tadao Ando and the award winning Los Angeles firm of Marmol-Radziner and Associates.
Ford believes that he owes his success not to talent, but to his energy. He admits to sleeping just two or three hours per night, keeping post-it notes beside the bed in case he wakes up with an idea. "There are many more talented designers than me," he once told an audience at the V&A in London. "But I have a lot of drive and won't let it go." He also credits his "mainstream" appeal. "I'm lucky, I have mass-market tastes," he says. "When I say I like a shoe, generally thousands of people will like it. Thank God, because I would have been a very unhappy person if I hadn't had this kind of success."
But others see it quite differently, saying that Ford's secret is the combination of a fine commercial sensibility and a genuine feel for fashion: in his former role at Gucci, he designed shoes, watches, luggage and men's and womenswear as well as planning the company's advertising campaigns and overseeing the development of their two new fragrances, Envy and Rush.
In 1990, Ford was hired by Gucci's then creative director Dawn Mello as chief women's ready-to-wear designer, and later appointed design director. When, in 1994, Gucci was acquired by a Bahrain-based investment firm called Investcorp, Ford was promoted to creative director and moved to Milan with his partner, journalist Richard Buckley. In his first year at the helm, he was credited with putting the glamour back into fashion introducing Halston-style velvet hipsters, skinny satin shirts and car-finish metallic patent boots. In 1995, he brought in French stylist Carine Roitfeld and photographer Mario Testino to create a series of new, modern ad campaigns for the company. By 1999, the house, which had been almost bankrupt when Ford joined, was valued at about $4.3 billion.
In April 2004, Ford parted company with the Gucci group after he and CEO Domenico de Sole, who is credited as Ford's partner in the success story that is Gucci, failed to agree with PPR bosses over creative control of the Group. His final show for YSL was a celebrity-studded affair as fans, including fellow designers Diane von Furstenberg, Valentino, Oscar de la Renta, Karl Lagerfeld and Stella McCartney gathered to support and celebrate Ford's work. Having made no secret of the fact that he didn't expect to be designing forever, Ford was rumoured to be making a beeline for Hollywood when his Gucci reign came to an end.
Following his departure from Gucci (and YSL), Ford opened the fashion house, Tom Ford. Beginning with accessories, Ford laid the groundwork for his swiftly-growing fashion empire. While all facets of his label have been received incredibly well, his line of eyewear were the first of his collection to really take-off, with virtually every celebrity from Brad Pitt, Lindsay Lohan, and Madonna to Joaquin Phoenix, Jennifer Aniston and Sally Field being huge fans of his eyewear collections.
His eyewear is also favoured by international celebrites like Bollywood stars Aishwarya Rai and Abhishek Bachchan, the Turkish fashionista Ipek Terzioglu and Stephen Chow the Hong Kong action star. On multiple occasions, George Clooney has stated his fondness for Ford's menswear designs. While the Council of Fashion Designers of America has yet to recognize Ford's new fashion house, the likes of a nomination will be possible when the Tom Ford label broadens its designs to cover womenswear, a direction Ford has already mapped out.
The Tom Ford line now covers Menswear, Beauty, Eyewear, and both Men and Womens' Accessories. Ford's first 'Tom Ford' flagship store opened on April 12, 2007 at 845 Madison Avenue in New York City. The store carries his new, high level luxury menswear, including suits, ties, shirts, knitwear, outerwear, accessories, luggage and small leather goods. The clothing is exclusive to the Madison store and additional Tom Ford stores are planned to open in London, Milan, Tokyo and Los Angeles by the start of 2008.
Launched in Fall 2006, Tom Ford Beauty is a luxury brand of fragrances that is comprised of: Tom Ford Black Orchid, Private Blend, a twelve-piece unisex fragrance collection, and a new men's scent, launching in Fall 2007. Each scent was designed and developed by the designer himself.
In early 2006, Ford was asked to be the guest editor and creative director for the February 2006 Hollywood edition of Vanity Fair. The cover was originally planned to showcase three of Hollywood's most promising young actresses. -- Keira Knightley, Scarlett Johansson, and Rachel McAdams. Once shooting began, however, it was quickly decided that the girls should appear in the nude. McAdams was not satisfied with this decision and was excluded from the shot after refusing to remove her clothing. Feeling the photo needed more than two people, Ford stepped in and replaced McAdams. The issue generated criticism, with many claiming that it further perpetuated the need for Hollywood actresses to be sexual icons, since the edition featured no nude actors inside the magazine while featuring several nude actresses, including Angelina Jolie.
In May 2005, Ford was awarded the André Leon Talley Lifetime Achievement Award from the Savannah College of Art and Design. In 2002, received the Council of Fashion Designers of America Accessory Designer of the Year Award for Yves Saint-Laurent. In 2001, Ford received the Council of Fashion Designers of America Womenswear Designer of the Year Award. In 2000, Ford was named Best International Designer at the first VH1/Vogue Awards in New York. In 1995, Ford received the Council of Fashion Designers of America International Award.