Fashion Designers P to S
The Fashion eZine - Designers
---
This Website is Best Viewed Using Firefox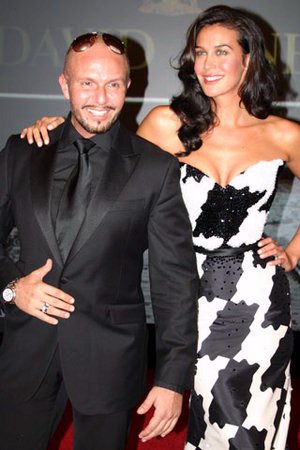 Alex Perry
Alex Perry is Australia's most glamorous designer, by virtue of his magnificent gowns and sensational red carpet eveningwear. Perry understands how to make a woman look and feel glamorous, and he has been doing exactly that for nearly fourteen years.
After graduating from the prestigious East Sydney Fashion Design Studio in 1984, Alex worked as a model agent representing some of Australia's most beautiful women for some of the world's most prestigious agencies. Following this first foray into the fashion industry, in 1992 Alex decided he wanted to create Haute Couture gowns and opened his first atelier in Kensington, Sydney. Alex's first editorial fashion shoot was with Vogue featuring the explosive gowns, jewelled corsets and sexy sheaths that were to become his trademark signature.
Perry relocated his salon in 1994 to the exclusive Sydney enclave of Double Bay where his wonderful sense of occasion was paramount in cultivating an impressive clientele to include high profile celebrities, social identities and personalities. Favourite Perry Girls include, Elle Macpherson, Linda Evangelista, Eva Longoria, Claudia Schiffer, Sarah O'Hare, Megan Gale, Jackie O, Catroina Rowntree, Sonya Kruger, Tara Moss, Bec Hewitt and Kate Ritchie.
Alex Perry was invited to show at the inaugural Mercedes Australian Fashion Week held in May 1995. Over the past eleven years the Alex Perry fashion shows evolved into what has been described as "the most glamorous show of the week". Perry's runway shows have featured supermodels such as Linda Evangelista, Megan Gale, Kate Fisher, Alyssa Sutherland, Nicole Trunfio and most recently Lily Cole.
After being established as Australia's premier Couturier, Alex Perry launched his first 'ready to wear' collection in 1998. Currently available nationally at David Jones, the collection of special occasion pieces has been designed with dinner, cocktails, the races and red carpet moments in mind. Familiar Alex Perry Couture signatures of boned corsetry, hand ruching and sexy, feminine silhouettes are all-important elements of the ready-to-wear collection. The difference is the price, making the Alex Perry experience accessible to a wider audience.
The ready-to-wear collection is also available at selected boutiques internationally including United States, United Arab Emirates, Kuwait, Indonesia and Hong Kong. In May 2002, the maestro launched his glittering Sydney salon at The Strand. This building is an iconic Sydney landmark ' opulent, glamorous and exclusive ' the perfect showcase for Alex Perry Haute Couture.
In an unprecedented event, the August 2004 issue of Vogue Australia was the only issue to ever feature an all Australian cast of cover-model Nicole Trunfio, wearing an Alex Perry gown, photographed in Australia by an all Australian team of stylists. "Alex Perry knows how to flatter and accentuate a woman's body; he understands quality and fit. And he knows how to deliver a drop-dead-gorgeous red carpet dress," Vogue Australia's Kirstie said in her July 2004 editor's letter.
Alex Perry's debut accessories collection will be launched in August for Summer 2006/2007. A third store at The Strand is being readied to house the collection that includes glamorous evening and bridal stilettos in iced satins adorned with jewelled brooches or fine bows. Evening clutches embellished with pearls and crystals, and a selection of faux bijoux glittering earrings.
After fourteen years of successfully making women look glamorous in Australia, the Alex Perry brand has become synonymous with luxury, glamour and quality.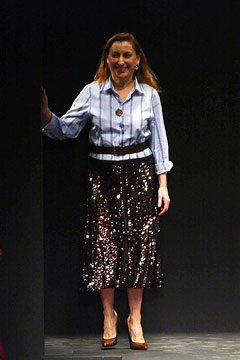 Miuccia Prada
Miuccia Bianchi Prada (born Maria Bianchi in May 10, 1949 is an Italian fashion designer. In 1978, she inherited the Prada SpA business from her mother, and she and her husband Patrizio Bertelli led the company's expansion into ready-to-wear apparell. The youngest granddaughter of Prada founder Mario Prada, she has a Ph.D. in Political Science.
Prada has long been a financial supporter of art. She recently organized a traveling, art-gallery style display of many skirts she has designed. The exhibition was called "Waist Down". Prada built her family's modest luggage brand into a company worth billions. She is the younger daughter of Luigi "Gino" Bianchi and his wife, the former Luisia Prada. She was adopted in the 1980s by her mother's sister, an act which changed her surname to Prada. Her maternal. grandfather, Mario Prada, and his brother, Martino, founded the family luxury leather goods company in Milan in 1913; called Fratelli Prada, it was originally a small luxury goods and accessories shop. In 1978, a reluctant Miuccia assumed the reins from her mother, after completing a PhD in Political Science.
She was an unlikely successor, having spent the last five years studying and performing mime at Milan's Teatro Piccolo, being a paid-up member of the Communist party and champion of women's rights in seventies' Milan. But she soon proved her worth. In 1985, she designed a new line of black, unlabelled, hard-wearing, but finely-woven nylon handbags that immediately became must-haves for the fashion cognoscenti, seen hanging off the arm of the likes of Jerry Hall and Marie Helvin. With retail prices starting at around £250, a bootlegging industry quickly sprang up, making the authentic articles even more desirable. More importantly, Prada bags were established as the accessory of choice for supermodels and fashion editors the world over.
Prada launched her eponymous ready-to-wear collection for autumn/winter 1989 to critical acclaim. The plain, almost austere lines of her designs provided a stark contrast to the overtly sensual designs of other labels of the time and one admiring fashion journalist described Prada's clothes as "uniforms for the slightly disenfranchised". In 1992, she debuted the less expensive bridge line Miu Miu (Miuccia's nickname), inspired by her personal wardrobe of earthier, hippyish garments in natural fabrics and colours. Clean and stylish designs, fine materials and exquisite craftsmanship conspired to win Prada a Council of Fashion Designers of America International Award in 1993. A year later, she showed in New York for the first time and opened her London boutique. She now shows for Prada and Miu Miu twice a year in Milan.
Miuccia met her husband and business partner Patrizio Bertelli at the same time she took the helm of the family company. "If I hadn't met him, I probably would have given up - or at least not been able to do what I have done," she once said. It was under Bertelli's sway that the design house started making moves towards becoming an international conglomerate to rival LVMH in 1999/2000, adding such top flight labels as Fendi, Helmut Lang, Jil Sander and Azzedine Alaia to its portfolio of brands.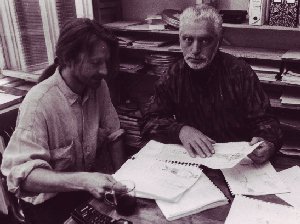 Paco Rabanne
Francisco de Rabanne da Cuervo was born in San Sebastian, Spain in 1934. He was called Paco for short. His mother was Chief Seamstress at the Spanish salon of Balenciaga. During the Spanish civil war, the family moved to France.
Rabanne studied architecture at the Ecole des Beaux Arts, Paris graduating in 1964. His earliest contribution to fashion were his bold plastic jewellery and buttons which he sold to Balenciaga, Dior and Givenchy.
In 1965 he started his career as a designer by presenting a collection of 12 contemporary dresses which he called "the Unwearables". These included his first plastic dress. In 1966 Paco Rabanne opened his own outlet at the age of 32, where he earned international repute for his metal-linked plastic-disc dresses, sun goggles and jewellery made of plastic in primary colours. Paco Rabanne's dresses made of small plastic tiles linked together by chains, stole the show in Paris. n the 60's Paco Rabanne was in demand as a costume designer for the cinema, theatre and ballet. In the seventies, Paco Rabanne was the first to use black girls as models, which was thought to be quite outrageous then. One of his most famous outfits is the costume for Jane Fonda in the science-fiction film "Barbarella" in 1968, shown on the right. In 1970 Rabanne pioneered fake suede dresses, knit and fur coats, dresses with ribbons and feathers or tassels linked to provide suppleness. By 1975 he was still bending hard-edged materials into dresses, but very few people wore them. Women had discovered the appeal of softer, ethnic looks.
Paco Rabanne's designs were worn by many famous women such as Elizabeth Taylor, Audrey Hepburn, Brigette Bardot and Francoise Hardy. He designed for 35 films and numerous ballets and plays. His sharp-edged plastic dresses declined in the 80's and he started designing softer creations. In 1989 Paco Rabanne was awarded the Golden Thimble at the lst International Festival of Fashion. Collections during the 80's were constructed out of crinkled paper, strips of aluminium, rough cotton towelling, Perspex, maze-like configurations of patchwork leather, ostrich feathers and upholstery tassels. In 1990 Rabanne inaugurated his new boutique on the rue de Cherche Midi, Paris. The architect Eric Raffy designed the interiors based on 3 themes, metal, glass and light. During the 90's Paco Rabanne has diversified away from metallic and plastic materials only, and started to present collections in softer man-made fabrics like sofrina and amaretta.
Paco had his first supernatural experience when he was only 7 years old and it was to influence him for the rest of his life. In his personal life, Paco has been interested in mysticism, astrology, and other such subjects. He has given various magazine interviews talking about vibrations, out-of-body experiences and close encounters with God. He is also a vegetarian. Paco has written a book called "Journey" which is a personal acount of his search for spiritual understanding and tells how he has applied the results of his search to his creative fashion work.
In 1999, Paco Rabanne presented his final collection and retired. Aurelien Tremblay and Christophe Decamin will design ready-to-wear for the house of Rabanne and Oliver Debias will design the Paco line. The Barcelona, Spain, financial house of Puig has bought out the house of Paco Rabanne in 2000. A major retrospective exhibition of the design work of Paco Rabanne has been mounted at the Galleria Carla Sozzani in Milan, from September to November 2002.
2003: The Rabanne collection for Fall, designed by Rosemary Rodriguez, was shown during Paris Fashion Week in March 2003. The outfit on the left is from the collection. Metal mesh is still at the heart but she used it for accessories mostly. Long crisply tailored white coats were shown over brief silver dresses. She updated the garments so that geometric shapes had modern proportions and pearls were also used to trace graphic patterns on the linear clothes.

2004: During Paris Fashion Week in October 2003, Rosemary showed the Rabanne collection for next Spring. A line of dresses from this collection are shown on the right. Rosemary seems to understand the hard shiny metallic heritage of the house and is integrating it with sportswear. Energetic, athletic and with movement were the descriptions of her action pieces which included hooded tops, white parkas and trenchcoats and she seems to be working wonders at the house.

Rosemary Rodriguez presented her Rabanne Fall collection in Paris during Fashion Week in March 2004. She just seems to get better and better. She is not going for the hard-edged futurism, but designing cuddly white furs with metallic effects embedded in the fluffy fabric, like this gorgeous multi-coloured fur coat shown on the left. Paco himself is full of praise for her efforts, and said it was really modern.

2005: During Paris Fashion Week in October 2004, Rosemary Rodrigues showed her Rabanne collection for next Spring. An outfit from this collection is shown on the left. Even Paco himself seemed impressed by her ability to include all this season's trends into the metallic Rabanne world. The soft Grecian draped dresses, with just a touch of silver, the hot spicy Indian prints for sari-style dresses and the use of crochet and macrame were just some of the ways that Rosemary has given new life to the house without betraying the spirit of the Paco Rabanne heritage.

Patrick Robinson, the new American designer for the house of Paco Rabanne, showed his first Autumn/Winter collection during Paris Fashion Week in March 2005. He had dug deep into the archives and absorbed the spirit of the house. But he avoided too much metal mesh, silvered surfaces and geometric discs and squares used in earlier seasons. Robinson created dresses out of layers of silver grey satin, and used crystal bib necklaces. As this is a winter collection, he used lots of fur. They were smart elegant clothes such as a lacy blouson top and pants, slim skirts with crystal buttons at the back split and a little black dress with crystal neckline. The Spanish Puig fragrance giant which now owns the house of Paco Rabanne will be happy with these wearable pleasant clothes which are sexy enough for modern life.

2006: Patrick Robinson presented the Paco Rabanne Spring/Summer 2006 collection during Paris Fashion Week in October 2005. A dress from the collection is shown on the left. It is a rather odd shaped orange balloon dress with white edging.. Apparently Patrick ordered 500 silk kimonos from a textile dealer, sliced them up and pieced them together with metal and plastic discs that the house of Rabanne is so known for. No two dresses look alive, because all the fabrics are individual. Most dresses were above the knee, many with empire waists. His stovepipe pants, short tulip skirts and sporty tank tops all looked sexy. It was a good mix of old and new, East and West.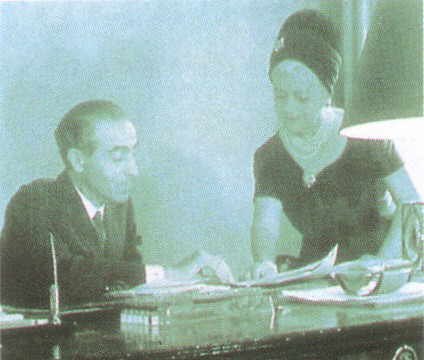 Nina Ricci
Fashion designer, born in Turin, NW Italy. She became an apprentice in a Paris couture house in 1900, joined Raffin in 1908, and stayed with him for 20 years, eventually becoming his partner.
Maria Nielli was born in Turin, Italy, in 1883 and her family moved to Florence when she was five years old. Subsequently, her family moved to France in 1895 when she was 12 years old. At the age of 13, she was apprenticed to a dressmaker and by 18 had become the head of the salon and by 22 it's chief designer. In 1904 she married a jeweler named Luigi Ricci and they had a son named Robert in 1905.
In 1908 Nina joined the house of Raffin as a designer and remained there for 20 years. In 1932, at the age of 50, Madame Ricci decided to open her own house, and she and her son set up the House of Ricci. There Madame Ricci created the garments and Robert ran the business. It grew rapidly throughout the 30's till it occupied 11 floors in 3 buildings, all on the same street as their original one-room maison de couture. Working directly with the fabric on a mannequin, Nina Ricci created elegant, sophisticated clothes in classic style. She was noted for her high standard of workmanship and became a popular designer for older society women.
She was skilled at making the most of a print, cutting a plaid for an evening dress on the bias, echoing the X-cross in the skirt pattern in the surplice, crossed-over treatment of the bodice. One daring dress in 1937 had a halter neck open between the breasts from neck to waist. Day and evening dresses alike drew attention to the figure, by being fitted to below the waist and featuring much shirring and drapery. In 1945, after the war had ended, it was very necessary to revive the glory of haute couture as well as raise money for war relief. Robert Ricci had an idea which Lucien Lelong, President of the Chambre, put into action. 172 dolls from 40 Paris couturiers, including Balenciaga and Madame Gres, were dressed in the latest fashions and an exhibition was held at the Louvre, in Paris. It was a great success and subsequently toured Europe and the USA. By the early 50's, when Nina Ricci was nearing 70, she ceased to take an active role in design, just keeping an eye on the house. Her son brought in a new he ad designer in 1954, the Belgian Jules-Francois Crahay, whose first collection for Ricci was a great success being feminine in the extreme - beautiful of colouring and fabric, unbizarre and elegant.
Crahay left Ricci in 1963 to go to Lanvin, and was replaced by Gerard Pipart, who had worked with Balmain, Fath and Jean Patou. He continued to design the most beautiful lace dresses with appliqu'd fabrics in the typically Ricci style, along with silk day dresses. Even after Nina Ricci died in 1970 at the age of 87, Pipart continued to design for the house of Ricci. Nina's son Robert, an expert perfumer as well as a businessman, has transformed the house into an empire the size of which his mother may never have dreamed. The house is a monument to his mother and reflects her intensely feminine personality. Robert Ricci died in 1988 at the age of 83. Mariano Puig, whose Catalan (Barcelona) family purchased the house of Nina Ricci in 1998, also owns the house of Paco Rabanne. Massimo Guissain worked as a designer, and Nathalie Gervais has been the chief designer for the house for several years, but presented her last collection for Fall 2001. In May 2002 American designer James Aguiar took over as chief designe r and designed for two seasons. In early April 2003, it was announced that Lars Nilsson (shown on the right) has been appointed the chief designer for the house of Nina Ricci. His first collection will be shown in Paris in October 2003 for Spring/Summer 2004. Click on Nilsson for details about him.
During Paris Fashion Week in October 2003, Swedish designer Lars Nilsson showed his first Nina Ricci collection for next Spring. A dress from this collection is shown on the left. It was a sweet debut focused on wispy weightless daywear. He abandoned strict tailoring except for a single black wool gabardine jacket. He went after more sensual clothes like lingerie slips and tops with spider-web lace, or tulle inserts with Bermuda shorts. The pastel colours were delicious and so was the transparent bead embroidery.
Lars Nilsson presented his Nina Ricci Fall collection in Paris during Fashion Week in March 2004. Lars said that he wanted to add some substance to a young woman's wardrobe, but his collection was mostly flimsy dresses, stylish sweaters and skirts which seemed familiar from the uptown girl look that has been in vogue for the last few years. His colour palette, sweet and fresh in yellow, blue and orange, was the distinguishing feature and he let his Swedish heritage refresh outerwear like cape coats and soft knits.
During Paris Fashion Week in October 2004, Lars Nilsson showed his Nina Ricci collection for next Spring. An outfit from this collection is shown on the left. Lars is transforming the old couture house into a young woman's world at top speed. He is enticing a new younger clientele with sleek jackets, with deep cropped sleeves and bows at the back, as well as gentle tiered skirts and dainty party dresses. He did all the right things, using moth-wing sheer fabrics, silk and a scattering of sparkle to produce lightness and elegance.
Lars Nilsson's Autumn/Winter collection for the house of Nina Ricci was shown during Paris Fashion Week in March 2005. He loves fragile dresses, light and airy as lingerie but he mixed the soft with the hard, protecting from the cold with fur jackets with ballooning Renaissance sleeves. Sporty swing back jackets were shown but Nils seemed more comfortable with soft pieces like fragile blouse with inserts of lace, and pretty evening gowns including one blush-pink chiffon frosted with crystals. There was one spectacular wasp-waist silvery satin strapless evening dress with the seams and boning of a 19th century corset. His collection tapped beautifully into the turn of the century fairytale spirit which is the designer's favourite.
If ever a fragrance was born to its name, that fragrance is L'Air du Temps created in France in 1949. It means "mood of the times" and it captured the hopes and passions of a generation emerging from years of darkness during the war. Robert Ricci worked with master perfumer Francis Fabron to create a scent as elegant as Madame Nina Ricci's clothes. Marc Lalique created the graceful twin-dove crystal bottle. 50 years later it continues to mean innocence and passion combined.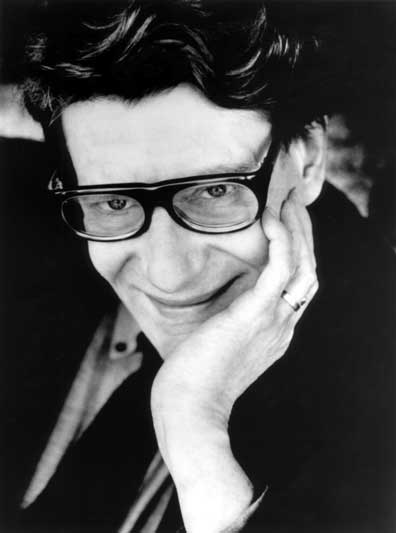 Yves Saint-Laurent
Yves Henri Donat Mathieu-Saint-Laurent (born August 1, 1936 in Oran, Algeria), is a French fashion designer, considered among the greatest of the 20th century. In 1985, in her book, "Couture: The Great Fashion Designers", Caroline Rennolds Milbank wrote, "The most consistently celebrated and influential designer of the past twenty-five years, Yves Saint Laurent can be credited with both spurring the cuture's rise from its Sixties ashes and with finally rendering ready-to-wear reputable".
Born in 1936, Yves Saint Laurent grew up in Oran, Algeria. At 17, he left for Paris where he showed his drawings to Michel de Brunhoff, director of Vogue, who published several of them immediately. Following a stint at fashion school, Saint Laurent was introduced to Christian Dior by de Brunhoff and he went on to work for Dior until his death in 1957.
After taking over as art director for Dior, Saint Laurent launched his first collection for the company, the Ligne Trapeze, that year. It was a resounding success the world over and won him a Neiman Marcus Oscar. In 1960, Saint Laurent created his revolutionary "Beat Look" collection which used couture techniques to refine streetstyle. However, his dramatic designs were too much for the house of Dior and a year later they lifted bars on his national service.
When he returned from service in 1962, Saint Laurent set up his own fashion house with Pierre Berg and continued to rock the establishment. In 1966, he introduced le smoking, his legendary smoking suit, which prompted the consequent androgynous revolution. He is now credited with a range of other innovations including the reefer jacket (1962), the sheer blouse (1966), and the jumpsuit (1968), as well as ready-to-wear culture as a whole.
In October 1998, Yves Saint Laurent showed his last ready-to-wear collection for the Rive Gauche label he had founded more than 30 years before. But, according to a sorrowful spokeswoman, the 61-year old designer was simply too overwrought to take his final bow. US designer Alber Elbaz was hand-picked to succeed him, but found that his career there was swiftly terminated after the Italian fashion Gucci bought full control of the business at the end of 1999 and handed the reins to powerhouse designer Tom Ford. Yves Saint Laurent retained control of the haute couture business and continues to show in Paris each season. These days, the reach of the Saint Laurent empire he founded and sold on is vast: the company produces menswear, furs, jewellery, perfumes and a range of accessories, all of which are distributed worldwide.
During his career, Saint Laurent was arguably the industry's greatest designer. Over the years, he received countless accolades: in 1985, he was made a Chevalier of the Legion of Honour by President Francois Mitterand; in 1995, he was promoted to the rank of Officer of the Legion of Honour, finally becoming a Commandeur six years later. His status as a national icon was also cemented when, at the final of the 1998 World Cup, near Paris, 300 models presented a retrospective of YSL creations, to celebrate the designer's forty years in fashion, in front of 80,000 football fans and more than 170 international sports channels.
In January 2002, the 65-year-old designer announced his retirement. Paying tribute to his mentors, including Christian Dior, Balenciaga, Schiaparelli and Chanel, he revealed that his decision was based on a disgust with an industry that had become ruled more by commercial gain than art.
"I have nothing in common with this new world of fashion, which has been reduced to mere window-dressing," he said. "Elegance and beauty have been banished." The news came just 16 days before he presented his final haute couture collection.
In a fitting end to his 40-year career, the show constituted a thorough retrospective of his work: over an hour and a half long, it featured over 250 outfits, 40 of them new designs, and 100 models. A tearful Yves Saint Laurent took his final bow as his long-time muse, Catherine Deneuve, sang Ma Plus Belle Histoire d'Amour.
Like Chanel, Saint Laurent has created an unique style which for decades has been synonymous of the the most refined and modern elegance. He was the first, in the 60s to understand that haute couture could take its inspiration from the street, not limiting itself to be a closed world without any relation with everyday life. His first collection for Christian Dior in 1958, after his mentor's death, was a big sensation.
In the elegant rooms of Avenue Montaigne, he introduced a gritty and irreverent new look, very unpolitically correct for the formality of the period. It was already possible to sense the originality of the new designer, who, during all his career, has been a constant innovator, a modernizer of the female image. Decades before Giorgio Armani he had the intuition to glamourize for women some items taken from the male wardrobe, such as the blazer, the tuxedo, the pant suit, the leather jacket. His devouring passion for art has enabled him to create clothes inspired by Picasso, Matisse, Braque, David Hockney, Mondrian, etc. in a time when coupling art with fashion was not yet an abused idea as it is today. Again, much in advance on others, he was the first to enrich his collections with ethnic and folk elements coming from Africa, Spain, Morocco, Russia and China. His enduring love for the theatre and for literature, Marcel Proust being his tutelary deity, have also been transposed into his clothes.