White Clothing & Fashion
The Fashion eZine - Fashion Statement
---
This Website is Best Viewed Using Firefox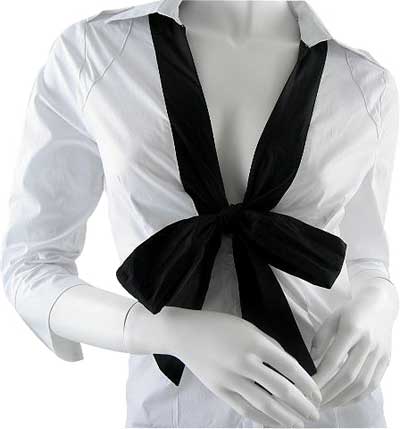 The White Shirt Reinvented
If you need a break from the bright fashion trend and Technicolor patterns making waves in the trend-pool this season you'll be relieved to hear that equally fashionable on the streets this season - if a little tougher to keep clean - is pure, simple, white fashion.
Gap has recently introduced a new limited edition collection inspired by the classic Gap white shirt for women, designed exclusively for Gap by Doo.Ri, Rodarte and Thakoon - three of the most celebrated, emerging American design labels in the industry today.
The designers are putting modern feminine twists on the classic, crisp white shirt - which has for so long been an indispensable staple in your boyfriend's closet - by infusing it with the charm of swingy, geometric trapeze silhouettes and fresh detailing with the use of bows, ruffles, asymmetry and pleats. This fundamental of fashion has also had the pleasure of being morphed into comfortably chic dresses complete with pockets, buttons, collars and ties.
H&M continues to take a cue from mod-wear and bleaches it out in this adorable matching mini-dress and jacket. Use the white palette as an opportunity to pack a punch with colorful, contrasting accessories such as this season's increasingly popular headband and a hefty sized bag generous enough to tote all of your essentials.
Legs are high on style this season, so show them off in this simplest of simple white, strapless mini-dresses from Banana Republic. How can you rock this style? Slip into an espadrille, cinch it with an even skinnier belt and top this daring number with a slim, cropped blazer to ward off chilly nights.
Turn to Club Monaco's A-line shift dress in tonal stripe for summery style that's at once sexy, comfortable and classic. Slip into a pair of neutral toned espadrilles or leather thongs and you're good to go.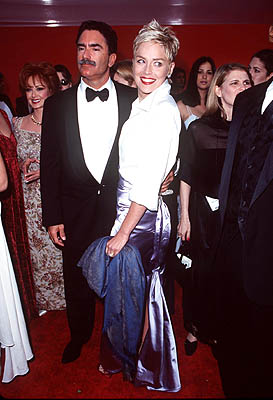 Evolution of the White Shirt
Ten years ago, almost to the day, the plain white shirt - that unmistakable, uninspired symbol of the office wardrobe (hence the term "white-collar job") - shed its boring nine-to-five image for ever.
It was Oscars night and Sharon Stone caused a fashion sensation on the red carpet when she arrived with her then husband, Phil Bronstein, on her arm - and one of his shirts on her back. It was accessorised with diamonds, cleavage and a floor-length lilac satin Vera Wang skirt.
Stone's shock-chic approach to red-carpet dressing has become part of Oscar history and, in the process, has given the white shirt classic status.
The white shirt is now an omnipresent part of the fashion scene, a wardrobe staple of the world's most stylish women. Customised with a stiff four-inch collar, it is as much an integral part of Karl Lagerfeld's image as his chunky Chrome Hearts silver jewellery.
Comme des Garçons' Rei Kawakubo is rarely seen without one either, worn with a sombre black jacket and skirt. Marc Jacobs at Louis Vuitton, DKNY, British stalwarts Margaret Howell and Paul Smith all feature white shirts this autumn. Style icon Daphne Guinness has recently launched her first fashion collection devoted entirely to versions of that one item.
Designers as diverse as Todd Lynn, Ralph Lauren, Yohji Yamamoto, Yves Saint Laurent, Brioni and Jil Sander have all made the white shirt a linchpin of their collections. This season, chains including Gap, Marks & Spencer and Next have interpreted the formula with missionary zeal. And some brands - such as French label Anne Fontaine - make little else.
The white shirt, bland as it may seem at first glance, is actually fashion's master of disguise. It reappears season after season, with slight variations in collar shape, embellishment and sleeve length, ready to morph itself into a look that will tie in with the hottest trends of the moment.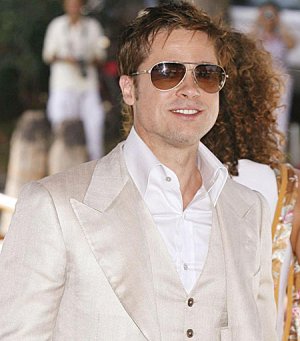 Different Looks for White Shirts
Romantic Full-sleeved and voluminous: tuck into jeans, hang loose over skinny trousers or wear with a belt over a pencil skirt
Pretty Look for small collars, frills or ruffles: perfect for softening working-wardrobe skirt or trouser suits
Tribal The classic, collarless granddad shirt: pile on the beads and bangles, push up the sleeves and wear with a primitive-pattern skirt
Retro Fitted, possibly Empire-line, with puffed sleeves: great with high-waisted '70s flared jeans
Classic The boyfriend-style shirt: Try versions by RM Williams, Thomas Pink and Anne Fontaine; don't forget the cufflinks
White is the new Black in Japan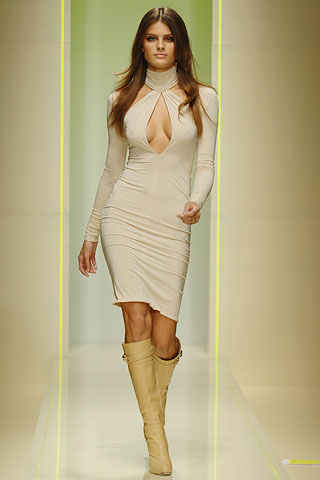 White garments currently abound at boutiques and women's apparel departments. The color caught on after it featured prominently in the 2006 spring and fall collections of famous designers. White blouses and dresses with frills and lace, full skirts, and other clothes with a feminine touch are particularly popular. Women of all ages are taking to white, since it comes in a range of materials and can be mixed with other colors to achieve a variety of effects. A lineup of white accessories and shoes, bags, and other goods is also available.
White has replaced black, last fall and winter's hot hue, to become the "in" color this spring and summer. The trend was ignited after it appeared prominently in the 2006 spring/summer collections of Prada, Valentino, Yves Saint Laurent, Chloe, and other famous designers, which were shown in Milan and Paris in the fall of 2005. Since then, feminine designs have quickly supplanted the military, masculine look that was popular for a number of years.
An indispensable part of today's ensemble is the white "romantic blouse," with its feminine touch. Many romantic blouses have frills around the neck or front, eliminating the need for accessories, and come in pretty designs with lace or ribbons at the neckline, puffed sleeves, and intricate hems.
Teenage girls are drawn to dresses with a supple drape made out of cotton, linen, and other natural materials, as well as full knee-length skirts made out of sheer, silky cotton. Working women, meanwhile, go for blouses made from silk, satin, chiffon, and other elegant fabrics paired with sturdy knee-length shorts, a combination favored for its refined appearance. On colder days, which can continue as late as mid-May, they need only don a cropped white jacket or crocheted white bolero, a choice that has replaced the black velour jackets that were popular last autumn and winter.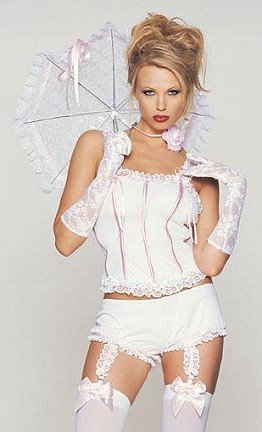 For all its popularity, white is not an easy color to wear, because dirt shows up so easily. When the occasion warrants it, white accessories or other items can be used instead of white clothes. This spring and summer, hot items include overlapping strings of white pearl necklaces with different sized beads and white rose charms. Patterned items featuring interspersed lace or ribbon are also selling well, as are shoes with ribbons, ballet-style slippers, and other soft designs.
The All White Wardrobe
Imagine for a moment reaching into your closet and always having clothes that matches. There is a way to do it, but there is a price. All your clothes are white.
White shoes, white pants and white skirts, white shirts, white blouses and even white ties and scarfs. Seems kind of dull, but your laundry basket suddenly seems a lot easier to clean since you only need to worry about your whites. You will be bleaching more to remove tough stains, but depending on your lifestyle it may be worth it.
You can still mix your wardrobe up with a dash of colour. A red scarf, a blue jacket, a yellow sash. Your accessories suddenly stand out twice as much when everything else you wear is white.