Fashion Flirts with India
The Fashion eZine - Orientalism
---
This Website is Best Viewed Using Firefox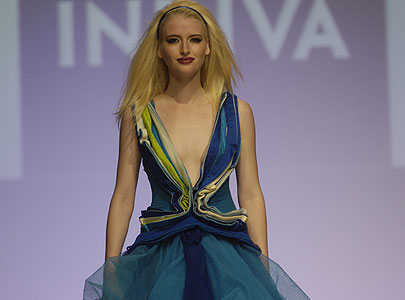 Indian fashion becoming a hot commodity in the West
By Natalya Lobov - November 2007.
India is a country with diversified customs and cultures. The traces of Indians being fashionable can be found out from the ancient remains of Harappa and Mohenjodaro civilizations. After the independence, globalization is being witnessed in the Indian fashion industry, due to which changes have occurred in the style of Indian dressing.
Styles of wearing saris and salwar-kameez have changed. The look is more cosmopolitan than region-specific. Different styles of blouses like katori style, halter-neck, back button blouses, high neck blouses, puffed sleeve blouses, etc. have become the hot favorite among women. The average lengths of the blouses have decreased. Saris are draped mostly in traditional back pallo style or gujarati style. Indian fashion scene is greatly influenced by its films. For example Mumtaz style sari draping inspired by yester-year heroine Mumtaz. Here sari is tightly draped around the body.
As far as salwar-kameez is concerned numerous styles and patterns can be given to this garment. For instance the kameez can be long, short, A-line, skin tight, etc. Such variations can be done to salwar as well as dupattas. Modern version of kameez is known as kurti, it could be coupled with jeans, pants or churidar. It has taken the form of Indo-western outfit. People in western countries too have started wearing kurtis.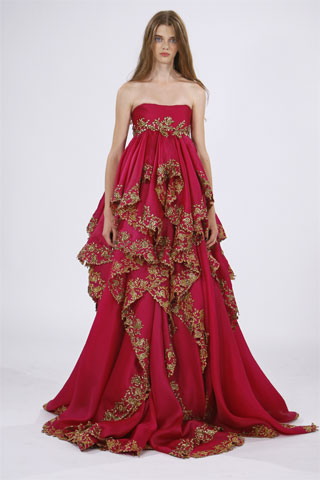 Mall culture is slowly and steadily growing in India. Many brands and private labels are launched in the Indian market. The first such retail outlet was Shopper's Stop which launched India's first multi-brand store in the year 1993. The specialty of such malls is that they offer a wide range of varied branded stuff, all under single roof. Some of the famous malls of India are Pantaloons, Westside, Lifestyle, Globus, etc. These retail outlets have also launched clothing line under private labels, manufactured and sold by them. For example- Pantaloons has many private labels under its brand like All, Fashion station and Mela. Some of the major private labels even operate as exclusive stores. The buyer gets an international shopping experience in such retail outlets. There are no nagging sales persons pressurizing the customers to buy.
Family stores are becoming hot favorite shopping hub for the middle-class and upper middle class shoppers. These stores sell garments of nearly all age groups and sexes. Apparels of various brands can be found in family stores. They are being considered as one-stop shopping destination. Roopam, Big Bazaar, Fashion station, V-mart, Maxx, etc are examples of some family stores.
Here in Canada people are taking fashion lessons from India, whose fashion design industry has exploded in the last decade.
"When I started nine years ago, it was like My Big Fat Indian Wedding," said designer Ranna Gill, whose mosaic print dresses with gem-studded necklines were presented by Indiva, a Bloor St. W. boutique stocking contemporary Indian design.
But with the coming of fashion week in India, everything changed, she said. Older customers started trying younger silhouettes and younger customers had a fashion awakening.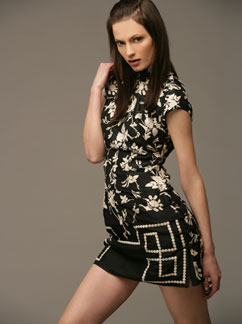 "A lot of people think of Indian fashion as ethnic and old, but this sensibility has changed completely," agreed designer Narendra Kumar, who showed raffia-look floral dresses and gold linens with yellow beading.
Kumar is credited with helping to pioneer fashion in India, by bringing the country its first fashion magazine as the founding fashion editor of Elle India in 1996. Prior to that he had launched a collection inspired by '80s icons Azzedine Alaia, Claude Montana and Thierry Mugler, "but it was too ahead of the market." He relaunched his label in 2002, and two weeks ago showed in Paris with Montana watching from the front row.
"I have seen the evolution of fashion in India and they have come to the point where they can compete on the world stage," says Liloo Alim, concierge of Toronto's Four Seasons Hotel and a native of India.
"They realized `Why are we looking to the West when we have all the talent and craftsmanship here?' Now Indian designers are huge in London, Dubai, France and Italy. These people are the Guccis of India," she said, referring to Gill, Kumar, and the others featured in the Indiva show.
"We'll never let go of our sari," said Gill, who looked red-carpet ready in raspberry chiffon with gold sequins.
"It's like our comfort blanket. If you can't find anything else, you go back to the sari. But we are 100 per cent flirting with a Western silhouette, and that's the new India."
---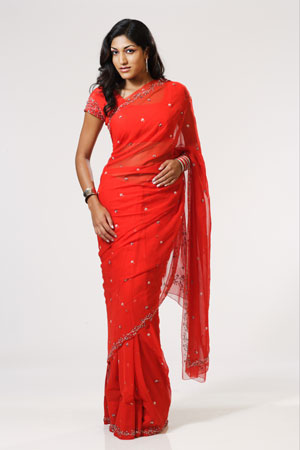 BLAME IT ON BOLLYWOOD
Indian fashion is all the Raj and will always be in vogue. Most notably a fashion classic is the traditional saree, now taken up by Western celebrities like Goldie Hawn and supermodels Naomi Campbell and Audrey Marnay who have all been spotted in sarees at gala events.
Saree fabric, usually in striking shades accented with gold or silver borders and motifs, has also made its way on to catwalk shows by Vivienne Tam and Zang Toi in New York, Matthew Williamson in London and Celine in Paris, in recent years.
While the saree is stunning in all its traditional glory, designer Michelle Lau has given it a Malaysian touch by using batik fabric in a range of Deepavali batik sarees under her label Meesha Sukira, which made its debut at the recent Miss Malaysian Indian Global 2007 beauty pageant.
Naturally, the alluring designs were a hit. "It's all in the spirit of muhibbah," explains Michelle. Floral and abstract elements feature in the hand-painted motifs. Traces of the hibiscus, water ripples and paint splashes can be seen on the flowy, silk chiffon sarees.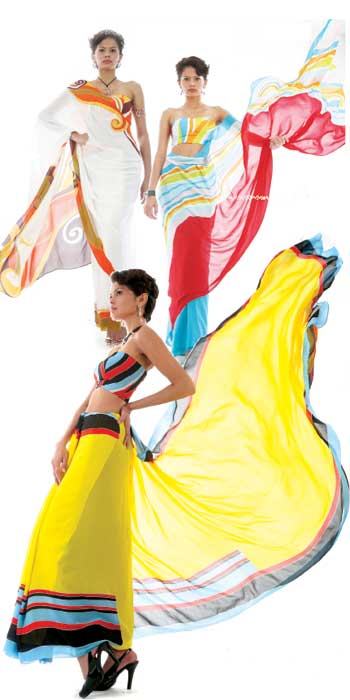 "Batik has a lot of potential because it can be done in a variety of designs from modern togs to classics like the cheongsam, baju kurung, kebaya, saree and more. The possibilities are endless, which is why there is a need to explore ideas and expose batik to the world."
She is grateful to the late Datin Seri Endon Mahmood for aggressive campaigning for batik, especially the Batik Extravaganza, part of the Malaysia Batik — Crafted for the World movement in 2003 which chalked up batik sales of RM3.5 millon.
"The beauty of batik lies in the print and colour combination. It offers endless possibilities for artistic freedom as motifs are applied by actual drawing rather than by weaving with thread. It can also be done on almost any material imaginable like linen and pineapple fibre apart from the usual silk and cotton."
Batik, she notes, has its own unique and distinctive beauty, and can be regarded as works of art, depending on the designer's creative and innovative talent. As for Meesha Sukira works, only one word suffices: En-tjanting.