Travis Fimmel
The Fashion eZine - Supermodels
---
This Website is Best Viewed Using Firefox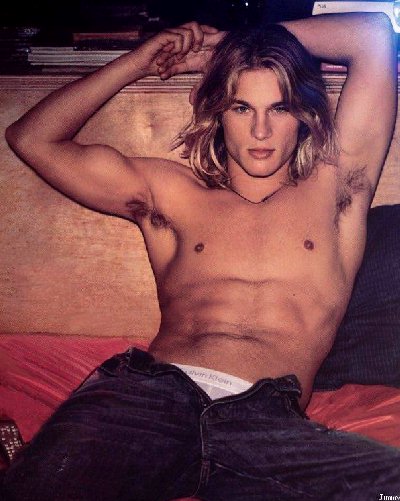 Australian Hunk
Blonde hair and bluish-green eyed supermodel/hunk Travis Fimmel was born July 15th 1979 in Echuca, Victoria, Australia. The 5'11" tall, 180 lbs of manly meat grew up on a dairy farm 40 km outside of Echuca.
Catapulted to instant notoriety from relative obscurity, his symmetrical features, attenuated body and accompanying bulge have been plastered on billboards and placed in magazines everywhere in the free world. From a bucolic background on a farm where he regularly milked cows, Fimmel has rocketed into the pantheon of international sex symbols.
He arrived in L.A. with just $60 in his pockets, spent $40 on a taxi into the city and his last $20 at a bar. After partying for a few weeks he found himself broke, and literally walked barefoot into the offices of LA Models. Paul Nelson recognized his potential instantly and signed him. After easily booking a few jobs, Paul brokered his first campaign with Calvin Klein.
The coveted slot of Calvin Klein poster boy is the most illustrious job a male model could snare, it's the big kahuna of the glamour profession. Travis Fimmel became the instant talk of the town with racy advertisements. Some countries decided to ban the ads, reasoning that it was too sexually suggestive and demeaning to men (as if that was even possible). Travos Fimmel was the first male model to sign a six figure deal to represent Calvin Klein exclusively (the only other model to receive such a deal was Kate Moss).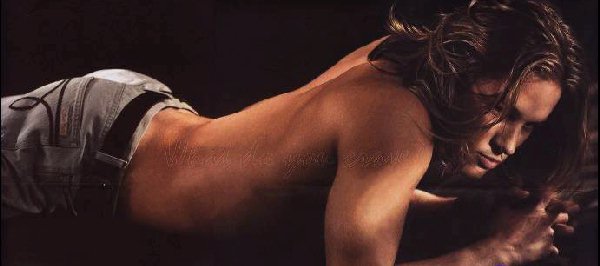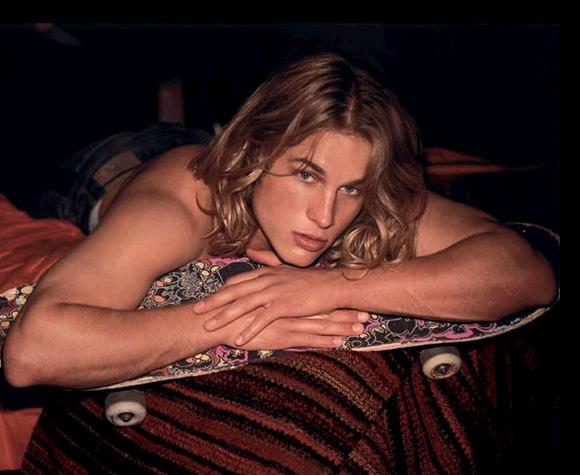 However this didn't prevent this traffic stopper from being noticed by the American public, and even the celebrities. Meg Ryan first spotted the blonde Aussie on a giant billboard on Hollywood's Sunset Strip. He has since been spotted dining with the real thing at Robert De Niro's Nobu restaurant in New York. Fimmel has a slimmer, more natural look than his preening predecessors Mark Wahlberg, Michael Bergin and Antonio Sabato Jr.
"We were looking for a new type of guy this time," says Sydney Bachman, former global creative director of advertising and fashion for Calvin Klein. "Travis is slimmer and boyish. Today it's not about working out in the gym and having yourself so pumped up and muscular. It's more about being athletic and slim."
As if to prove the point that models are extraterrestrial beings, beamed down from a parallel dimension to torment the rest of us, Fimmel admits his gym membership has long expired, and he eats what he pleases.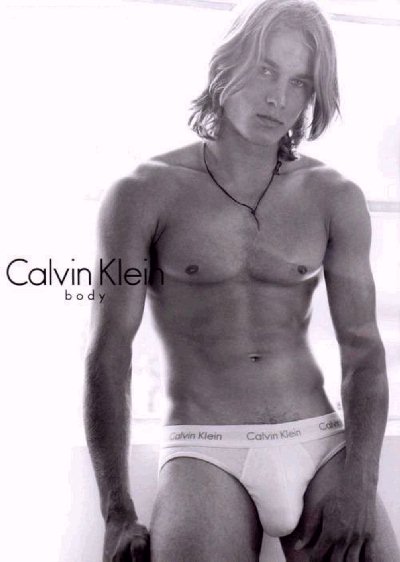 Travis Fimmel lives in Los Angeles, where his routine seems to consist entirely of surfing and channel-surfing, as well as cruising around in his 1985 Bronco. He waxes lyrical about the beach at Malibu, an idyllic setting with dolphins and seals. He reserves his wrath for sharks of the human variety.
"The thing about Travis," says Chadwick model agency booker Matthew Anderson, "is he is genuinely not aware of his appearance, or he's just playing cool. It might be a mix of both."
Fimmel is the youngest of three brothers. As a child, he worked on the family farm, rode motorcycles and hunted foxes. He loved his footy and his fishing.
"He's always had an adventurous spirit," says his mother Jenny. "He would disappear and camp out for the night. Even now, as soon as he gets home, he jumps on a motorbike and heads out to see what's been happening on the farm. He's always loved it here."
Fimmel left home at 17, moved to Melbourne at 18 to play football and study project management at RMIT University, backpacked through Europe and arrived in London at 19, where he remained for two years.
The modelling seed had already been planted when, in 1998, Anderson discovered him in a Melbourne gym. "He was a bit embarrassed about it all, like, 'What are you talking to me for?'" Anderson says. "He never saw himself as being a star and I don't think he does now."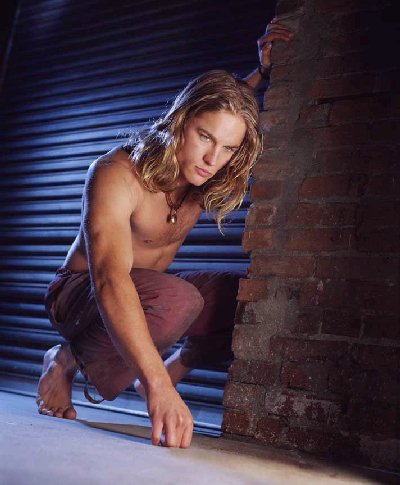 In fact Fimmel was self-conscious as a youngster. "He was small, the little guy," says his mother, "so it doesn't suit his character at all to make a big deal about his looks. Last time he was home, he got around in a checked shirt and torn jeans and I thought, 'Can't we dress him up at all? Isn't he supposed to be comfortable wearing nice clothes?' That's not to say he isn't enjoying his lifestyle. He's making the most of it, as any 22-year-old would." "He has a beautiful face, a very funny personality, it all clicked."
Fimmel also played the title role in The WB network's failed television series Tarzan, and appeared in Rocky Point in 2005, Southern Comfort and Ravenswood in 2006.
An avid barefooter, Fimmel claims to go barefoot almost exclusively. He made an infamous barefoot appearance on the The Sharon Osbourne Show and is often seen and photographed in bare feet, or at most, wearing flip flops.
Fimmel has also appeared in two music videos, for "I'm Real" by Jennifer Lopez and "Someone to Call My Lover" by Janet Jackson. Travis Fimmel is also an oil painter. However this talent has gone largely unnoticed in respect to his professional career.
Note: The Calvin Klein ad in which Travis is pictured naked but for a pair of impressively bulging white underpants, prompted a slew of complaints from viewers who found it indecent, sexually suggestive and "demeaning to men". A 60 foot tall version of the ad was removed from Oxford Street in London because it was considered a danger to drivers who were causing traffic jams to ogle at it. Calvin Klein defended the ad, denying that the image was suggestive or demeaning, and the ASA agreed, ruling that it was relevant to the product and was unlikely to cause serious or widespread offence.