Cleats Vs. Pleats
The Fashion eZine - Sports 'n' Fashion
---
This Website is Best Viewed Using Firefox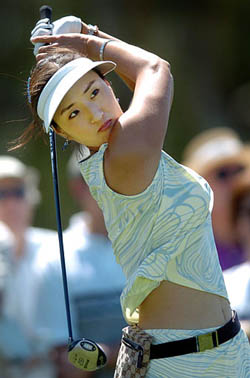 What's cooler – tennis or golf?
Tennis has the fashion-crazed Williams sisters – Serena once played the U.S. open in $40,000 diamond hoop earrings – and the ultrachic Anna Wintour, who rises at the crack of dawn to whack balls before heading to her office at Vogue.
Golf hasn't had much going for it in the women's style arena. But that's changing. Catherine Zeta-Jones, Cameron Diaz, Jessica Alba and Heather Locklear are said to be hitting the greens. Style-concious players like Michelle Wie, who played in Sunday's LPGA championship wearing a hot pink minidress, are bringing some snap to the sport.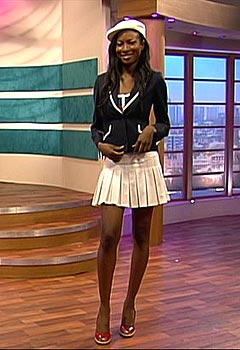 And frustrated golf divas are launching their own collections. Lynda Hipp is the designer of Lija (pronounced lee-zha), a snazzy golf line that features sophisticated colours and graphic prints.
"Ten years ago when we started, women's golfwear looked like miniature menswear – boxy polos and pleated shorts," Hipp says from her Vancouver headquarters. "But women are not shaped like boxes." So she cuts slimming cashmere-blend hoodies, tapered rosebud print polos, and long flat-front shorts in psychedelic graphic patterns.
"I really follow the fashion trends," Hipp says. "I look at interior design, I shop L.A. and New York. I look at the runways. And I roam the streets of Paris; that's where I get a lot of inspiration."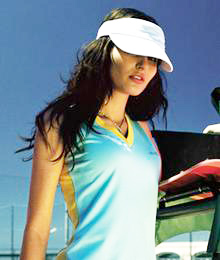 Of course you won't be seeing Balenciaga-style metal leggings and other out-there items on the links. "Golf is still relatively conservative. It's an old game with ideas of how you have to present yourself. So we don't step too far outside of the box."
Dress codes – such as collared shirts and shorts no higher than 5 inches above the knee – are adhered to. Still younger players don't want to look like their grandfolks.
"We're cool but we're golf-course friendly," says Geoff Tait, an ex-golf pro and co-founder of Quagmire Golf.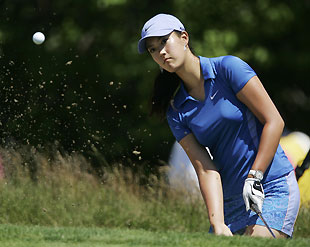 When Tait and partner Bobby Pasternak launched Quagmire last year, they were aiming at 20-something men and women like themselves. "We saw kids playing golf in Abercrombie and Fitch and Quicksilver ... so we decided to bring that surfer, skater look to golf."
The label has turned out to have broad age appeal and is already carried at 100 stores. "I haven't golfed once this year," Tait laments. "Our heads are spinning."
Spring looks include plaid and seersucker flat-front shorts and crinkled skirts, "like you could wear to the beach," Tait says. "Nobody else has done anything like that for golf. "
Not Rosemary Brdar. She launched Birdie Girl Golf (birdiegirl.ca), a collection of golf bags and accessories for women, after falling in love with a golf nut.
"I want to bring some edginess to golf," says Brdar, who is also a hairstylist at the Rapunzel salon on Irwin Ave. "Players are younger and more fashion conscious. They are into clothing and hair."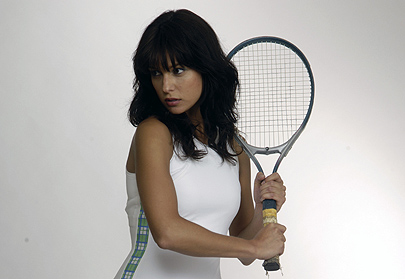 Current styles include a sexy black patent duffle with pink trim and a camouflage print golf bag with hot pink graffiti. "It's more surf and wakeboard inspired than a traditional golf look." Birdie Girl is carried at Golf Town and branching into the U.S., Japan and Europe.
"I founded this company with a single, stubborn mission: To create a line where women were the focus, not the second thought," says Brdar. "Women need golf accessories that make them feel as fabulous as the latest designer handbag or sexy stiletto heels."
---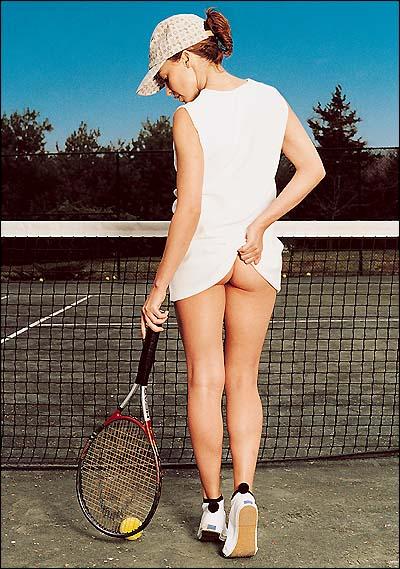 Court clothes cut to fit
Americans will wear anything on the tennis court, says Andrea Watley, designer of a new Toronto-based tennis wear line called Ace Collections.
"They play in cut-offs and cowboy hats," she remarks, rolling her eyes. Not so here in Canada, where many clubs outlaw more than 10 per cent colour in a player's outfit.
"They have colour police at these private clubs."
When Watley took up the game in mid-life, she found the standard miniskirts and tops revealed more tummy and thigh than she felt comfortable with. And the options were limited.
"I wore Nike and Adidas, but that's really all there is," she says. "Both are mass market and there is nothing special about them." So she founded Ace Collections, adding an inch to skirts and a shelf bra to tops. Tops are cut longer, too, with enough shoulder material to cover bra straps. Fabric is a sturdy Supplex that glides over lumps and bumps, Watley says.
See ace-collections.com.
---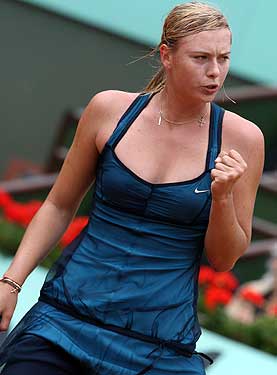 Maria Sharapova talks Fashion
Leggings, tulle and drop-waisted dresses are the latest fashion faults to hit the tennis arena.
Serving up the most recent sportswear mayhem is Russian tennis glamour girl Maria Sharapova.
At the French Open this week, the noticeably more muscular tennis ace grunted around the court in a tulle Nike dress which looked more at home at an '80s school formal than a professional tennis match. But while it adds colour to the court, stylists and commentators have questioned whether fashion is impeding players' performance.
Adelaide stylist Samantha Reynolds said: "With all the jewellery and strange clothes they wear, it has to affect their game."
Other perennial fashion victims include sisters Serena and Venus Williams who regularly sport cut-out dresses, huge earrings and space-age boots. Ms Reynolds said spectators were also offenders. "When you see girls in high heels and mini-skirts, it is just wrong," she said.