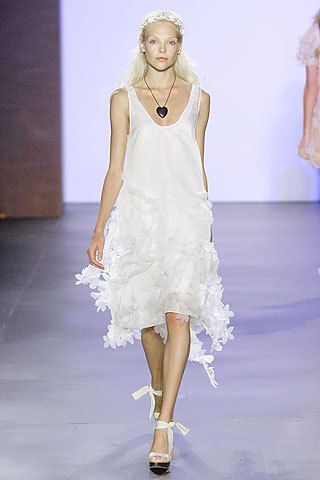 Some officials take action
The issue of how thin is too thin has taken on urgency after Brazilian model Ana Carolina Reston, 21, died in November from complications due to anorexia nervosa. She was 5-foot-8 and 88 pounds.
Officials in Spain and Italy have gone so far as to regulate who can appear in runway shows. And now Spain's department store chains, at the behest of the health ministry, will eschew skinny mannequins for more realistic versions.
In the U.S. last month, the council of fashion designers marked another first, issuing recommendations aimed at protecting women, and very young girls in particular, from becoming thin to the point of bad health. They included common-sense steps such as developing workshops on the nature of eating disorders, avoiding hiring runway models under age 16 and providing "healthy snacks" at fashion shows and photo shoots.
The move was applauded by health activists and criticized as a "Band-Aid." Council of fashion designer officials declined to comment for this story, saying that they would withhold remarks until Monday's panel talk.
Meanwhile, the fashion world, which thrives on the outrageous and the extreme, continues to express the idea that moderation is boring, a mere step away from being overlooked.
Marc Jacobs unveiled his new ad campaign in February's Vogue, casting 12-year-old actress Dakota Fanning as his star with pieces from his women's collection custom-made for the 'tween.
And Jean Paul Gaultier turned the tables on the skinny debate at the Paris show in October when he sent 5-foot-8, 290-pound model and actress Velvet d'Amour down the runway in a satin corset and negligee. Why focus on skinny models when America has an obesity epidemic?
"Guidelines are good, but designers also understand that image represents their collections," said Tom Julian, strategic director for trends at McCann-Erickson, a New York-based advertising agency.
Designers prefer thin models because they say that's how the clothes look best. Runway models are taught to think of themselves as walking hangers, so it's the clothes that get noticed, not the bodies.
That has been the state of modeling since the runway shows began a century ago, said Valerie Steele, director of the Museum at the Fashion Institute of Technology. Voluptuous figures went out of style with the Victorians.
"Thinness began to become more fashionable in the early 20th Century," said Steele. "It was more of an aspiration than reality. It comes with the increasing idealization of youth."
Consumer behavior expert Dan Howard predicts the time is ripe for a designer to break ranks and use "real women" as models, much like the Dove campaign has done so successfully with skin care.
"There is a good possibility for a nice competitive move, but the question is who's going to have the courage to do it first?" said Howard, chairman of the marketing department at Southern Methodist University in Dallas.
Former supermodel Tyra Banks is taking the skinny-mongers to task on the current cover of People magazine, appearing in a strapless red swimsuit asking "You Call This Fat?" She is 5 foot 10 and 160 pounds, 50 pounds heavier than her early catwalk days.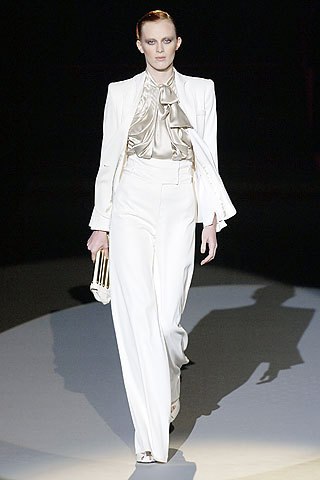 Studies, advertisers at odds
Countless studies have shown that adult women relate better to ads depicting women like them rather than extremely thin models, but advertisers don't buy it, said Marti Barletta, president of Winnetka-based TrendSight Group and author of "Marketing to Women."
Barletta did cite Eileen Fisher, Nordstrom and J. Jill as retailers that are moving toward using women in their ads that look more like a neighbor than a supermodel. And Soma, the intimate-apparel and loungewear chain store for women 35 and older, displays its clothing on mannequins that mirror an average woman's body.
Perhaps most telling, women at country clubs and philanthropic groups who put on fashion shows for their members have started to ask in the past few months that waiflike models stay at home, said Tracey Tarantino, a producer at Zzazz Productions, an Oak Brook-based fashion show company.
"It's difficult to find a young woman these days who hasn't suffered herself or known someone who has suffered at some level with these body issues and eating disorders," said Lizzi Shappell, 22, student body president at the University of Notre Dame. "A lot of that has to do with exposure to skinny fashion models and fashion magazines putting out the ideal of very, very thin women."
Shappell is among a group of students organizing a three-day conference on "Eating Disorders and the Campus Culture," the first of its kind for the university in South Bend, Ind.
The conference, which runs Thursday through Saturday, will attract several high-profile speakers, including Lauren Greenfield, a pioneer in studying "Girl Culture" and the director of "Thin," an award-winning documentary about eating disorders that debuted on HBO in November.
"Awareness is our first goal," added Allison Wilson, 23, co-chairman of the conference. "It's a very pervasive problem on college campuses, and there hasn't been much talk about it."
An estimated 8 million Americans suffer from eating disorders, and 7 million of those are female, according to the National Association of Anorexia Nervosa and Associated Disorders, a Highland Park-based advocacy and support group founded 40 years ago. Nearly 9 out of 10 eating disorders occur in women under age 20, the group said.
The association is in the midst of launching a Web campaign to encourage consumers to shop only at companies that promote a healthy body image.
"We think the whole debate shouldn't be about the models, but about the images hundreds of millions of marketing and advertising dollars are spent on to bombard the general public," said Keith Sanderson, spokesman for the association.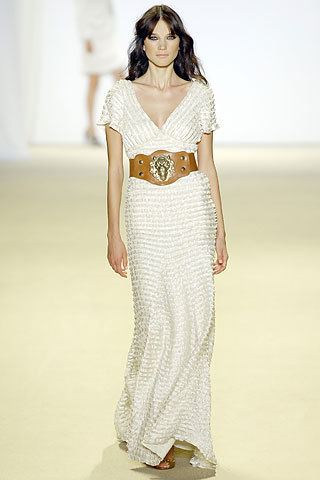 Images more pervasive
Eating disorders have been around for decades, and modeling isn't the only career where dieting can get out of control. Dancers and actresses are under enormous pressure to look good and stay slim.
But, with the rise of the Internet, digital photos, reality TV shows and an explosion of celebrity magazines, the images are more pervasive than ever.
Fashion show photos, once screened by fashion editors, go straight from the runway to Web sites in hours. "Project Runway" and "America's Next Top Model" make it seem like anyone can try out to be a model, if only they're skinny enough. Victoria's Secret broadcasts its fashion shows on TV. Hollywood celebrities Lindsay Lohan and Nicole Richie make the news by losing too much weight.
"I think nowadays the average girl is more in touch with models and designer things. They're just reaching girls at a younger age," said Sharon Lamb, psychologist and co-author of "Packaging Girlhood: Rescuing Our Daughters from Marketers' Schemes."
Rev. Steve Emmett, a psychologist and Unitarian Universalist minister in Massachusetts, who is also a specialist in treating eating disorders, criticizes the "superficiality" of identifying with "very empty icons."
But that said, Emmett's 16-year-old daughter has landed a three-year modeling contract with Boston-based talent agency Maggie Inc.
"It's really an irony," he said. "I have mixed feelings about it. I'm happy for her and I'm concerned for her, going into a very seductive environment. When she left to get her photo portfolio done I told her, don't forget it's much more important what's on the inside."