Open-Cup Bras
The Fashion eZine - Women's Lingerie
---
This Website is Best Viewed Using Firefox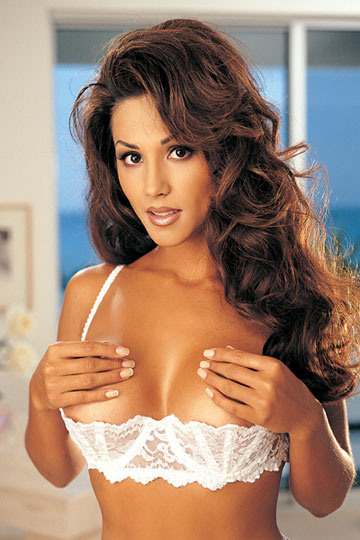 Cupless Bras
Also known as a cupless bra the open-cup bra is a brassiere design composed of a frame with no support cups, or a bra which exposes the nipples with notched or contoured support cups. Usually worn as erotic lingerie, a cupless bra can cause the shape of the nipples to be prominently visible on an outer garment.
The most common variant is a shelf bra, which is essentially a rigid band (underwired) along the inframammary line, that pushes up without actually covering any, or only a thin strip of the breast. Another variant is partial cups that don't cover the nipples, but cover just the base of the breast.
An open-cup bra seems like it would defeat the purpose, doesn't it? Well, that all depends on what you think that purpose is. If you only buy bras for their ability to provide coverage then you're missing out. Lingerie's the antithesis of what it's supposed to be, and it's incredibly sexy being rebellious.
Open-cup bras can be great for wearing behind closed doors and even underneath outfits you plan to be taking off soon. They're not recommended for running errands, going to work, etc. You'll still get similar support as with a traditional bra, but your nipples will be much more visible.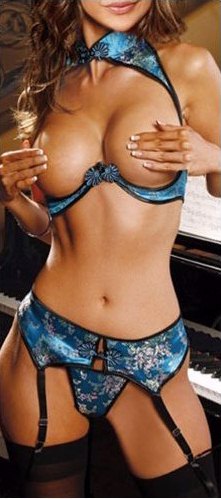 Your best bet for finding the style you want is to search online rather than in stores, as most stores don't sell open-cup bras. Also there are many different styles of open-cups.
Underwire open-cup: This one is like a typical underwire bra, just with the cups above removed. You can still have the lace or satin accents on the sides of the band. Your breasts are still relatively supported by the wire underneath. Granted, you probably won't want to wear this under regular clothes out in public. Your lover will enjoy your "naked, but not really" look in the bedroom with this style.
Sling bra: Here, you get something similar to the underwire style, but you there's a little more material. The bra almost appears to have the lower half of the cups still present. The top edges are outlined with material in a triangle shape. This type is a bit more modest than the underwire bra, but not much!
Nippleless: This is probably the most modest of all the open-cup styles. Cups still intact for the most part, they're open by a slit right at nipple level. It gives your lover a sneak peek at what could happen.
Demi cup: Half the cup, double the excitement, the demi cup bra lifts and supports without leaving you completely bare. The bottom portion of your breasts will still be covered, leaving the upper half—and nipples—uncovered and ready to excite your lover.
Sets: Sometimes you can find a bra and panty set in an open-cup style. If you get the opportunity, snatch one up! There's very little in the world more erotic than such a pairing.
Silhouette bra: Similar to the sling style, this one outlines the breast and leaves the cup out. This style really highlights your assets; think of it as eyeliner for your chest.
Drop cup: This one can double as a sexy nursing bra for those moms who still breastfeed but want to feel alluring. You'd never know it has the option for open-cups until you utilize the click-and-drop method.
Micro bikini: These bras look like teeny tiny bikinis with slits cut in the center of each cup for nipple exposure.
Bullet bras: These babies allow for an old-fashioned style with a new, naughty twist.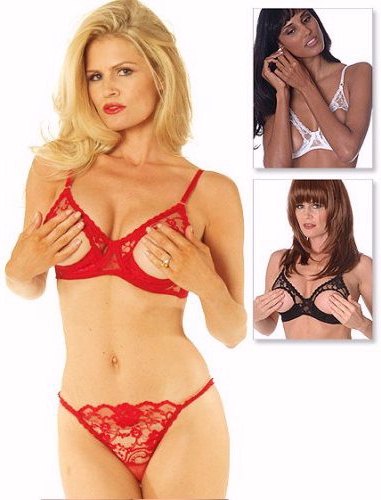 Open Tip Bras
An open tip bra is a another titillating option in brassiere wear that will provide the support you need while adding a little risqué to your lingerie. Similar to open-cup or shelf bras, the open tip style, leaves just your nipples uncovered.
Open tip styles are a good option for spicing up your lingerie. They provide support for a flattering lift, provide the wearer with a bit of a thrill each time they're worn, but also offer a surprise element for your normally inobservant partner in the bedroom. As an added bonus your partner may decide they like the bra and skip the whole trying to remove it process.
Open tip bras also come in underwire and lacy versions, bullet retro styles (like Madonna's famous bullet bra) and work well under just about any shirt or sweater. Clingy shirts will show off your nipples more, especially in cold weather, and that all depends on whether you want to make heads turn to stare at your nipples.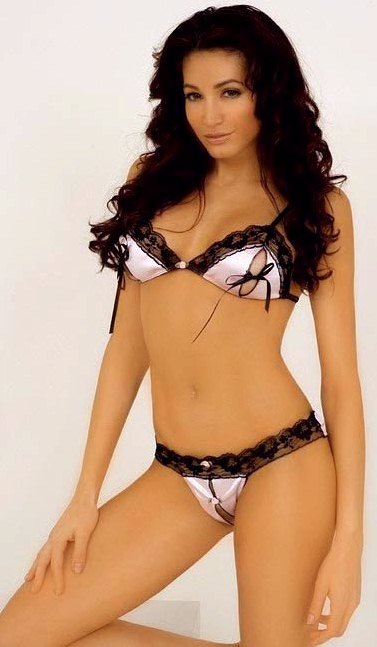 Although some bras provide very little support and are made more for show, even women with large breasts can find a style that will give them a lift, which is important if you want to wear this bra during the day when you're out and about. For private encounters support is usually not the first thing on your mind!
Like the open-cup bra there are quite a few online retailers who specialize in bras that aren't your ordinary fare.
Some open tip styles with small openings that will just show the tip of a breast, to bras with larger openings that show a bigger area. The choice is yours in how much you want your nipples exposed. Some open tip bras have slits that expand, allowing you to adjust the size of the area exposed.
An Open Micro Bikini Bra is good for women who don't require a lot of support because it is micro, and it goes well with matching crotchless panties.
A sling bra has slender straps that are best for women with smaller busts as this bra typically doesn't go bigger than a C cup.
For women who want to try out the open tip style and require bigger bras the "Oh My Open Tip" comes in sizes up to DD.
See also:
The History of Bras & Breasts