Naomi Campbell
The Fashion eZine - Supermodels
---
This Website is Best Viewed Using Firefox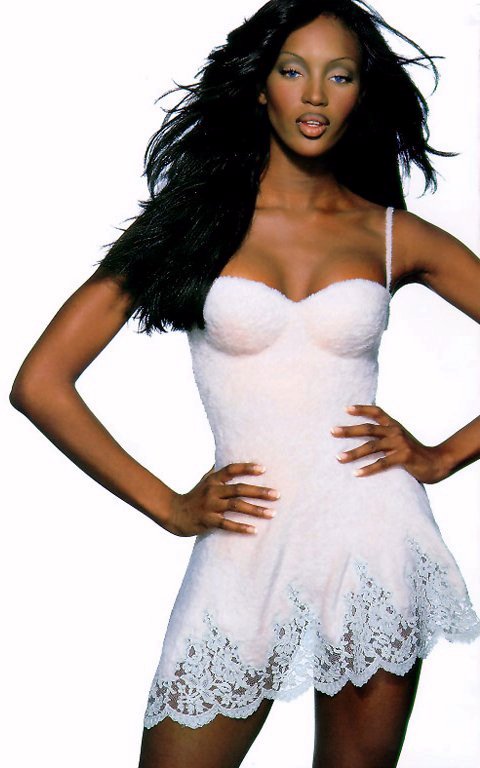 Name: Naomi Campbell
Born: May 22, 1970, in London, England; daughter of Valerie Campbell (a ballet dancer).
Education: Attended London Academy of Performing Arts, c. 1985.
Nickname: Black Panther
Date of Birth: 22 May 1970
Height: 5' 10''
Nationality: British
Claim to Fame: One of the top supermodels in the fashion industry with appearances on the covers of British Elle, French Vogue, British Vogue and Time Magazine

Career

Model, 1986-; appeared on London stage in The King and I; film appearances: Quest for Fire, 1982; The Wall, 1982; Cool as Ice, 1991; The Night We Never Met, 1993; Miami Rhapsody, 1995; Girl 6, 1996; Invasion of Privacy, 1996; Trippin', 1999; Prisoner of Love, 1999; Destinazione Verna, 2000; television guest appearances: The Cosby Show, 1988; The Fresh Prince of Bel-Air, 1990; albums: Love and Tears, 1994; Babywoman, 1995; author (with ghostwriter), Swan, 1994; co-owner, The Fashion Café, beginning 1995.

Life's Work
With looks that some have described as exotic--her grandmother was a Chinese native of Jamaica--Naomi Campbell has become a familiar figure on the covers of leading American and European fashion publications. She has appeared in Cosmopolitan, Vogue, and Elle, and was the first black woman ever to appear on the cover of the French edition of Vogue. Not content with modeling alone, Campbell has broadened her career to include singing, acting, and a variety of business ventures.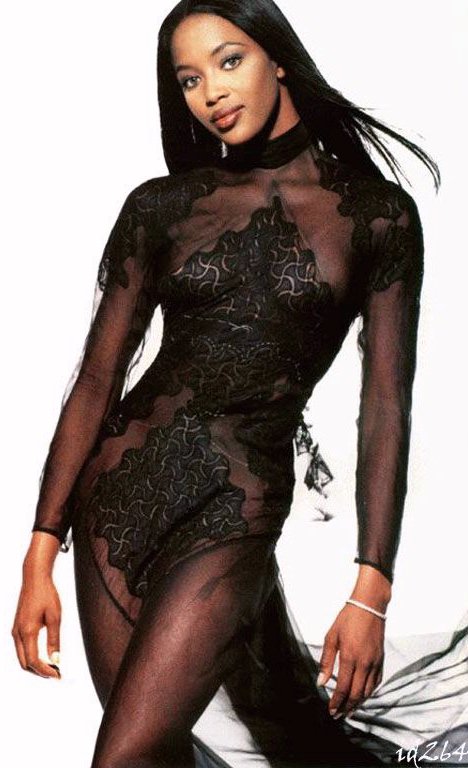 Campbell was born on May 20, 1970, in Streatham, London, England. Her father, a Jamaican immigrant who was part Chinese, left the family before she was born. Her mother, Valerie Campbell, was born in Jamaica but grew up in London. A modern ballet dancer, Valerie spent much time traveling throughout Europe with her dance troupe, so a nanny was hired to help raise Naomi and her brother. Like her mother, Campbell was also interested in ballet. At age ten, Campbell was accepted to London's prestigious Italia Conti Stage School to study ballet. She also attended the London Academy of Performing Arts. During this time, Campbell landed bit parts in two films: Quest for Fire (1981) and Pink Floyd's The Wall (1982).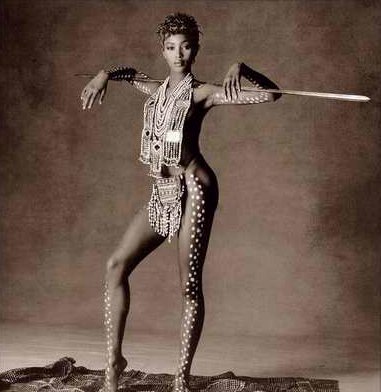 Discovered in Shopping Arcade
When she was 15, an agent discovered Campbell in a shopping arcade at Covent Gardens, which Campbell frequented after school. Campbell described the encounter to George Wayne in Interview: "I was just hanging out, and this woman comes up to me and says, 'I'm a modeling agent.' I didn't believe her, but I took her card home and gave it to my mother. And then I saw an interview of her in Tatler, so I knew she was legitimate.
After that I started pleading with my mother to let me go see her. At the end of the school year, I did. She took a picture of me in my school uniform ... then she sent me to a photographer who was working on an assignment for British Elle in New Orleans, and he booked me."
Superstar model Christy Turlington, a close friend of Campbell's, first met the teenage hopeful at Elite, the agency where Turlington was working. "She was wearing her school uniform," Turlington related to Elizabeth Sporkin in People. "The next time I saw her, a few months later, she was on her own in Paris, dancing until 4 a.m." Campbell and Turlington became fast friends, and ended up sharing an apartment. Signed to the Elite Modeling Agency, Campbell was soon working with some of the biggest names in the fashion industry, including Isaac Mizrahi, Calvin Klein, and Azzedine Alaia. She described in Interview some of her favorite fashion photographers: "I like working with Herb Ritts, and I do very much like working with [Francesco] Scavullo. He makes me feel like a woman. Herb makes you feel very innocent. Steven [Meisel] makes you feel like a character. When you work with him he'll give you postcards and books to look at and study. He makes me look different in every picture."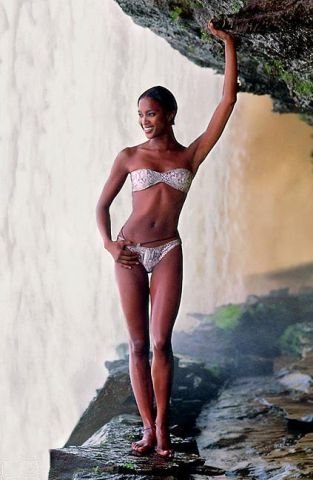 Earning more than $1 million a year, Campbell's assignments have taken her to many locations around the world. For one of her most exciting--and harrowing--photo shoots, she found herself, standing atop a volcano in Lanzarote, Spain--in heels. Her face was emblazoned on the French, Italian, American, and British editions of Vogue in the late 1980s. In 1988, she made a guest appearance on The Cosby Show.
One reason Campbell was so highly sought after is what many in the fashion industry have praised as her natural modeling ability. "She's one of the most delightful girls I've ever worked with, one of my favorite models," exalted renown fashion photographer Francesco Scavullo in Harper's Bazaar. "No one else has such an amazing body. She makes clothes come alive." Fashion coordinator Audrey Smaltz also commented in Harper's Bazaar on Campbell's magnetism on style show runways: "She's doesn't realize how wonderful she is ... She has terrific body language--most models don't--and can translate this into whatever she's wearing."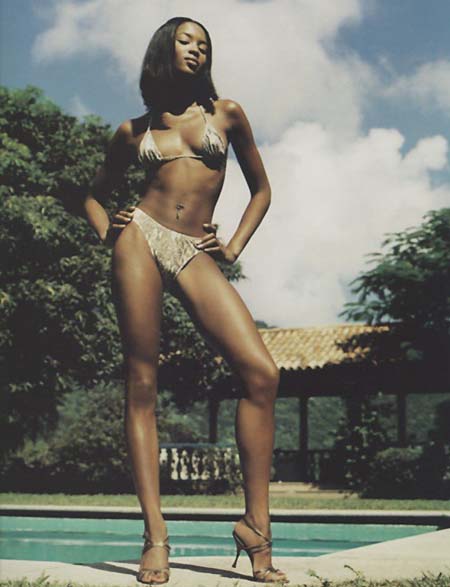 Expanded Career With Music and Acting
In the early 1990s, Campbell began to focus more on her other interests. In addition to appearing in Vanilla Ice's film Cool as Ice (1991), she also contributed vocals to a track on the soundtrack. She then recorded two albums of her own: 1994's Love and Tears and Babywoman (1995). Campbell also she recorded "La, La, La Love Song" with Japanese singer Toshi, and the song reached number one in Japan. In addition, she appeared in several music videos, including Michael Jackson's "In the Closet" video and George Michael's "Freedom."
In 1994 Campbell published a novel. The ghostwritten Swan presents the story of a successful supermodel who has decided to quit modeling. The novel was a critical disappointment. Jonathan Van Meter of Vogue called the book "a laughingstock."
She commented about her hopes to expand her acting career in Interview: "You can't learn it all. As they tell you, acting is reacting. So it's all about going through life, having experiences." She won a small role in The Night We Never Met (1993), and in 1994 played a model in Robert Altman's Pret-a-Porter (Ready to Wear). The following year, she had parts in To Wong Foo, Thanks for Everything, Julie Newmar and Miami Rhapsody, which starred Sarah Jessica Parker and Mia Farrow. She also showed talent in a cameo in Spike Lee's Girl 6 (1996). Campbell continued to make guest appearances on such television shows as The Fresh Prince of Bel-Air and New York Undercover, in addition to a cameo appearance on the British comedy series Absolutely Fabulous.
Campbell continued to model, earning fees of $10,000 a day. She was reportedly paid a six-figure sum to appear in Madonna's book Sex, which featured erotic photographs, and she selected all of the pictures for another photo book called simply Naomi, which consisted of favorite shots of herself taken by top photographers. Naomi's proceeds were donated to the Red Cross, for use in Somalia relief efforts.
A bonafide supermodel with several films behind her, Campbell had risen to megastardom. Tabloids and gossip columns could not print enough about her personal life. She has been linked to Mike Tyson, Robert DeNiro, who Campbell initially denied dating but later revealed that they had a four-year relationship, and flamenco dancer Joaquin Cortes. Campbell was also briefly engaged to Adam Clayton, a member of the band U2. The rumor mill has also suggested romantic connections with Sylvester Stallone, Sean "P. Diddy" Combs, and Gabriel Byrne.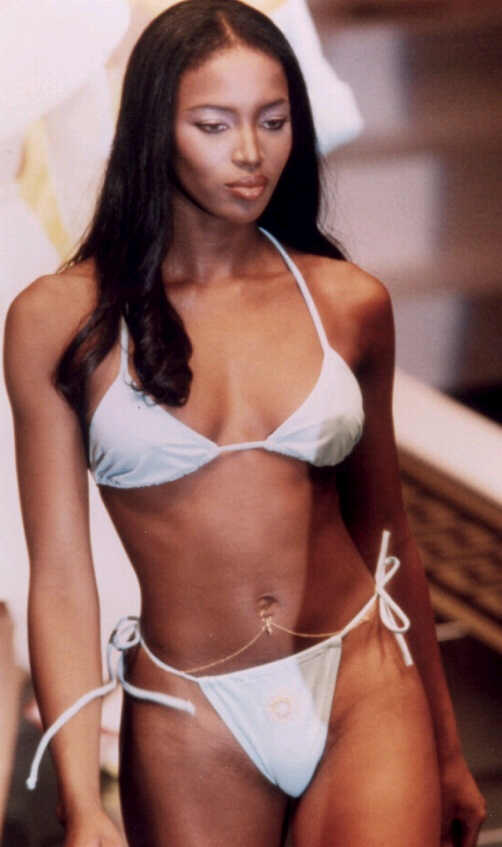 Opened Fashion Café
Campbell's next venture was the restaurant business. In 1995 she, along with fellow models Elle MacPherson, Claudia Schiffer, and Christy Turlington, and Italian restaurateur Tommaso Buti, launched the Fashion Café. The restaurant and coffee house first opened in New York City, and was situated in Rockefeller Center. Patrons entered the restaurant through a door shaped like a giant camera lens and serving staff carried cuisine down a catwalk. The decor included a collection of fashion memorabilia, from Madonna's famous Jean-Paul Gaultier bustier to one of Elizabeth Taylor's wedding gowns. Branches in London, Jakarta, Barcelona, Mexico City, New Orleans, and Manila soon followed.
By 1997, however, Turlington had pulled out of the company, and the next year, investors accused the Fashion Café of mismanagement. The New Orleans and Barcelona franchises were shut down, and Buti resigned after selling his stake in the firm. New management was called in to restore order, however, and the business continued at other locations. The New York branch, however, was later closed and the London restaurant was placed in receivership in 1998. Buti, accused of defrauding investors, was arrested in 2000 and charged with wire fraud, conspiracy, money laundering, and transportation of stolen property.
Developed Reputation for Being Difficult
Throughout her career, Campbell has developed a reputation for being notoriously difficult to work with. Her temper reportedly possessed a short and fiery fuse. She has also been known to be perpetually late to assignments or appointments. In addition, she has earned a reputation for making selfish demands, such as insisting on being the first and last to appear on the runway at fashion shows. It was this difficulty which supposedly led to her temporary dismissal from Elite. Other reports, however, indicated that she resigned and was later hired back.
During a film shoot in September of 1998 for Prisoner of Love, according to Joe Warmington in the Toronto Sun, several crew members called Campbell "a 'nightmare' to work with," and one anonymous crewman called her "a spoiled child." In addition Georgiana Galanis, a Canadian assistant who had worked for Campbell for only nine days, claimed the model grabbed her by the throat, assaulted her with a telephone, and punched her in the shoulder twice. Campbell was arrested and charged with assault causing bodily harm.
Campbell did not attend the February of 2000 court hearing, but pleaded guilty in absentia to the lesser charge of assault. The court gave her an absolute discharge, which meant that she did not have to serve jail time and that she would not have criminal record in Canada. Galanis filed a civil suit, and an undisclosed settlement was reached out of court.
Aware of the problems caused by her incendiary temper, Campbell took steps to learn how to control her anger. In 1999 she spent four weeks the Cottonwood Center in Tuscon, Arizona. While at the clinic, Campbell shared a room with three other patients, and learned several anger management techniques. Part of what drove her to seek help was Campbell's fear that her anger was having a damaging effect on her relationship with Flavio Briatore, a businessman from Italy who Campbell began dating in 1999.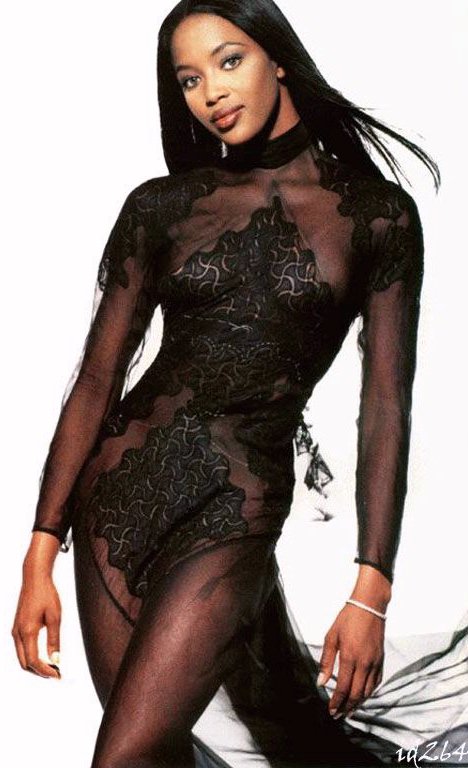 Campbell has given much of her time to charitable works. She has worked with the Dalai Lama rasing money to build kindergartens for poor communities. In February of 1998, she was involved with a fund raising event in Johannesburg, South Africa, for the Nelson Mandela Children's Fund. Campbell continued to work with the Children's Fund, developing a close friendship with Mandela.
Launched Signature Fragrance
The next step in Campbell's ever-diversifying career was the development of her own line of fragrances. Produced by Cosmopolitan Cosmetics, her first perfume, Naomi Campbell, hit stores in Japan, Germany, the United Arab Emirates, and Australia in the fall of 1999. U.S. stores welcomed the fragrance to their shelves in June of 2000. Campbell was involved in every aspect of the production process. "I didn't want to just put my name on something, like I did with the Fashion Café," she told WWD. "I wanted to be involved with my fragrance every step of the way, and that meant committing myself in every way--to the promotion, to the formulation of the scent, to everything." Not only did Campbell work with Givaudan Roure to create the perfume, but she also worked with Thierry de Baschmakoff to design the bottle and outer packaging.
Naomi Campbell was only the first in a whole line of fragrances. Campbell's second fragrance, Naomagic, was released in the fall of 2000. According to European Cosmetic Markets, this follow-up was "said to free the magical attraction of a woman." Campbell turned to her favorite flower, the lily of the valley, for inspiration in creating this scent. The design for the flacon containing the perfume was also inspired by two stones that she has always carried in her handbag: a rock crystal for energy and a stone talisman for good luck.
With the success of these fragrances, Campbell planned to expand her line to include cosmetics, candles, and perhaps even skin care products. "I'm not doing this because I'm forced to financially," she told WWD. "Instead, I'm doing it because it touches me. It makes a statement about my sense of smell to the world."
In February of 2000 Campbell was still in demand as a model. However, she decided to reduce the number of runway shows she appeared in. "I find it really stressful," she told the South China Morning Post. Besides, there was only so much time in a day for the model/actress/entrepreneur, and she had several goals yet to accomplish. "Oh God, there's a lot more," Campbell said in her book Naomi, as quoted in the African News Service. "I've got motherhood to achieve, marriage and family life. That for me would be a lot more than I've achieved in my career. That's something I would really love to do in my life."
---
Further Reading - Books
Contemporary Theatre, Film and Television, Vol. 31, Gale 2000.
Newsmakers, Gale, 2000.