Long Gloves and Fingerless Gloves
The Fashion eZine - Accessorize
---
This Website is Best Viewed Using Firefox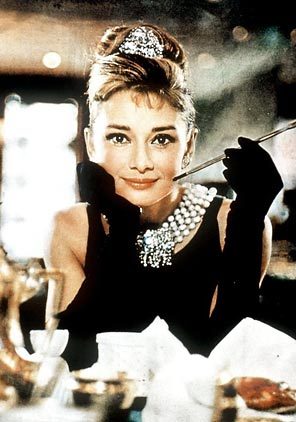 Elegance and Warmth
See also: Arm Warmers.
Got cold hands? Maybe it is time to add an elegant touch to your wardrobe.
Think Audrey Hepburn in "Breakfast at Tiffany's" and Madonna in her music video "Material Girl". Think proms from the 1950s. Imagine elegant chic in opera gloves and a long sleeveless dress.
Don't think it is all snobbery and elegance either. Think of Gwen Stefani gyrating on stage in arm-pit-length black leather gloves, radiating pure rock-girl sexuality.
Whether there's a brisk chill in the air or you consistently lose the battle over elevating the thermostat at work, we have just the fashion solution. Gloves will ward off the cold and keep you looking tres chic. If the idea of sliding on a pair immediately has you flinching, consider your options.
The refined, sophisticated woman will be drawn to longer styles. A pair from Echo will accompany a sleeveless top and jeans just as well as that cocktail dress.
For the girl with a little more edge, a pair of fingerless gloves will do the trick. Head to Urban Outfitters for a variety. The exposed fingertips not only allow you to perform daily activities, they also kick up the style notch.
A pair of short leather gloves fall somewhere in between the long and fingerless styles. The traditional chick will find a happy medium with these.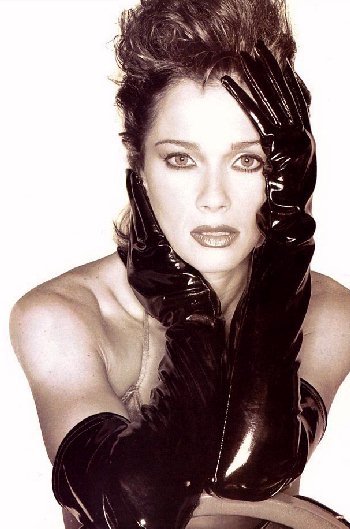 Long gloves add an elegant touch
Now long gloves are back with a decidedly modern twist – crawling up women's arms to meet cropped coats and jackets and chunky sweaters.
Part of it is pure practicality. You can't walk out of the house in a cropped-sleeve coat and short gloves without getting frost bite on your forearms.
But the new gloves are more than mere arm coverings, available in shimmery metallics, ruched velvets and even funky fingerless permutations. They range in price from about $20 for a simple knit pair at a discounter to $160 and up for the more intricate patent-leather gloves and cashmere-lined ones at boutiques. (The high-end gloves are not good for those of you who are always losing one mitten).
"It's mod goes 'Breakfast at Tiffany's.' It is a little more of a modern look," said E.B. Pepper, owner of e.b. Pepper boutique in Shadyside, Pa.
The boutique is selling a pair of checkerboard, patent-leather-and-leather gloves for $168 and others with bronze and silver sheen metallics with cashmere lining for $180.
"It's a fun way to add a touch of elegance," said Karen Peter, vice president and general manager of Saks Fifth Avenue, which has a wide selection of long gloves, including caramel-colored animal print and ruched burgundy velvet.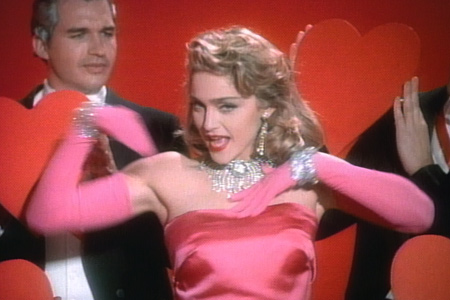 "It's a slightly exaggerated silhouette of a more refined era, when a woman wouldn't think of leaving the house without a hat and a pair of gloves."
T.J. Maxx, the off-priced discounter, offers long gloves from $19.99 to $80 for Italian leather ones. The big colors are burgundy and kelly and hunter greens and navy, said Laura McDowell, spokeswoman for the company. "People love them. It is very fresh and modern. It is a sophisticated updated look."
Many of the long leather gloves are for outerwear, but the fingerless ones are to be worn inside, paired with a chunky sweater for a funky look. Saks sells a pair of striped fingerless Portolano gloves for $65.
"They meet in the middle," Peter said. "You scrunch the gloves up a little and push the sweater up a little. They are selling well."
Peter is an aficionado of long gloves and buys them both new and at vintage shops. The right pair of gloves can dress up a work outfit and take you to a cocktail party, she said. One of her favorite pairs is pale blue vintage ones worn by her grandmother.
Like a big-brimmed hat, a long sleek pair of gloves requires confidence to pull off.
"Stylish women wear the long gloves," Pepper said. "It is not the age. It is the style."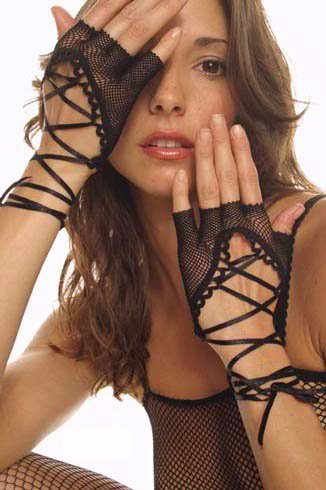 Going Fingerless
Fashion-hungry retailers have their fingers on what they hope becomes winter chic: fingerless gloves.
Gloves that cover the palm and wrist — but not the fingers — are not just warm, they're hot.
Roughly 75% of the gloves sold at trend-setting Urban Outfitters (URBN) are fingerless, says Lauren Mahoney, assistant buyer.
With celebrities from Paris Hilton to Lindsay Lohan wearing fingerless gloves, last in vogue about two decades ago, the palm warmers may be more about fashion than function.
For the most part, hip retailers are selling fingerless gloves as much to boost image and store traffic as profit, says Marshal Cohen chief analyst at NPD Group. Gloves, after all, are only a $500 million industry in the USA.
"Retailers just want to get the product out early to show they're on trend," says Cohen.
Another driver for fingerless gloves: Punk is back.
Even as Fashion Week kicks off later this week in New York City, designers have moved from girly, feminine designs to New Age punk, says Wendy Liebmann, president of WSL Strategic Retail. "This is a societal fashion that says: I gotta stay warm, but keep my fingers ready for action."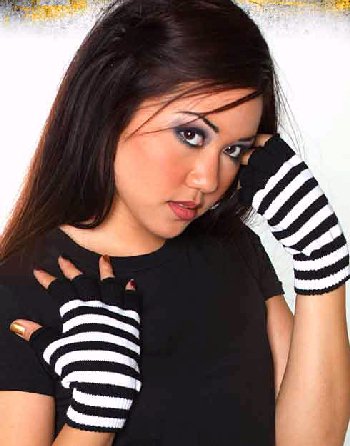 Here's who's hip to the trend:
Chain retailers. Urban Outfitters has fingerless gloves front-and-center in many of its stores.
It sells them for $16 (knit) to $28 (leather) in 47 colors and styles, and they're hottest with women 18 to 25 years old, says Mahoney.
Last week, the Urban Outfitters store at Yale University in New Haven, Conn., had a big display of the gloves for arriving students.
Hot Topic (HOTT), a 700-store chain that sells music-inspired fashion, is selling 10 fingerless styles.
Among them: $12 black-and-white striped gloves for women and a $6.99 acrylic style with a skull for guys.
"It's a trend that's been in music for a while," says marketing manager Russ Jimenez. "So it's an accessory our customers look for."