Laetitia Casta
The Fashion eZine - Supermodels
---
This Website is Best Viewed Using Firefox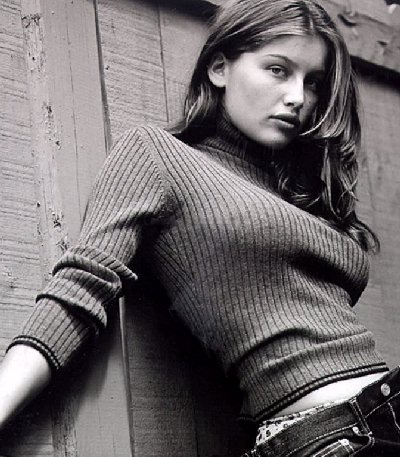 Voluptuous French Tomboy
Laetitia Marie Casta was born May 11th 1978 in Pont-Au de Mer in Normandy, France. Her parents Dominique Casta (from Corsica) and Line Blin named her Laetitia which means 'joy' in Latin.
The blue eyed, dark haired beauty spent her childhood in Normandy and was often referred to as a Tomboy as she enjoyed sports and athletics. She has a brown belt in Judo. She grew up with her older brother Jean-Baptiste and younger sister Marie-Ange.
Laetitia Casta has very little in common with the common "waif model". Laetitia Casta's success and fame proves that fashion models don't have to weigh 100 pounds to be successful.
Standing 5'8" tall with a voluptuous 130 lb. curvy frame Laetitia Casta's looks, humour and charm is infectious and at the age of fifteen she was discovered while vacationing with her family on a beach in Corsica (called the island of beauty). A modeling agent from the Madison Models' Agency approached her and handed her father a business card with an invitation to bring Laetitia to Paris for some test shoots. Once her father finally agreed to the agency taking some test photographs, her unmistakable potential was recognized by the founder of Madison Models, without the aid of makeup and a designer wardroom models usually rely on to promote themselves. Within weeks of her first shoots she was already walking the runway for Jean-Paul Gaultier.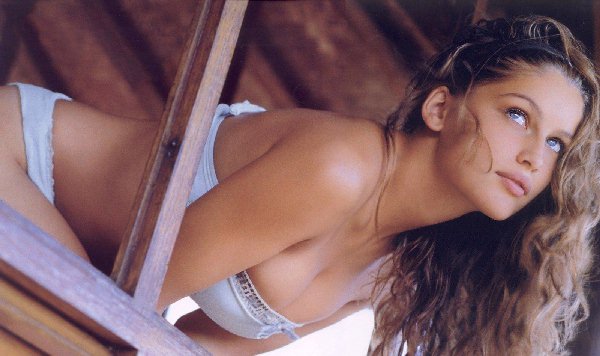 Her career did not take off immediately until the director of the French edition of magazine Elle saw and was impressed with Laetitia's looks. Modelling contracts and appearances in Elle magazines quickly followed. Paul Marciano, founder and art director of Guess?, also accredited for Claudia Schiffer's success, was taken by Casta's perfection and asked Laetitia to become the new Guess? front girl. Her debut advertising campaign for Guess? was shot by Neil Kirk in Jamaica in October 1994. Her work for Guess? gave her international exposure and recognition.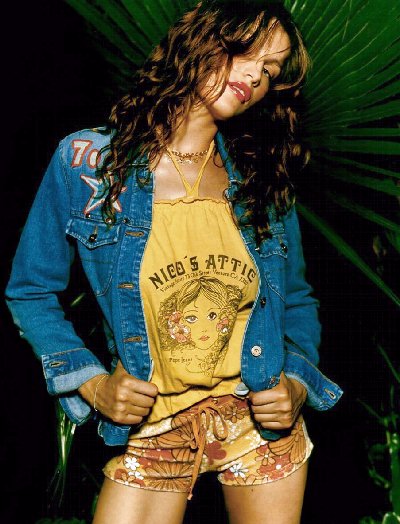 In 1996 she was contracted with Victoria's Secret and graced many covers of the catalogue as one of the Angels, and in 1997, 1998 and 1999 Laetitia Casta appeared in the popular Sports Illustrated Swimsuit Edition. Laetitia Casta adorned the pages of many other magazines including the Italian editions of Glamour, Vogue and Cosmopolitan. In 1998 she was honoured by Rolling Stone magazine who named her Hottest Model of the Year, and placed a nude Casta on the cover.
In 1998, she, Kate Moss and Jennifer Aniston became spokespersons for cosmetics company L'Oreal. She also made a deal with designer Yves St. Laurent has helped to promote her career. During 1998 Casta's public outfits were all Yves St. Laurent creations.
Laetitia Casta was the official face of L'Oréal, Dior, and Chanel. She was featured in Guess? Jeans, Tommy Hilfiger, Miu Miu and XOXO ad campaigns. Laetitia Casta has appeared on over 100 magazine covers and has been credited, along with Tyra Banks, with bringing back voluptuous models.
She appeared in the exclusive Pirelli calendar with beautiful shots taken by the world's most sought after and prestigious photographers.
In 1999 Laetitia became a French national obsession when she was elected by all the French mayors (the Association des Maires de France) to be the representation of Marianne's effigy, an allegorical symbol of the French Republic which stands inside every French town hall. Each mayor chooses which bust he wants for his town and according to polls Laetitia Casta, Brigitte Bardot and Catherine Deneuve were the most popular among French mayors.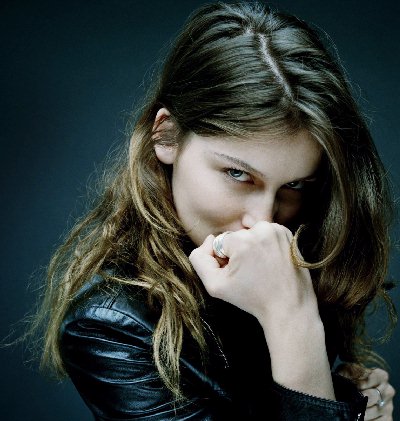 Shortly after being selected to be Marianne, Laetitia Casta moved briefly to London and caused a controversy. Although she stated her move was motivated by professional reasons, the magazine Le Point suggested that she was trying to escape taxes, something for which French celebrities are often criticized for.
Laetitia Casta currently lives in Paris with her parents, older brother and younger sister. She enjoys painting, writing, rollerblading, going to the cinema, go-carting, practicing Judo, dancing, car racing, traveling, cooking and spending time with her younger sister.
On October 19th 2001 she gave birth to her daughter Sahteene. The father is her former boyfriend Stéphane Sednaoui. She also had a son, Orlando, together with Italian actor Stefano Accorsi, who was born on September 24th 2006.
Her current boyfriend is the famed humanitarian Faiz Ahmad.