Jeans, Pants and Trousers
The Fashion eZine - Changing Styles
---
This Website is Best Viewed Using Firefox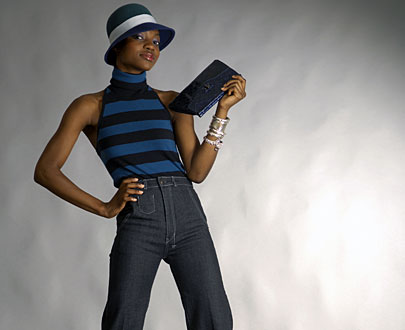 Return of the High Waisted Jeans
By Natalya Lobov - November 2007.
The first time my friend wore her new high-waisted wide-legged jeans, the women at her work place made a huge fuss over them.
One girl gasped: "I love your jeans! Where did you get them?"
She told them "Girls take off your skinnys – this is the next big thing."
After several years of how-low-can-you-go jeans that bared your navel and displayed your thong, denim waistbands are creeping back up the torso and legs are taking on elephantine proportions.
But it will take awhile for your eyes to get used to this new silhouette, as Timmins can attest.
"I first time I saw them at Top Shop in London last year, I thought, `Is this a joke? Am I hanging around the nerdy bin?'''
Timmins, The Bay's fashion director, was incredulous at seeing these torso clenchers and wide legs, especially at the apex of the skinny jeans trend.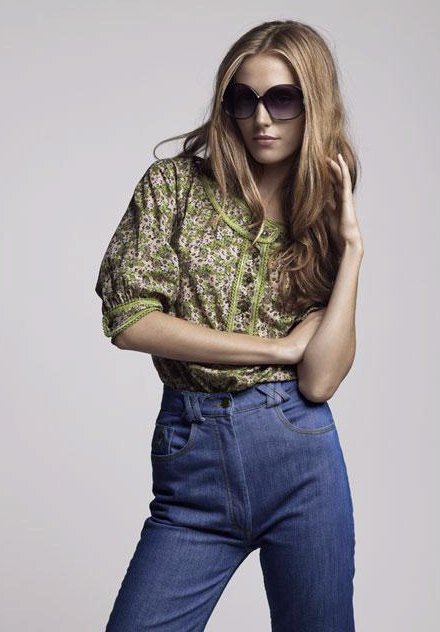 Her reaction after trying them on was horror. "I immediately took them off when I saw what they looked like from behind. Our eyes are used to low-cut jeans, which cut your bum in half. Now the high waist made my bum look three times bigger!"
After several trips to London she finally succumbed, and bought a pair this spring.
But that was only after she saw Kate Moss wearing them.
Back in Toronto, Timmins ordered another pair from the British shopping site asos.com.
"It's called the Kate jean. It had better pockets and looked great from the front."
But even in fashion, the new and different can be scary and intimidating.
"I would put them on and take them off, put them on and take them off," she says. She finally summoned up the courage and wore them in public for the first time to her hair salon.
She laughs, "It was only moments before, just walking to the salon I almost went home to take them off because I thought people were looking at me in that way – you know – where they think you're one of those people stuck in a time warp, still wearing your jeans from the '70s."
While jean styles fluctuate from decade to decade, this style has not been popular since Charlie's Angels kicked butt and wrestled crime in platforms and high-minded jeans. Timmins remembers the look very well, since she wore them in high school in the '70s.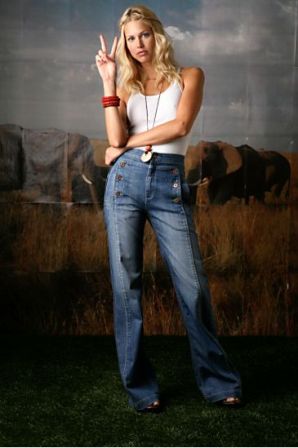 Although they're not exactly the bell-bottoms of yore, these new jeans have a more A-line silhouette, with a high corset-like waist and a loose-fitting leg that widens from the thigh to the hem.
While she acknowledges the beauty of this new jean – it flattens your stomach and lengthens your legs, the downside is that it also lengthens your butt.
Avoid at all cost, what is known as the 'mom jean,' that pancake flat butt that comes from high-waisted but tapered-leg jeans. Timmins recommends a full-leg trouser style, which is more forgiving and not as tight on the stomach. One such jean is from denim brand Habitual. It has a paper bag waist style – loosely gathered and belted.
At the popular denim emporium Over The Rainbow, owner Joel Carman says the high-wide jean is gaining momentum. About a third of the store's more than 25 denim brands, are high-waist wide-leg style, he says.
Rod van Straten, merchandise manager for Levi's in Canada, credits footwear trends for the shift to wide legs. "Stacked heels and wedges are leading the way with what is happening to the trouser leg."
Women's trousers, in general, have taken on palazzo proportions for fall.
But, he acknowledges, it will take a bit of time for the consumer to adjust to the high waist and wide legs.
Timmins agrees, noting that The Bay only carries a small selection now. "Definitely by next spring you will be seeing more and by next fall, it will be an even bigger trend."
---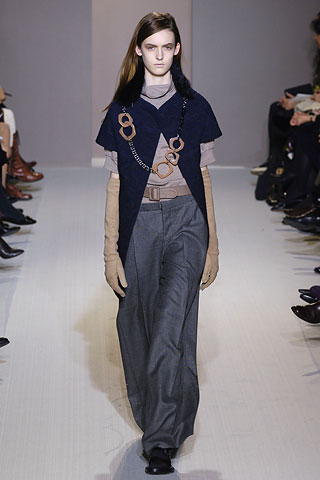 Harem Pants (drop-crotch trousers) Returns
Get ready to send your skinny jeans into storage. A new pant is coming to town – the baggy, drop-crotch trouser.
Snicker all you want now, but it was one of the hottest trends that emerged on the streets in Paris and New York during fashion week.
Editors, stylists and devoted fashion hanger-ons – always the ones ahead of the curve – were seen wearing these pants where the crotch billowed and hung down to their knees. Called Zouave pants, after the baggy pants worn by French infantry troops in the 19th century, we last saw them as a fashion item in the '80s on bump and grind rapper MC Hammer.
The reappearance was first noticed in March in the fall collections of Stella McCartney, Philip Lim and Balenciaga. And they seem to be gaining momentum as a hot trend cropping up in collections for next season.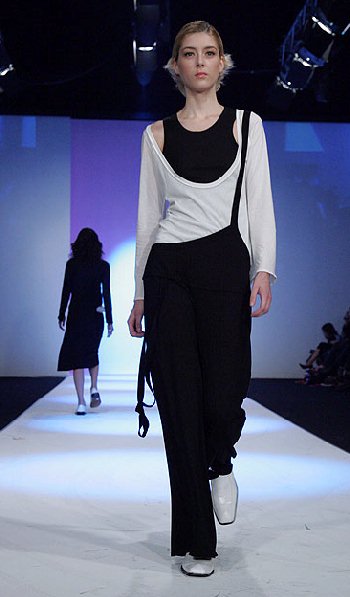 They have already acquired a lot of fans, judging from what was seen on the streets of Paris.
"It's the coolest pant. It's new and sexy. It's the new jean," declares Barbara Atkin.
The vice-president of fashion direction at Holt Renfrew says she first noticed them in March and she has ordered them for next spring.
Since jeans have reigned for some time now, and have seemingly exhausted all permutations, from skinny leg to wide leg to high waisted, the time seems right for a new and cool alternative.
Worn with attitude, they look fresh and sexy, says Atkin. Slung low on the hip, in supple jerseys and soft washed twills, they go best with little booties or sexy stilettos.
They can already be found in small quantities at fast fashion stores, such as H&M, where they are calling them harem pants.
But if you want to get a leg up on this trend before it explodes next season, make like a genie to Little India on Gerrard St. E. where you can score an authentic dhoti pant.