McCartney backs anti-fur fashion
October 29th 2002.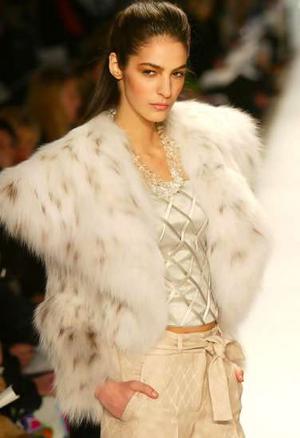 LONDON, England (CNN) -- The revival of fur on the catwalks for winter 2002 shows that animal rights activists are having difficulty converting the fashion industry.
But they have a strong advocate in British designer Stella McCartney.
McCartney opened her first store in Manhattan's meatpacking district -- an odd choice for such a well-known animal rights campaigner.
Her compassion towards animals is reflected in her work, which avoids not only fur, but all animal products.
"Everything in [my] store and every single garment and accessories that you see is cruelty free in the sense no animal has died to make anything in here," she said.
"I just think that a lot of people out there don't want products that an animal has had to die for."
While she appreciates the beauty of fur, she prefers "to feel it on a living creature than as a dead piece of fabric." McCartney's late mother, Linda, was also an animal activist, and produced a vegetarian food range.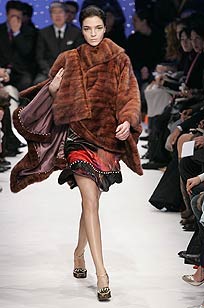 Stella McCartney's views are similar to French actress Brigitte Bardot, once often photographed in fur but now a strident animal advocate.
"When I used to wear fur I didn't realise what I was wearing. It was beautiful and I didn't think about it. I didn't think about the suffering, torture and death that were behind it.
"Once I realised, I refused to ever wear a fur again," said the former sex symbol.
Bardot has spent the past few decades persuading governments that animals have rights too.
"We don't need fur to survive. We don't live in caves any more. We have central heating, air conditioning, carpets, cosy flats.
"I don't understand how we can kill -- raise first and then kill -- just for a superficial luxury. They are inncocent yet condemned to gas chambers. They way in which we kill them is terrifying."
Karl Lagerfeld, who used fur extensively in his winter 2002 collection defends the practice: "It should be handled in the nicest way but as long as we eat meat and wear leather, I don't even think there is a subject to discuss."
But fur's revival this season demonstrates that the animal right message is facing difficulty getting through to fashion industry.
Even McCartney's impact is limited. Her label is 50 percent owned by Gucci which profits from selling leather handbag -- a fabric McCartney is against.
Yet she sees her stance as a positive step for activists.
"I'm a firm believer in infiltrating from within really," McCartney said.
---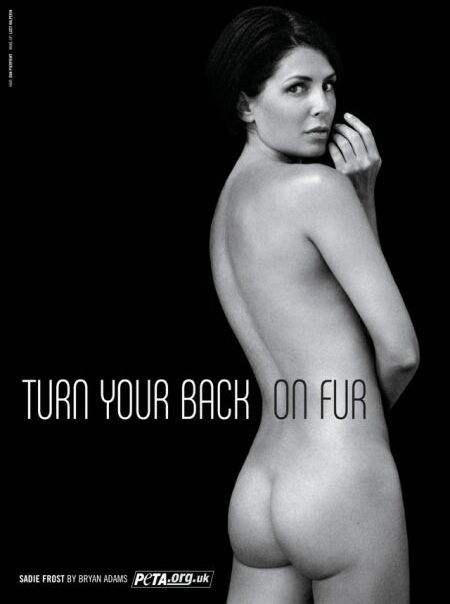 The Fur Factor
October 1st 2006.
Kate Moss flaunts her designer furs: former best friend Sadie Frost strips naked to campaign against it. Hadley Freeman reports on the fightback against fashion's passion for fur.
In a self-consciously retro ice-cream parlour in north London, designer Sadie Frost, clad in a simple chiffon dress and cardigan, ponders her new role as nude anti-fur warrior.
She blushes a little when talking about a photograph taken of her for a new anti-fur campaign, saying, with a nervous tug on her cardigan: "Hopefully, people won't be too repulsed by it."
Twice she makes a reference to her age (41) and children (four). Yet, when she talks about why she agreed to pose naked for the photo, taken by the singer Bryan Adams, she loses all self-deprecation:
"For me, it was a positive message about my anti-fur beliefs. It wasn't for FHM, or whatever, but something I believe in strongly and, hopefully, people will take notice."
Frost, a lifelong vegetarian, is the latest celebrity to lend support to the anti-fur pressure group Peta (People for the Ethical Treatment of Animals).
"I've really noticed fur coming back in the past five years," says Frost, "and it has been getting more and more outrageous. I have never understood its appeal. It makes me think of blood, guts, cages."
There is little doubt that fur is back. The facts about it have not changed since it fell from favour in the '90s, but people's attitudes apparently have. The International Fur Trade Federation reported last year that sales of fur globally rose from $US9.1billion ($A12.04 billion) in 2000 to $US11.7bn ($A15.49 billion) in 2004.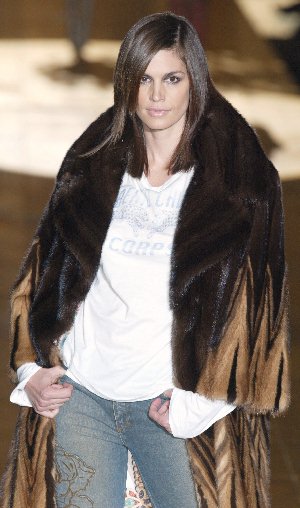 Anti-fur campaigners insist they are still winning the war but, even aside from the undeniable financial facts, one look at the fashion catwalks - and audiences - tells a different story.
Even garments that one would have thought were impossible to make furry have been coated in pelts. Burberry has swathed its traditional trench coats in fur; Prada, in perhaps the most gratuitous use of fur this side of Louis Vuitton's logoed rabbit-fur earmuffs, fringed the soles of its platform shoes with it.
The most flagrant use of fur on the catwalk recently, though, was at Jean Paul Gaultier's couture show in July, when a model came down the catwalk in a fur coat, replete with multiple fox heads bobbing along the sides.
"Designers have often courted controversy, and using fur does provoke outrage and column inches, but it does not get public support," insists Peta's vice-president, Dan Mathews.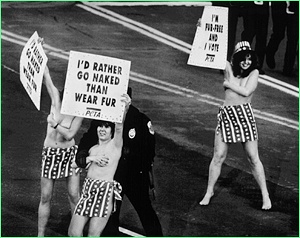 This isn't wholly true. In the past few years, fur has become so common on the catwalk that it causes no more interest than a particularly high heel.
This shift back to fur may seem remarkable, but it was fairly predictable. Just a decade ago, supermodels strode across Peta's adverts, proudly declaring their preference for nudity over fur. Not wearing it was the trendy position, and that is precisely the problem: when a trend becomes too popular, the backlash can only be a matter of time. In other words, the anti-fur movement was a victim of its own success.
Like cheekily rebellious teenagers, today's celebrities, such as Jade Jagger and Moss, frequently wear fur - which both excites the paparazzi and emphasises that they are far more interested in style than in being granola-munching animal-rights campaigners.
There is also something of the nose-thumbing adolescent in some of the comments by pro-fur celebrities and designers. Backstage after his fur-heavy show last year, which opened with Elizabeth Jagger wearing a fox stole, Julien Macdonald grinned: "I adore fur. It adds ultimate luxury and glamour to my collections."
Not everyone, however, is quite as comfortable with expressing their love of fur. Few designers contacted for this article were willing to comment. Burberry issued the nervy statement: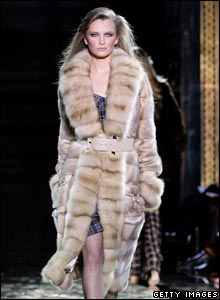 "As a luxury brand, there will be occasions where the use of fur will be considered important to the design and aesthetics of a product. In those instances we will continue to use fur. However, we will not use fur if there is a serious concern that the fur has been produced by the unacceptable treatment of the animals concerned."
Not a single fashion editor of even the most fur-happy magazine on either side of the Atlantic was willing to express a comment, either for or against fur, on the record.
The most telling sign of the fashion world's shifting attitude to fur (or perhaps of the sheer emptiness of the earlier anti-fur rhetoric) came from two of Peta's famous faces in the '90s, Naomi Campbell and Cindy Crawford. Campbell was photographed not long after wearing a fur coat while, in 2004, Crawford actually fronted a fur company's advertising campaign.
Crawford dismissed Peta's reprimands via her publicist, saying that she had never really supported Peta's stand against fur, but was, instead, being "really nice" to the organisation when she posed for its campaign in the '90s.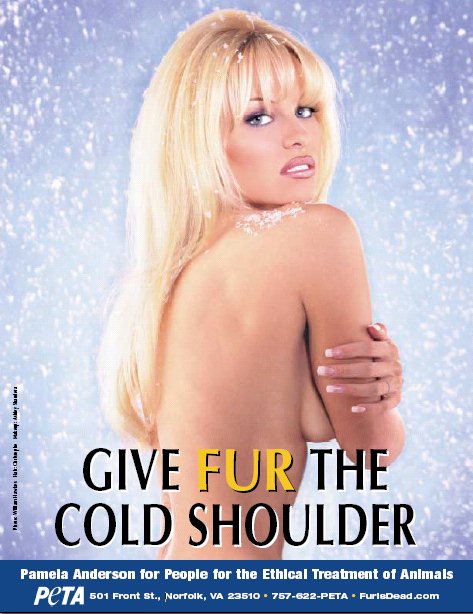 The anti-fur position still has its fair share of celebrity supporters, such as Pamela Anderson and Charlize Theron. But, as more actresses, models and pop stars have started to wear fur, an interesting, not to mention enjoyable, situation has arisen in which celebrities have started to snipe at each other's beliefs.
Heather Mills McCartney, for example, recently stormed Jennifer Lopez's studio to protest against Lopez's fondness for fur in her wardrobe and her fashion range.
Indeed, it is hard not to read veiled references to her best friend Moss in some of Frost's comments.
"I think a lot of the time in this world you're surrounded by this kind of whirlwind when you're an actor or in a band or a model," she says. "It's very hard to remember who you are and your beliefs when you're told, 'Put this on', 'Put that on'. But they're not thinking about what they're doing, what message they're giving to other people. They're all so involved in how they look, what their skin's like, what their hair's like, how glamorous they are.
"Surely they should be thinking about something a little deeper than that? To me, it shows someone to be a little shallow."
The return to fur in fashion came also from a wider change in attitudes. In the '90s, the trend was for anti-ostentation, such as grunge, or Calvin Klein-style minimalism. The early 21st century, however, has been dominated by the bling-bling look, with rappers singing about their love of champagne and piling on the diamonds.
We have returned to the '80s, when it was perfectly acceptable to flaunt one's wealth through one's outfit - and nothing flashes the cash quicker than a big ol' fur.
It's hard to know how to turn the tide or, to put it another way, who bears the greatest responsibility - designers, celebrities or customers.
"It's all three together," says Frost. "Designers will keep designing it if the public want it; the public will keep buying it if the fashion icons are wearing it; and the fashion icons wear it because the designers make it. It's hard to know where to start."