Handkerchiefs & Bandannas in Fashion
The Fashion eZine - Accessories
---
This Website is Best Viewed Using Firefox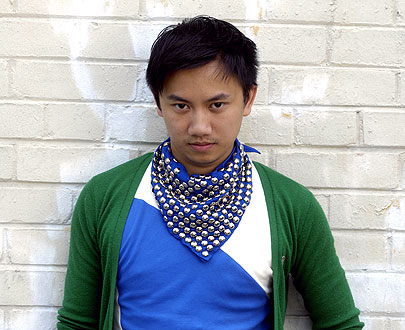 The venerable men's handkerchief is back, but is it a fashion statement or just a cool thing to wear?
July 27th 2007.
This summer, guys aren't leaving home without a hanky.
But you won't find it tucked into a pocket. In silk and cotton, these squares are folded on the diagonal into a triangle and tied at the back of the neck. It looks as if it could be raised over the face like a sinister mask.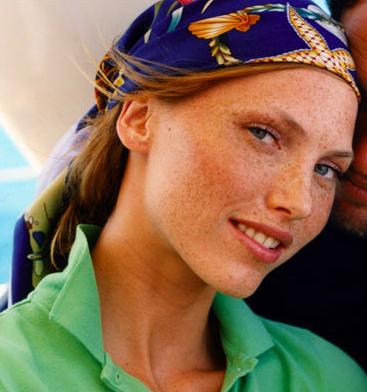 Despite the wild colours, riotous patterns and, in some cases, the large studs or glittering stones that embellish them, these cool accessories are not the cover-up disguise of thugs about to hit up a convenience store, but appear to be the must-have neck attire for hipsters around town.
The last time we saw such popularity of this style of neck adornment was in old western movies or on the covers of Louis L'Amour novels. Sheriffs, cowboys and ranch hands wore cotton bandanas around their necks, but it was more functional than fashion accessory. Pulled over their noses, bandanas protected them from the arid, dusty plains of the American southwest, or became a disguise for the lawless gunman.
Through the years, the simple gentleman's handkerchief has occupied different places on the male body, from breast pocket to jeans back pocket to head covering. And as it occupied various places, that little bit of fabric came to say a lot about the wearer and the culture of the moment.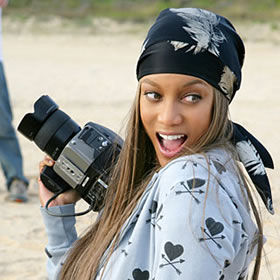 There was a period when a gentleman never left home without a freshly pressed and starched handkerchief in his breast pocket. A seemingly romantic era, perhaps, when a gentleman always had a handkerchief to offer a woman in distress.
When a man wore a silken one around this neck, wrapped like a cravat or tied in a jaunty knot in the front or side, it signified affluence and aristocracy.
So embedded in the mind's eye was this little detail that it became an easy cliché to parody the pompous rich, such as Thurston Howell III, the billionaire on Gilligan's Island.
In the '70s, gay men took to wearing different coloured bandanas in the back pockets of their Levi 501s. The different colours and whether it was in the left or right pocket signified a preferred fetish.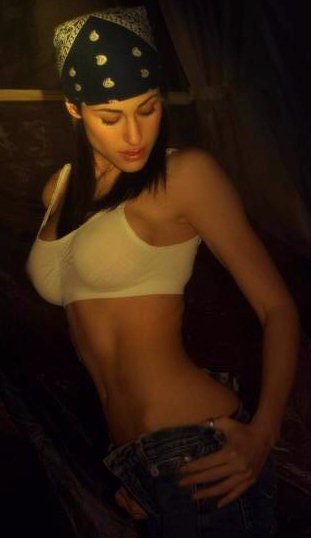 By the time the '80s arrived, the little cotton square became a major fashion accessory as rock gods like Axl Rose took to wearing a bandana tied on the head, gypsy style.
With the '90s, the handkerchief took on a more sinister meaning as street gangs in L.A appropriated it, using different colours as their trademark.
The handkerchief around the neck soon lost some of its significance, street cred and style when it became a fashion accessory for dogs. Suddenly, Fido was sporting a bandana.
But now it appears to be back in vogue and the favourite accessory of hipsters. But why is it back and does it have any cultural significance this time?
Scarves in general have been popular of late with young men.
There was the kaffiyeh, the Arab scarf that was adopted by Westerners who wore it wrapped around their necks. Trendy stores like Urban Outfitters started stocking it and it suddenly became a fashion item.
Then, there was Justin Timberlake, who sported a silk bandana tied around his neck and pulled up to his nose, making him look all sinisterly sexy on the cover of his latest album FutureSex/Lovesound.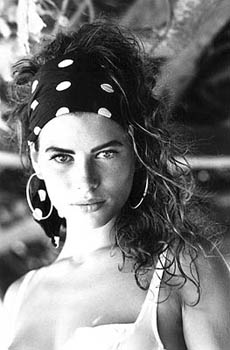 Toronto artist and jewellery designer Jaime Galindo, who blings out his bandana with large jewels, thinks it was the Japanese snowboarders he saw at Whistler last year who helped popularize wearing the bandana around the neck.
"They were wearing crazy graphic prints, like tigers' faces or the Japanese flag, and they wore it over their faces to protect against the wind, but at night out at the bars it would be just around their neck," he says.
Todd Westendorp, one of the designers behind Project 3, a line of hand-painted cotton and bamboo handkerchiefs, says it might have been graffiti artists who helped push the look into the mainstream.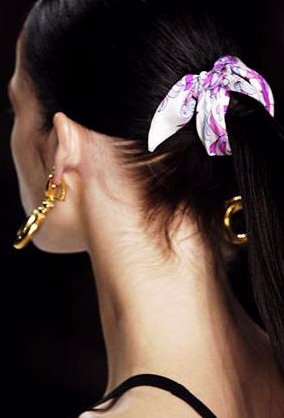 "It had a multi-purpose for them," he says.
"It not only protected their faces when working but also helped concealed their identify."
But it could simply be that it is just a cool thing to wear, as an entirely new generation of guys has discovered.
"When it comes to accessories, there is not much for guys," says fashion photographer Miguel Jacob, whose girlfriend bought his bandana for $5 at an army surplus store. "This is just something to add a bit of flavour to my look and it's an accessory that doesn't cost much at all."
According to photographer Tommy Ton, "it's just a fashion statement. Guys are putting more effort into dressing. It's not just about jeans and T-shirts. This is just a subtle way to upgrade your outfit."
The humble handkerchief seems to have a new-found status.