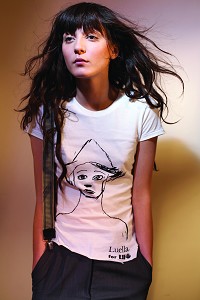 Environmental Justice Foundation
EJF is leading an international campaign to clean up cotton production with a collection of exclusively designed t-shirts by Luella Bartley, Christian Lacroix, Betty Jackson and Katharine Hamnett, produced on organic and fairly traded cotton.
The collection will be available to buyers in Estethica during SS08 when EJF celebrates the first anniversary of its collaboration with the ethical zone at London Fashion Week. EJF will showcase a series of new photographs of over 20 international supermodels including Lily Cole, Irina Lazareanu and Caroline Trentini all modelling the collection in support of the charity.
Worth $32 billion a year, cotton could be improving lives, but forced and child labour, deadly pesticides, and water mismanagement means that this 'White Gold' brings misery to millions.
EJF works to end forced child labour in cotton production and implement a more transparent supply chain. All proceeds from the t-shirts support EJF's work protecting people and planet.
Element 23
www.delforte.com / www.stewartbrown.com / www.element23.co.uk
DelForteDenim, the premiere brand in ecoluxury denim made from organic cotton.
Stewart&Brown, a progressive lifestyle brand: quality, integrity, function, and beauty; luxurious knitwear and pioneering standards in eco-fashion are what sets them apart.
AmazonLife, who epitomise sustainable products for the modern consumer: beautifully crafted, built to last, and a one-stop purchase that directly prevents destruction of the Brazilian rain forest.
Fifi Bijoux
Vivien Johnston created Fifi Bijoux, a luxury ethical jewellery company, in 2006. Fifi Bijoux created pendants, rings, bracelets and earrings in delicate gold, aquamarine stones and white topaz. The gold and gemstones are mined from community-owned, cooperative mines that operate eco-sustainability programmes. No chemicals are used in extraction or refining.
The land is actively re-generated within three years (usually mined land is unusable for a minimum of ten years). The gold is mined in South America in cooperative community-owned mines that operate fair-trade protocols (no child or forced labour, health & safety regulations upheld and supervised). The gold is sold with a premium applied to implement this and to ensure all employees receive the minimum wage or above.
Fifi Bijoux doesn't demand credit terms, which could disrupt their ability to pay employees or for proper equipment. Gems are mined in a similar fashion, with fair-trade protocols applied. The jewellery is then made in London by a team of established goldsmiths.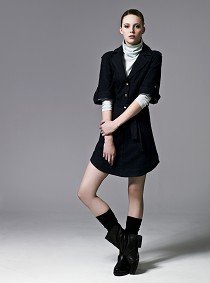 Fin
Scandinavian fashion label FIN is an amalgamation of Nordic fashion design and green business. Already stocked by stores to the calibre of New York's Ekovaruhuset and Florida's Juno & Jove, the label has already garnered international acclaim from the fashion industry, including recognition from leading Singapore department store, Takashimaya.
Using both organic and Fairtrade certified cotton; FIN is renowned for high quality products with wardrobe longevity. Boasting a thoroughly carbon neutral collection, the brand purchase carbon credits from UN approved initiatives each season, setting a benchmark for the Co2 level emitted in both production and transport and thus giving back to the environment.
Come this season, directional line FIN will be stocked in a selection of the world's leading fashion boutiques.
From Somewhere
From Somewhere began trading in 1997 with a small capsule collection of second hand jumpers and cardigans, rescued from their inevitable journey towards destruction and individually customised with elaborate crochet trims and details. Quickly noticed by buyers internationally, what had started as a one product – one season wonder became one of the first labels to consistently address the issue of pre-consumer waste within the fashion industry.
The operating principle behind the label is simple: reusing surplus such as off-cuts, pre consumer surplus, end of roll, damaged fabrics at the end of each producing season.
From Somewhere's collections are entirely made up unwanted and discarded materials. Perfectly useable, beautiful and still functional; each piece is individually cut from high quality reclaimed fabrics including cashmere, cotton, silk, jersey, tweeds and wovens.
An eclectic and original use of colours and panelling together with simple shapes for maximum wearability make From Somewhere's pieces instantly recognisable, so the singular beauty of each garment lies in its uncompromising balance between a contemporary approach to fashion design and a poetic and ethical solution to borrowing from past treasures for our modern needs.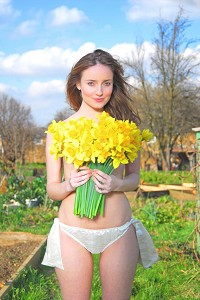 Greenknickers
Lingerie label Greenknickers only get their knickers in a twist about one thing: the health and well being of the planet and its people.
Since their inception, founders Sarah Lucy Smith and Rose Cleary-Southwood have introduced an array of hemp and cotton styles to the underwear market, most notably this season's standout 'Global Warming Knickers.' Decked out with a range of heat sensitive graphics, the underwear acts as an active reminder of the day to day detriment of global warming.
Putting mass produced lingerie lines to shame, the partnership have established a green and fair supply chain for their specialist underwear. Allocating the sewing task to a women's co-operative in India, Greenknickers ensure that the skill set of the underprivileged is utilised, helping the poverty stricken to find employment. In July 2008 they became the first underwear brand to be awarded the fair trade mark.
Helping to support a series of community projects such as a cancer fighting hospital, Greenknickers pay careful attention to ecological sustainability from conception to creation.
Izzy Lane
The foundation of animal loving label Izzy Lane stems back to a shock discovery made by its creator Isobel Davies. Farmers of her organic home delivery company were setting alight their locally farmed wool, as revenue gathered from the British wool sales fell short of covering even the cost of shearing.
Inspired by the demise of the British wool industry as a whole and armed with the knowledge that a majority of British knitwear is manufactured and shipped by foreign Antipodean nations, she set about doing her bit to rebuild the British Wool Industry. Giving a voice to the animal kingdom, Izzy Lane lay claim to flock of Wensleydale and Shetland sheep. A far cry from ordinary herds, the pack show all the sheepish signs of the ugly duckling – shunned and purposeless animals that would otherwise have been sent to slaughter for being the wrong sex, infertile or physical imperfections. Thanks to Izzy Lane, sheep can exist safely, without ever having to become meat.
Keeping weaving traditions alive, their fabrics are homespun in an age old Selkirk mill, with clanking century old Victorian machinery.
Embracing a vertically integrated fashion production process, Izzy Lane has an awareness of the provenance of each piece in their knitwear collection, from sheared wool through to shop floor garment. The label also includes handmade shoes and hats as approved by the vegetarian society.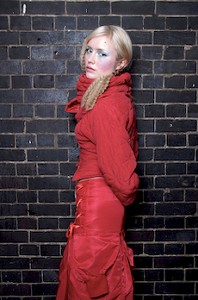 Junky Styling
Kerry Seager and Annika Sanders started Junky Styling in 1997 after witnessing the booming textile recycling markets in forward-thinking cities such as San Francisco and Tokyo. Junky Styling deconstructs second-hand clothing and re-works it into new, unique garments. Their signature men's and women's lines are produced from recycled suits, coats and wools.
No two garments are the same - they can be cut from the same pattern but the raw materials will always be different. Co-founder Kerry says: "We believe in fair trade and produce everything ourselves. We recycle as much waste as possible from the business and if using new fabrics, endeavor for them to be organic."
Aside from their 'off-the-peg' collection, the Junky Styling business has evolved and now offers a wardrobe surgery service for customers to bring in favourite garments that are out-of-date or damaged, to be re-worked into a new made-to-measure designer creation. In terms of changes in the fashion industry, Kerry says: "I'd like to see less waste in general, and a movement away from such seasonal designs, that ultimately become disposable."
Katharine E Hamnett
This season, Katharine Hamnett has designed a range of ethically made, 100% organic cotton fine jersey men's and women's t-shirts, dresses and sweatshirts with re-issues of her classic slogan prints from the 1980's: Choose Life, Vote Peace, You Me, Save the World, Peace and Love.
Recently voted by New Consumer magazine as the 'No.1 Ethical Hero' and referred to by Vogue UK as 'The Queen of Green' Katharine Hamnett has been campaigning to clean up the clothing industry since 1989.
Appalled by the fact that conventional cotton farming kills one million people per year due to accidental pesticide and a further three million people a year suffer long-term acute pesticide poisoning in cotton agriculture (Pesticide Action Network), Katharine makes it her mission to champion organic cotton farming.
Makepiece
Makepiece is a farm to fashion label. Designer Nicola Sherlock's unique approach to stitch design makes eco-friendly and locally produced knitwear a reality. Manufactured from wool with ecologically sound principles, Makepiece principles are simple: real fashion not passing fads, natural sustainable fibres, undyed and naturally dyed yarns, fair labour, high animal welfare and love.
The yarn used is sourced from UK farms and spun in the UK to reduce road miles. Each range includes an un-dyed yarn colour and a natural colour. Garments are biodegradable at the end of their life cycle.
Workers are paid to above-minimum wage standards both as outworkers and in factories within an employment rights, safety and welfare framework.
Beate Kubitz, farmer and business manager, says: "We try and bring together everything we believe in – gorgeous design backed by very local, clean manufacture, reduced dyeing and energy consumption – and, of course, sheep! Truly low impact high fashion."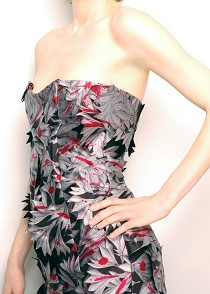 Mark Liu
There's no question that Central Saint Martins graduate Mark Liu is, quite literally, cut out for success. Pioneering the concept of 'Zero Waste Fashion' the designer points out that approximately 15 % of fabric is wasted in the pattern cutting process. Rendering the damage that we have done to the environment in a well thought and original way, Liu has pioneered techniques that minimise fabric waste during the design and production process.
"Wasted materials are bad for the environment and a loss in potential profits", says Liu, who envisions a future where sustainability will promote innovation in the fashion sphere, and new aesthetics in the style dimension.
Nitin Bal Chauhan
Not every ethically sound fashion label claim foundations with a wandering hill tribe, but for Nitin Bal Chauhan, traditional fabric origins and authentic garment choices are a seasonal reality.
Working on the foreign soil of India, all Nitin Bal Chauhan garments begin their journey in the North Indian Hill State in HImachal Pradesh. Located in the heart of the Himalayas, the collection is a mish mash of woven, Pashmina and Yak fibre goods, unleashed by a select group of fabric key holding shepherds.
Fabrics are then passed on to the Nitin Bal Chauhan design team and crafted into a ready to wear line that sheds light on the importance of supporting traditional artisans and bona fide crafts.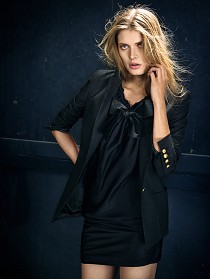 Noir
Noir is designing collections for both the consumer's fashion and social conscience by creating meaningfulness in the luxury segment. Customers can thus endorse consumption and give a little back to the world by purchasing clothing that supports sustainable business processes in the Third World.
This vision has led to the creation of the cotton fabric brand Noir Illuminati II – the sole purpose of which is to produce the finest sub-Saharan cotton from raw African cotton, manufactured in Europe for Noir for onward sale around the globe to leading luxury brands. This development has in turn led to the establishment of the Noir Foundation, a fund that allocates the revenue from a percentage of the sales of cotton suits and fabric to support the African cotton workers in the supply chain called Proud Harvest.
This season, Noir will be presenting its new sub brand BLAACK for women. BLLACK is an ethical, street savvy, sexy, young and price conscious addition to the label, produced from certified cotton.
Founder Peter Ingwersen says: 'We want to be known as the first brand to turn corporate social responsibility sexy'.
people tree
People Tree is one of the pioneers of fair trade and ecological fashion, making beautiful clothing and accessories for everyone. Their products are made to the highest fair-trade and environmental standards from start to finish and consistently prove that it is possible to wear stylish, exciting and affordable fashion at the same time as respecting people and planet.
People Tree works with 50 fair trade groups in 15 developing countries, helping people from some of the world's most marginalised communities use fair trade to escape from poverty. They pay their producer partners a fair price, offer advance payment, provide technical and design assistance and commit to regular, ongoing orders. They also fund social welfare and environmental projects around the world such as schools, hospitals and tree-planting schemes.
As well as adhering to a strict environmental policy, People Tree champions organic cotton farming through an exciting range of organic cotton designs.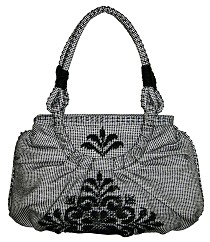 Pibiones by Antonello
The latest must have guilt free handbag comes from Pibiones by Antonello. Pibiones pay tribute to the best of Italian eco luxury fabric choices. Trialling authentic Sardinian hand weaving methods in ethically managed factories, the collection of accessories are handcrafted by a handpicked group of leading handbag manufacturers in villages in mainland Italy.
Shedding light on Italian textiles and putting localised Italian handiwork and the importance of its preservation back on the map, Pibiones designer Antonello Tedde prides himself on working with experts in accessories production and ultimately bringing Sardinian production methods back into global consciousness
Samant Chauhan
Over the years, the handloom industry in Bhagalur, India, has been dying and being slowly replaced by power looms. With no patrons and no one coming forward to save this craft, Samant Chauhan took up the challenge to contemporise traditional Bhagalpur silk and reach it to the global audience.
From giving the weave design to the handloom weavers to deciding the final silhouette, everything is done keeping in mind the international audience. The Spring – Summer 08 collection consisted of hand-woven and knitted 100 percent raw silk, linen and cotton linen blends – using all eco-friendly dyes and processes.
Samant Chauhan graduated from NIFT (National Institute of Fashion Technology), New Delhi. In his graduating fashion show, he got awards for the most innovative fabric development and for the best design collection.
In the Asian young designer contest SFW 05, he was awarded first runner up for his men's wear collection. The same collection is now being retailed in stores in Moscow, London, and Singapore.
Shyam Narayan Prasad
Since his graduating collection (2003), Shyam Narayan Prasad mostly uses organic materials such as hand-spun, hand-woven cotton and silk. These techniques are getting rare and need support and encouragement.
His main inspiration was a college trip to a remote Indian village called Kaladera, which was known for hand-block printing and the use of natural dyes. There are only few families left who are doing this in the traditional way and even they are planning to change profession as this is not enough to sustain their families.
This is just one example of a craft struggling to survive. There must be one hundred more, which are nature-friendly, which have the potential of generating employment and of stopping people from migrating from rural to urban areas.
Shyam Narayan Prasad says: "It will give me great satisfaction if I can bring changes to some of these crafts and ultimately to the people related to them."
Sonya Kashmiri Ltd
The ethos behind the label has always been to promote a considered approach to design and manufacture for the luxury goods market.
Sonya Kashmiri has engineered her brand to be as sustainable as possible, with all accessories constructed in veg-tan leather and lined with organic cotton. Recycled leather provides additional strength to the structure, and non-leather components are kept to an absolute minimum.
She is a designer who embraces individuality in design and is a great supporter of traditional handcrafted skills, which can be seen in any one of her designs.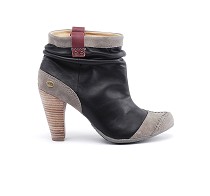 Terra Plana
Inspired by ecological survival, Terra Plana believes in a variety of non-generic products and sustainable strategies. Reparability, lightness, anatomic design, and durability are all staples of sustainable shoe making.
Winners of The Observer Ethical Fashion Product of the Year for 2007, Terrra Plana operate around the premise that materials are the first way to improve sustainable practice. Terra Plana uses a variety of eco-friendly materials including: chrome free leathers, vegetable tanned leathers, recycled materials, pure latex soling materials, recycled rubber soles and recycled foam foot beds.
Terra Plana also introduces e-leather, an eco revolutionary leather by-product. E-leather is a unique blend of leather and textile fibres intimately re-woven' and finished so it is practically indistinguishable from good-quality leather.
The Flying Cow
This season, The Flying Cow is on a fast flight path to ecological sustainability. Avoiding the use of resources that maim animals, the label actively discourages the use of two of the fashion world's controversial design elements: leather and fur.
Using a variety of Mother Nature's all natural and durable materials, the brand works with state of the art technology to create a well thought out collection. All materials used by The Flying Cow are breathable, antibacterial, durable, comfortable and made from eco friendly leathers and synthetics such as linen, hemp and cotton.
Materials are the be all and end all for animal loving label The Flying Cow, and their PVC and nickel free seasonal collection pays tribute to this fact.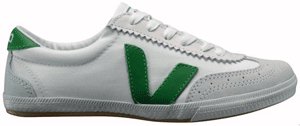 Veja
The origin of the Veja project might be summed up in one question: is another world possible?
Veja has been built on three main principles: using ecological inputs, using fair trade cotton and latex, and respecting workers' dignity. Veja has created a global chain that emphasizes solidarity and environment from the small producers in Brazil to the public.
Veja has replaced traditional cotton by organic cotton, supports wild latex production in Amazonia to fight against deforestation, and uses ecological leather instead of chrome-tanned leather.
Viridis Luxe
The Viridis Luxe mission is to provide sustainable luxurious clothing to those who are making the choice to tread lightly on our planet while continuing to enjoy fashion, luxury, and style.
Their aesthetic is the embodiment of effortless chic. Their signature organic fabric, exclusive to Viridis Luxe, is a revolutionary blend of the finest cashmere with long-fibre hemp. The Viridis Luxe line also includes exotic bamboo t-shirts and their exclusive sheer silk/hemp collection of jersey tops.
Viridis Luxe is committed to making beautiful clothing using ethical, sustainable, eco-friendly methods.
---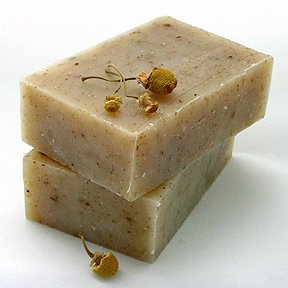 A Quick Guide to Natural Beauty
Making a green statement in your fashion styles and beauty choices has never been easier! There are many options available to help you go 100% natural and organic with your personal care products. When you seek beauty treatments, consider the natural and sumptuous beauty and body care treatments available at day spas. Natural and ethical clothing items and fashion accessories are hitting the shelves, and eco-inspired designs are also just a click away, with a wealth of choices available on the virtual e-shelves.
Using Natural Ingredients
Harsh, toxic and synthetic chemicals are common ingredients in many personal care products, with heavy metals ranking as a standard ingredient of many cosmetic products. We all know that the harsh ingredients used in nail polish have that strong signature smell which announces an array of toxic chemical ingredients. You can minimize your contact with these heavy toxins by investing in the natural nail polish options available - they don't contain dibutyl phthalate (DBP), formaldehyde, or toluene found in most standard formulas, which research has linked to skin irritation and birth defects, among other possible unknown effects. By selecting natural options for your skin and body care regimens, your skin and the environment will absorb less of the harsh ingredients that cause damage over time with regular use.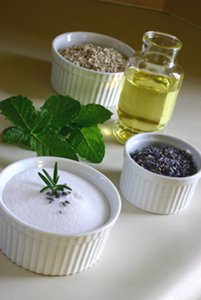 Natural Skin Care Ingredients
Look for plant and mineral substances as natural ingredients in your personal care products. Use cosmetics, skin care or hair care products that are labeled as having "natural" or "organic" ingredients in their formulas. Natural ingredients can be organic. Organic means that the harvest product has been organically grown.
The ingredients used in natural personal care are selected because of their beneficial effects. The commonly used natural ingredients are also chosen because they generally don't inflame skin sensitivities or allergies, and a wide range of skin types can tolerate them. Even so, it is important to be aware of any potential allergic reaction or sensitivity to an herb before using it. If you have diet restrictions concerning salt or sugar, you should avoid products with these ingredients if you are not sure how your body will react. For this reason, you should stay away from a body scrub that is either sugar or salt-based.
Avoid soaking your body, hands, or feet in baking soda, Epsom salts and sea salts when salt restrictions are a factor in your diet. Natural ingredients are versatile and can be used in different natural beauty, skin care and hair care formulas. Some common natural ingredients include distilled water, olive oil, safflower oil, coconut oil, herbal extracts, clays and essential oils. You can also find natural waxes, such as beeswax and floral wax, in personal care products.
Natural Soaps Natural soap is used in bath and shower formulas. Natural soap may also be an ingredient in natural shampoos. Soap can be made from animal product and plant oils, but use only soaps made from all-vegetable oil for a pure product that doesn't use animal-sourced ingredients. Most natural soaps contain vegetable glycerin which can soften the skin. All-natural soaps are free from detergents and toxic chemicals, and can be enhanced with essential oils, clay, herbs and natural colorants. Natural soaps may also have added scrub and deodorizing ingredients.
Accessories
Choose green jewelry to accessorize. Since the typical extraction methods used to procure metals, gems and precious stones damages and causes pollution to the planet, it is important to recycle and to use recycled precious metals, stones and gems. You can also find an abundance of fair trade jewelry. Hemp, bamboo, clay beads, concrete, stones, and recycled material are all substances used to make alternative jewelry styles. Avoid using jewelry that has been made with endangered wood products or new precious metals and stones. For example, instead of buying a diamond made available through unethical environmental methods and business practices, you can search for a green diamond. For a green wedding diamond, you can choose from a host of recycled, conflict-free and free trade diamonds. Recycle your fine jewelry if it is not being worn any longer.
Clothing
Natural and eco-friendly clothing is made from organic bamboo, cotton, hemp, soy, linen and woolen materials. Message T-shirts made with green screen-printing methods are also popular, as green fabric painting methods use eco-friendly paints and treatments. Get a natural look by avoiding fabric made from synthetic material or synthetic blends. Avoid white fabrics, as this color indicates that a great deal of bleach was probably used to achieve the effect. Watch out for dyes, too. The dyes used to color most fabrics are not environmentally-friendly because they can contain toxic substances, heavy metals and/or synthetic chemicals. Plant and animal fibers can be processed with natural dyes and lightening methods. Choose fabrics and clothing that have been processed naturally – they're not as hard to find as they used to be. Some fashion designers are creating great designs and comfortable styles for common items, like organic cotton denim jeans.
Some companies that use organic materials encourage you to send used clothes back – they'll either give you a percentage off of your next purchase or donate a percentage to a project in sustainable fashion. You can also care for your clothing with eco-friendly and non-toxic cleaning methods. You can find natural cleaning solutions that are free from detergents, bleach and other harsh chemicals. There are also natural cleaning methods available for your fashion accessories – check online and at your local beauty store.
Cosmetics
Achieving a stunning look with natural cosmetics is possible, too. Natural cosmetics can have a dry, water-based or oil-based formula, so choose one based on what works best with your skin type. The gorgeous natural colorants used in cosmetics typically come from minerals and plant-based materials.
Facial and Body Care Products
Facial and body care products can also come with natural ingredients. You can use natural and organic cleansing, toning and moisturizing formulas, which can be used effectively on dry, oily, combination, sensitive and mature skin. There are also green choices for acne conditions and sunburn treatments available, as well.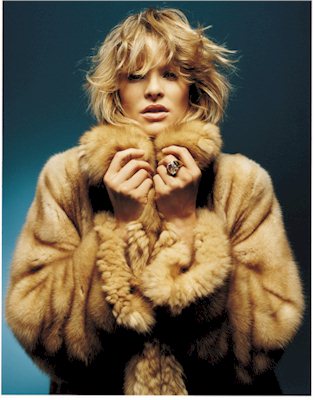 Fur
Planning on wearing fur? You should know that the only ethical furs are fake furs. You should also know that even though fake furs provide a greener choice over real furs, fake furs can be made of synthetic fibers and substances. This means that fake furs are not actually an eco-friendly choice. If you can't avoid wearing fake fur, there are synthetics available in a variety of colors and textures to choose from. You can find fun and realistic-looking fake furs to be used on hats, vests, coats and as trim on clothing articles and fashion accessories. Going green in your fashion and beauty goals will open up a great variety of choices to you. You can look and feel better by adding natural and organic ingredients and materials to your repertoire of beauty and fashion solutions. Keeping up with fashion trends no longer has to come at the price of our health or the expense of our planet!
Hair Care
There are many options for natural hair care. You can use natural soap-based and non-toxic shampoos, which are made using natural cleansers, essential oils and herbal extracts. You can also use natural hair dyes, lighteners, sprays, setting formulas, beautyfashion1.pngpomades, rinses, anti-frizz formulas and conditioners, which are not laden with neurotoxins.
Spa Treatments
You can find luxurious and effective treatments for beauty, skin care and body care at day spas. Fulfill your skin and hair care needs by choosing from a variety of natural spa treatments, including massage. Fruit masks for the hair, face or body are great ways to nourish and replenish your skin. There is a wide range of calming and natural spa treatments - you could be wrapped in seaweed and essential oils, or sunken deep into a tub of clay or floral waters. Make the choice to get pampered naturally at a day spa.