The Rise of Ecofashion
The Fashion eZine - Sustainable Fashion
---
This Website is Best Viewed Using Firefox
A showcase for eco-fashion
Sometimes fashion hurts, but helping the planet doesn't have to be painful. A new group is raising money and awareness with an eco-friendly fashion show
Trish Crawford - January 25th 2007.
It's the season for fashion to go green.
With concern for the environment at a fever pitch, Canadian fashion designers are raising money for the conservation organization WWF-Canada with an eco-friendly fashion show.
Helping the planet doesn't have to be painful, says Leslie Domenico, executive director of the Green Carpet Series which has organized An Evening of Sustainable Style at the Berkeley Church this Tuesday, which wants to attract local THUGS – Thoughtful Hip Urban Green-minded professionals.
Green Carpet, a newly formed environment group, stages events to raise money and awareness. Its first event featuring organic food raised $10,000 in May. We "want to raise awareness and showcase alternatives in a fun way," says Domenico.
They do this by promoting easy things people can do, such as buying clothing made of hemp or bamboo.
"We are not preaching and not purists. Any shift in lifestyle helps," says Domenico.
The clothes will be as good to look at as they are for the environment, says Domenico.
Celebrity models, including television reporter Wendy Mesley and singer Melanie Doane, will model eco-friendly clothing by Canadian designers including Preloved, Yogagirl and Oqoqo as well as vintage items (remember, recycle and reuse.)
TV personalities Gill Deacon and George Stroumboulopoulos are hosts.
Linda Lundström, who is honourary chair of the event, has been designing environmentally friendly clothing for almost 20 years.
After having her first child she grew concerned about dyes and chemicals used in the finishing of textiles, and how they affected the planet.
Now Lundström works with eco-friendly materials such as bamboo as well as a material made out of recycled plastic bottles.
Her two daughters, ages 20 and 16, will model her designs in the show.
Money raised by Green Carpet will finance the WWF climate change education programs and conservation work. Recently WWF-Canada has focused on replenishing Canada's cod stock and other species affected by over-fishing says Tara Wood, public relations manager for WWF-Canada.
Buying products made locally, including clothing, is one of the easiest ways people can help on the global warming file, says Wood.
The fuel used to ship items from China or elsewhere uses up a lot of fossil fuels. Shopping locally not only produces less pollution, it helps local retailers and the Canadian economy, says Wood.
Tickets for An Evening of Sustainable Style are $40 and available at greencarpetseries.com.
---
Eco-fashion finds a home in Brazil
Collecting plastic bottles that can be recycled in to fibres generates income for thousands of poor families
Carolina Schwartz & Fernanda Ezabella - February 1st 2007.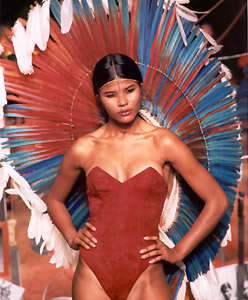 SAO PAULO–For young Brazilians worrying about the latest fashions, the dangers of polluting rivers and oceans with billions of plastic bottles and tonnes of pesticides may seem a distant concern.
But new technology that makes clothing from the polyester fibres of recycled bottles, and organic cotton grown without pesticides may prove that being environmentally conscious and staying hip can walk hand-in-hand.
During last month's Sao Paulo Fashion Week, the biggest fashion event in Latin America, a group of local designers displayed several glamorous gowns made from recycled materials, known as e-fabrics.
"It's a great idea. It's a way of educating people and making them think more about these issues," said Ruth Marshall-Johnson, an associate editor with the Worth Global Style Network research and fashion news service.
The recycled bottles also are used to produce materials that serve as filling for matelasse fabric, ties and lapels. Collecting the bottles also generates income for thousands of poor Brazilian families.
Technological fabrics will be responsible for great changes in the business, said Gloria Kalil, one of Brazil's top fashion consultants.
"From now on, the industry will have to consider the environment. Otherwise, who's going to buy things that are damaging for the planet?" she said.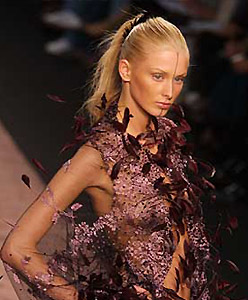 Marshall-Johnson agrees. She pointed out that the Internet has become a powerful tool for consumers to investigate whether what they wear utilizes slave labour or involves fabrics produced in a manner that is not ecologically friendly.
Commercially, producing certain e-fabrics such as organic cotton could cost consumers up to 20 per cent more.
"Organic cotton costs more to grow, but people don't realize that regular cotton is the worst crop for the environment because of the amount of pesticides it requires," said researcher Selma Fernandes, from the Institute E, a non-governmental organization sponsoring the fabrics project.
"These pesticides end up killing butterflies and birds and pollute rivers."
This year, designer Raquel Davidowicz, of the fashion house UMA, created her first collection of clothing for the catwalk made from organic cotton and bamboo fibres.
"We were looking for new fabrics and chose these exactly because they are not harmful for the environment," Davidowicz said.
"We are aware that they are trickier to sell."
Specialists say it might take five years for the trend to catch up and for more people to start to pay the premium price for clothes made from e-fabrics.
"The designers were interested in taking part in this project. Now we hope to create the desire among consumers to purchase this type of clothing," Fernandes said.
---
Trash To Fashion becomes an international event
November 20th 2006.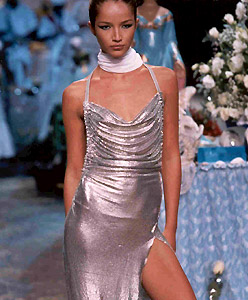 Appropriately located in the heart of New Zealand's Eco-City, this event focuses on sustainability and environmental issues through fashion design competition. This year it reached new heights of recognition and artistic quality.
Trash To Fashion delivered its promise of showcasing glamour and creativity from recycled materials to nearly 4000 attendees at this year's event held at the Trusts Stadium in Henderson, Waitakere.
Over the past 11 years this event has grown to the point where it attracts international entries which this year included several from the US and one from Australia. National entries range the whole of the North Island as well as the South Island.
Eight categories were presented throughout the show, interspersed with artistically performed interludes which followed a continuous narrative.
Supreme and multi-award winner Amethyst Parker enthuses "I love this event, I've entered three times previously because it really pushes my thinking on what materials can be used in new and exciting ways so it makes me be resourceful. I think that's important for stimulating design and creativity .I also love the fact that these awards introduce new people to sustainable living and design."
In addition to her other wins Amethyst received a special prize at the awards which recognised her exceptional abilities in creative design and will aid her quest for design excellence - $2000 worth of study grant donated by UNITEC.
Some of the more unusual materials utilised by finalists this year included 1960s doll faces, a bird cage, garden hoses, bicycle parts, Xrays and also American yoghurt tops.