Cyber-Fashion
The Fashion eZine
---
This Website is Best Viewed Using Firefox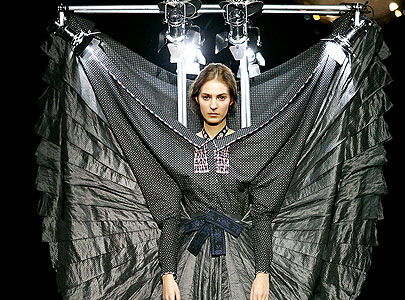 Fashion enters cyberspace
Tiers of ruffles, polka dots, folkloric prints and other romantic motifs are touched with technological twists
March 1st 2007.
PARIS–Internet addiction has become so prevalent and worrisome that one country, China, has implemented counselling programs to help surfers manage the affliction.
In North America, 8-year-olds now engage in virtual playdates through websites such as clubpenguin.ca, setting the stage for a lifetime of techno-dependant social interaction.
Games such as Second Life allow us to create an entirely different persona to live life, make decisions and face consequences, all with the safety net of cyberspace.
Online dating and online affairs allow the most reclusive person to create any kind of person he or she may want to be. Often these façades are so believable that the players, after a while, forget what is fact and what is fiction. There's already a name for it – techno-sexual.
It's an undercurrent theme here in Paris this week as top designers unveil their fall 2007 collections. Tiers of ruffles, polka dots, folkloric prints and other romantic motifs are touched with technological twists. And the fashion world has coined its own term for it– techno-romance.
At the first major show this week, Dutch duo Viktor Horsting and Rolf Snoeren sent out a romantic collection for their Viktor & Rolf label inspired by their native Holland – pretty florals, pin dot prints, cascades of tiny pleats and wooden Dutch clogs, modified with high heels.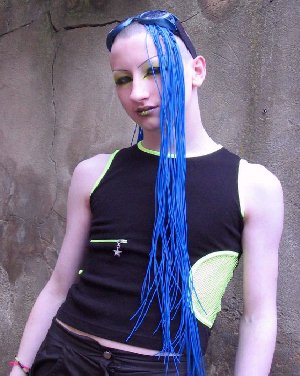 Each model was a fashion show unto herself, with her own scaffolding of lights attached to her body and mini speakers that played individual runway songs. An announcement before the show asking audience members to turn off their cellphones meant it was probably all wirelessly activated.
The entire presentation suggested that we can each be our own little universe – just as we are in cyberspace.
Technological marvels also impressed at the darkly romantic Yohji Yamamoto collection on Monday night. The models emerged in a multitude of tiered ruffles, bold polka dots and senorita-style head wraps to the romantic strains of castanets on the soundtrack. Yamamoto's double-tiered hoop skirts were activated by the models so they mechanically rotated, one tier counter-clockwise to the other. Just like in a virtual reality world, you don't need the natural elements, such as wind, to blow your ruffles – simply press a button and presto, your skirt will have movement.
If you thought online sexual encounters are the newest form of safe sex, consider the dresses at the line Undercover by Japanese designer Jun Takahashi. Dangling with razor blades, they are guaranteed to keep the amorous from getting too close. He also went the high-tech route with a coat that had a built-in thermometer. Isn't that just what cyber-surfers need as they surf the Net for hours on end? Just keep sitting in your isolated world, no need to get up, not even to adjust the temperature.
Karl Lagerfeld for his namesake collection took a Matrix-y route with elements of punk. The show, staged in the narrow hallways of the Sorbonne University, was darkly lit with red lighting and a highly reflective mirrored silver runway. The mostly black collection, save for the neon bright nails that protruded from fingerless gloves, featured military coats in fatigue green and soft romantic chiffon dresses, banded with beading at the hem or strands of beaded fabric flowing from the neck. There were techy elements also with the panels of shiny fabric that banded some of the dresses.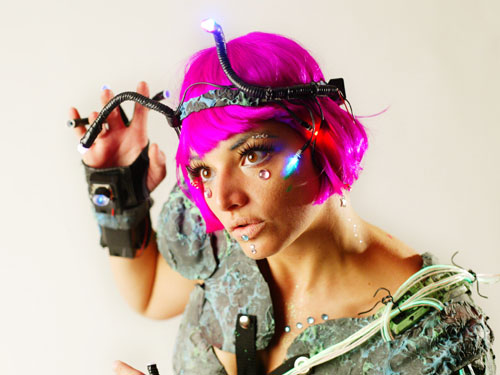 But leave it to Jean Paul Gaultier to march to a different drummer. His highland collection of tartans invoked the warrior spirit of Braveheart moreso than bonnie lasses having a fling on romantic moors. With punk-like mohawks of feathers in their hair and crocheted masks over their faces, the models marched down the runway in ruffled, pleated tartans. Some of the long plaid skirts had rows of savage fur interspersed in their folds. And his trench coats came with built-in backpacks. With tiny whisky flasks attached to their thighs in a holster, these were beautiful punks looking for a good time. And most likely it isn't in cyberspace.