Classic Gowns and Dresses
The Fashion eZine - Formal Wear
---
This Website is Best Viewed Using Firefox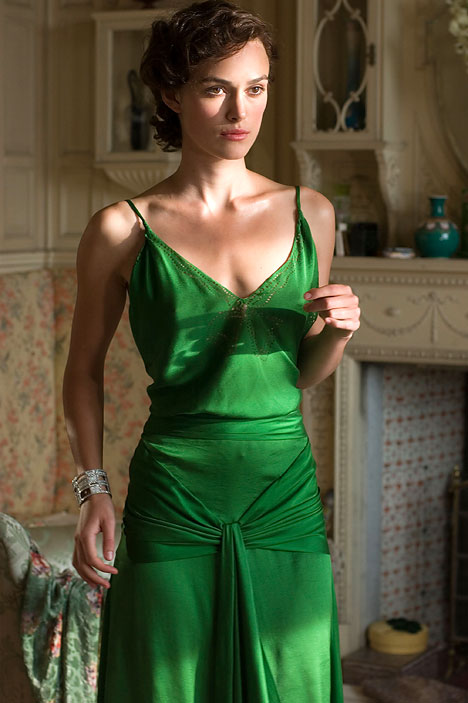 Timeless Gowns and Dresses
Can't get enough Keira Knightley's dress in Atonement? Get in line, there is a long history of fabulous dresses and Hollywood.
The bias-cut emerald green dress worn by Keira Knightley in Atonement has been voted the best film costume of all time by Sky Movies and Britain's InStyle magazine.
We haven't seen the film but the dress by costume designer Jacqueline Durran is certainly pretty enough, but perhaps "the best of all time" status seems more like bragging rights to promote the movie. Besides, you really have to have the figure to fit that kind of dress anyway. It is perhaps more of a comment on the wearer's good looks rather than the actual quality of the dress.
Fabulous looking dresses can certainly help drive a movie, but the woman in the dress is really the biggest selling point. Stick Marilyn Monroe, Elizabeth Taylor or Audrey Hepburn in a fancy dress and people are bound to go ga-ga over it. Perhaps this isn't so much about the dress as it about the general public's admiration for Keira Knightley's lithe figure.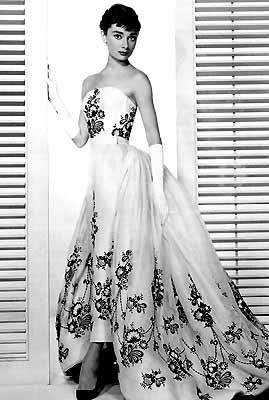 Want to see a good fashion movie? Try "Death on the Nile". Now that's a fashion movie (with the pretty girls Bette Davis and Mia Farrow to match).
Canada's king of glamour Wayne Clark (from Holt Renfrew) doesn't think the Atonement dress deserves such kudos either.
"Oh, please," Clark chuckled when asked for his opinion. "I can think of 100 dresses that are more fantastic than that. Maggie Smith in 'Travels With My Aunt' in that beaded ombre cardigan and biasy gown comes straight to mind. Or Elizabeth Taylor in Cleopatra."
What about Marilyn Monroe's airborne white halter in The Seven Year Itch or the pink dress from 'Diamonds are a Girl's Best Friend'
There's also Audrey Hepburn's black Givenchy gown from Breakfast at Tiffany's.
While the Atonement dress might not be a film classic in some people's minds, the 1930s bias cut is a classic.
The zipless bias satin gown is slit down the centre of the chest, and has a beautiful open back, Clark explains. The style comes in a variety of colours including ivory for brides.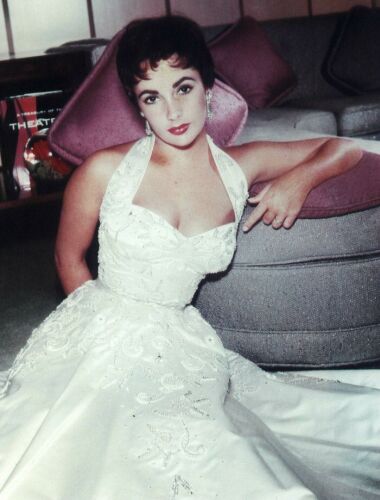 "I always have them in my collection," Clark says. "They are my bestselling dresses. Most retailers used to think you have to have the body of a goddess to wear them. But now they are realizing that for women who can't wear a cut waist, the bias skims the body. It's comfortable and forgiving."
Clark says he gets two orders a week for bias-cut gowns from Holt Renfrew's Bloor St. evening wear salon. "We have one gown called The Aviator, named after the Howard Hughes movie. That pattern is always out on the cutting table."
Clark's gowns can also be found at Joy Cherry, Tocca Finita, and Biba. Prices range from $1,695 for satin-back crepe to $2,995 for a bridal version lined in four-ply silk.
Clark's final comment on the Atonement dress?
"Obviously Keira's PR people are fantastic," he says. "Tell me who they are. I want them."
Fashion designer Thien Le didn't seem too impressed either with the Atonement dress, especially since he had a similar champagne silk style in his collection about five years back.
Le also hadn't seen the film, citing work hours that border on ridiculous. "I usually get to work around 2 a.m., though in the winter I come in late, at 4."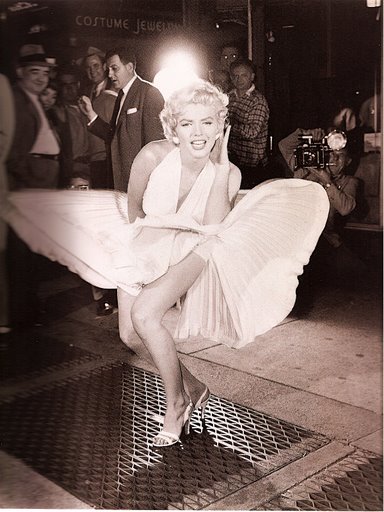 Another Hollywood trend:
Women wearing men's jewellery
"Mary-Kate Olsen is often seen with our men's beaded necklace wrapped around her wrist," says Heather Bordin Prizer, public relations manager and celebrity stylist for New York-based David Yurman. "She mixes the black onyx and coral beads with our traditional box chain. It's a fresh look," adds Prizer, who was at Holt Renfrew on Wednesday with Yurman's spring collection.
Silver and gold cable bracelets and cushion-cut coloured stones are Yurman signatures. However, the 25-year-old design house has introduced more contemporary looks in the last year. A campaign starring Kate Moss and Mississauga's Daria Werbowy also targets a younger crowd.
And men's design has been handed to Yurman's 26-year-old son Evan, who has captured fans such as LL Cool J, Billy Ray Cyrus and Jeremy Piven.
Men have especially taken to black diamonds, which decorate Yurman cufflinks and dog tag pendants. "It's a more subtle kind of bling," Prizer notes.
Want to start a new fad? Get some hot celebrities to wear something unusual.