Chad White
The Fashion eZine - Supermodels
---
This Website is Best Viewed Using Firefox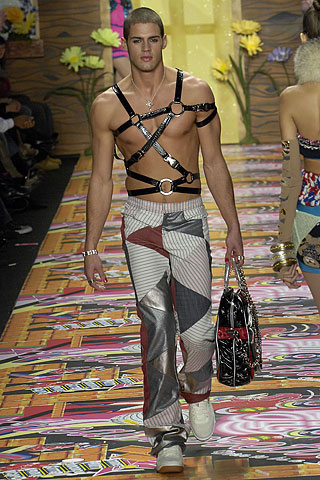 Hunky American
6'2" tall Chad White was born in 1985 in Portland, Oregon. He is one of the newest faces in the modeling industry.
Chad White was featured in the June 2006 issue of L'Uomo Vogue, and was photographed by world-renowned photographer Steven Klein.
Since then Chad White has been on the runways in fashion capital cities in the world. He is one of the favorites of Versace, D&G and Dsquared2, among others.
In person, it is not only the face, with its perfect masculine jawline, or the body (made by years of playing many kind of sports) that makes an impression - It is White's personality.
Chad White is known to his colleagues and friends to have unswervingly patient, tireless in his work, kind, fun to be with and capable of enduring any amount of hardship without complaint. He speaks little but is surprisingly smart and witty.
Chad White played baseball in college and was drafted for Major League Baseball, an eventuality that failed when he injured his hand. But as these hot pictures testify, baseball's loss is truly modeling's gain.