Anorexia
At the height of her anorexia in her late twenties, Carré Otis was 5'10" tall and weighed a mere 100 lbs. She was hungry and depressed all the time and tried to solve it with heroin addiction.
In 1999 Carré Otis had a heart seizure and during heart operations doctors discovered three holes in her partially collapsed heart. Her hair turned white and fell out in chunks. She went from supermodel to emergency ward in a matter of days.
Her diet prior to the seizure had consisted of green tea and very small doses of vegetarian food. Her drug addiction problems were getting worse, was constantly depressed and had been raped by multiple people in the fashion business (mostly photographers).
Carré Otis had starved herself into heart failure and hated herself. She was easily persuaded into drugs and unsolicited sex because she couldn't say no to the people paying for her lifestyle.
"I've always really gone along with the flow of the environment I'm in. The fashion world isn't an environment where health is necessarily encouraged. When I got into modeling and had success right away, the addictions I'd had when I was younger returned." - Carré Otis.
To keep thin she stayed on the drugs and booze: "Drinking my calories," she called it and by the age of 28 admitted that "heroin had knocked me on my ass."
"The life I'd been living had wreaked havoc on my body. I decided to really start taking care of myself." - Carré Otis.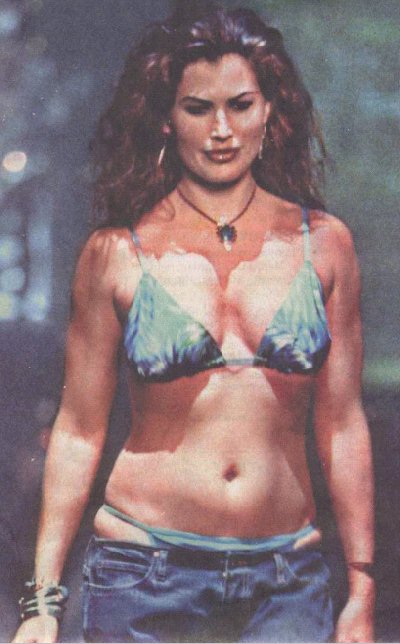 Post Anorexia
By 2004 Carré Otis had turned her life around. She had gained 30 pounds of muscle and fat and was walking runways for "normal" sized models and promoting healthier eating. She went from a British size 10 to a size 18.
She drew strength from her time at the Woolman School and used it to change her life. "[It] gave me this amazing connection to health and nutrition and a way to work my way back to them." She also went on her first Buddhist retreat and found comfort and happiness in a religion that doesn't repress sexuality. She now has twice yearly meetings with the Dalai Lama and regularly brings medical supplies to orphanages in Nepal.
"I used to measure how I felt based on what size jean I wore, how skinny I was. Now I see myself in terms of health. Can I get through my run in the morning? Can I make it through my yoga class? Can I beat my brothers when we race up a hill?" - Carré Otis.
By supermodel standards she would not be considered fat, but by the majority of men and women out there she is now more gorgeous than ever.
Anorexia is a growing problem in the United States and the world, and we need people like Carré Otis to stand up and say "This isn't beautiful. It is unhealthy, stupid and deadly."
Carré Otis is still judged by her looks as she walks runways for average and plus size models, but at least she is in control of weight in a healthy fashion.
Society can stand to learn something from Carré Otis: Voluptuous beauty is still sexy and we don't need to starve ourselves to feel sexually desirable.
She is still basically a vegetarian but eats a lot more protein in the form of tofu, eggs, nuts, seeds and the occasional protein powder. She also eats plenty of raw and cooked vegetables and avoids wheat, sugar and caffeine. "I have a very healthy, very active life." - Carré Otis.
---
Anorexia out of Control
According to the NEDA, conservative estimates indicate that, after puberty, 5 million to 10 million American girls and women and 1 million boys and men face eating disorders.
The number of those struggling with food is likely much greater given the spectrum of borderline eating disorders.
"It's fair to make the case that a substantial minority of people – 40 to 50% – have struggled one way or another with many of the symptoms even though they may not have the formal disorder," says Douglas Bunnell, president-elect of the NEDA. "'Eating disorder not otherwise specified' is an actual diagnosis – most people seeking treatment for eating disorders fit in this latter category."
Bunnell said the No. 1 risk factor is dieting. "For some people it clearly fires up a self-perpetuating loop where they continue to restrict their intake and continue to diet."
Other risk factors include:
Puberty
Perfectionism or obsessional characteristics
Female gender
Other psychiatric vulnerabilities
History of trauma – including sexual or physical abuse
Based on these factors, Otis was clearly at risk, and her career choice was a prescription for disaster.
"The pressure was if I didn't get into that dress size someone else would – someone else would get the job," Otis explains. "I had dropped out of school and was a runaway, so I didn't have family to fall back on if I didn't work. I didn't have a lot of other options of making money other than modeling."
"But I can't blame it all on modeling," Otis adds. "Anorexia was there for me before I got into modeling, but because of the arena and the demands, the disease really got out of control for me. It's like being an alcoholic and going and being a bartender."
Bunnell says eating disorders involve "a complex interaction between some sort of inherited vulnerability and an environment that pushes people towards body loathing."
Anorexia generally occurs between ages 15 to 35, with onset typically in the teen years. Because AN has the highest mortality of any psychiatric illness – approximately 5-20% of patients die – recognizing its symptoms is vital.
For purposes of diagnosis, symptoms of AN must persist for three months and include:
Refusal to maintain body weight at or above a minimally normal weight.
Intense fear of weight gain or being "fat" and/or extreme concern with body weight.
Feeling "fat" or overweight despite dramatic weight loss.
Loss of menstrual periods in girls and women post-puberty.
"Treatment is complicated," reports Bunnell, who is also director of the Renfew Center of Connecticut. "It often takes a long time – sometimes up to six to eight years. It often takes several attempts at treatment. What we know increasingly clearly over the last several years is that people who get adequate and specialized care get better."
"Part of treatment for drugs and alcohol is you abstain from these, but with eating disorders you can't abstain from food so the treatment is longer than drugs and alcohol," Otis said. "You have to find a balance with food in your life – you can't take out food. It can be absolutely terrifying." - Carré Otis.
Treatment for eating disorders involves a variety of approaches, including:
Individual psychotherapy
Family therapy
Cognitive behavioral therapy
Group psychotherapy
Nutritional therapy
Psychopharmacology
"For most any individual treatment is going to entail a combination of many of these," Bunnell reports. "This multidisciplinary, coordinated treatment should be the standard of care."
"What has worked for me is therapy in conjunction with nutritionist who specializes in eating disorders that I see every two weeks," Otis says.
But the harsh reality in the United States is that only a minority of people get adequate care. This is often due to lack of awareness, stigma and inadequate insurance coverage.
"It is critically important that people recognize that eating disorders are very serious illnesses – not trendy lifestyle choices," Bunnell warns. "They can be chronic and disabling and ripple through families and relationships. They require adequate, specialized treatment."
Otis aims to stop the problem before it starts.
"We have to get to kids younger," Otis insists. "Hopefully the kind of educational programs we're creating with NEDA can be installed in the school system. We have to educate people that the images they see are airbrushed and doctored."
"If you could see a before and after photo, you'd be amazed," Otis says. "Most of us don't look that way. We come in many different shapes and sizes, and we need to support each other and our differences. Our beauty is in our differences."