Carla Bruni
The Fashion eZine - Supermodels
---
This Website is Best Viewed Using Firefox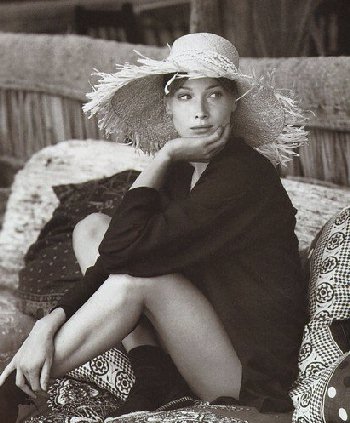 Born into Wealth & Music
5' 9" tall Carla Bruni Tedeschi was born December 23rd 1968 in Turin, Italy into a life of wealth and prestige and grew up in Paris, France after the age of 5. She was the daughter of industrialist/composer Alberto Bruni Tedeschi and concert pianist Marysa Borini. It is rumoured her biological father is actually a businessman called Maurizio Remmert.
Carla Bruni abandoned a career in architecture/art at the age of 19 to become a full time model. Unlike most models who seek money and fame Carla Bruni didn't need money as she was the heiress of a tire manufacturing fortune. With classical Italian beauty and a tall 34B - 23 - 35 figure Carla Bruni is one of the most glamourous supermodels worldwide.
Carla's high-profile affairs with rock stars like Mick Jagger and Eric Clapton, actors Vincent Perez and Kevin Costner, financial tycoon Donald Trump and her recent engagement to French President Nicolas Sarkozy have made her a topic of celebrity gossip.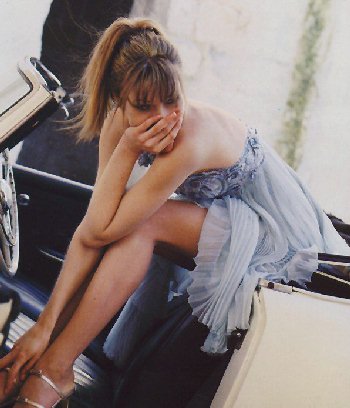 In 1998 BusinessAge magazine listed Bruni as one of the world's top-20 highest-paid models, with a yearly salary of $7.5 million and has been photographed nude as often than Pamela Anderson. She appeared in "Catwalk" in 1995, Robert Leacock's documentary about the modeling industry and in 1998 she was chosen to be the model for Versace fragance ads.
In 2001 she had affair with philosophy professor Raphael Enthoven and gave birth to their son Aurélien the same year. Enthoven divorced his wife novelist Justine Lévy (who later portrays a character in her book "Rien de grave" (Nothing Serious) as a husband stealing "praying mantis" with "a Terminator smile". Carla and Raphael Enthoven married but have since divorced. Her affair with Mick Jagger also resulted in Mick separating with his wife.
In 2006 she carried the Italian flag in the opening ceremony of the 2006 Winter Olympics in Turin, Italy.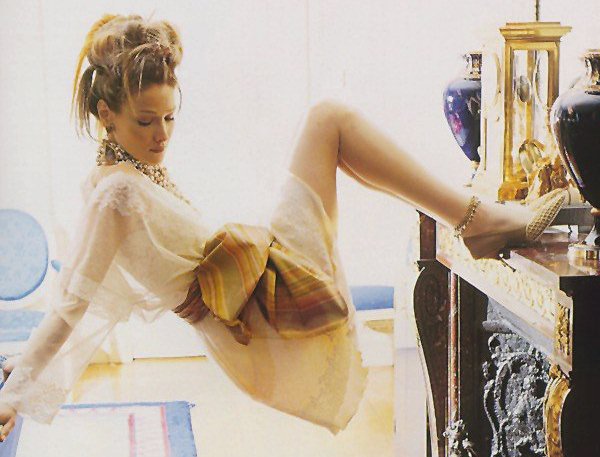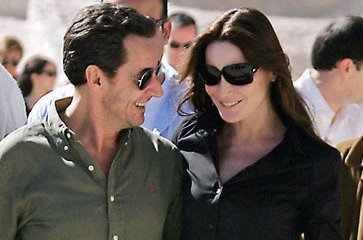 First Lady of France
At the end of 2007 Carla Bruni started a relationship with French President Nicolas Sarkozy after photographers took pictures of them visiting Disneyland Resort Paris, as well as during a vacation in Luxor, Egypt and Petra, Jordan during the Christmas holidays.
President Nicolas Sarkozy of France confirmed on January 8th 2008 that his relationship with Carla Bruni is serious and that they plan to marry. They married on February 2nd 2008 at the Élysée Palace in Paris. The marriage is Bruni's first and Sarkozy's third, now making her the First Lady of France.
Musical Career
In 1997 Carla Bruni quit the world of fashion to devote herself to a music career. She sent her lyrics to Julien Clerc in 1999, which he used on seven tracks on his 2000 album "Si j'étais elle".
Her first album "Quelqu'un m'a dit" was an acoustic folk music, entirely written and composed by Carla Bruni, was released in November 2002 to critic and public acclaim and in the first year sold 1 million copies.
Carla Bruni's second album "No Promises" reached #1 in France and Switzerland in 2007.