Burberry
The Fashion eZine - Fashion Brands
---
This Website is Best Viewed Using Firefox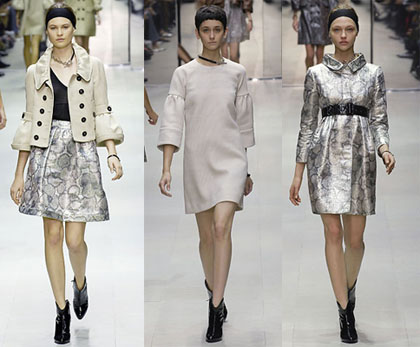 Burberry
Burberry is an international luxury brand. Its globally recognized name, trademark, and signature trenchcoat have been synonymous with quality and enduring style for over 150 years.
Burberry Ltd. is a manufacturer and marketer of men's, women's, and children's apparel, as well as accessories and fragrances. The Burberry name is virtually synonymous with the tan gabardine raincoat pioneered by the company more than 145 years ago. Writing for WWD (Women's Wear Daily) in 1989, Andrew Collier described the garment as "a mainstay in outerwear worldwide, that symbolizes all that is Britain: sturdy and unassuming, equally at home in fine hotels and muddy lanes." In 2000, Burberry operated 58 company-owned stores, and its products were also found in department and specialty stores around the world. In 1999, the firm launched the Prorsum designer collection as part of its efforts to reinvent Burberry's luxury brand status. An icon of classic clothing, Burberry has utilized licensing and brand extensions to appeal to a younger generation of fashion-conscious customers. The company is a subsidiary of the United Kingdom's Great Universal Stores plc, the very closely held $9 billion credit reporting, mail-order, and retail apparel conglomerate.
Founder Thomas Burberry was born in 1835 and apprenticed in the drapery trade, establishing his own drapery business in Basingstoke, Hampshire, in 1856. A sportsman, Burberry was dissatisfied with the then-popular rubberized mackintosh raincoat, which was heavy, restricting, and stifling, and thus unsuitable for extended outings. Inspired by country folk's loose "smocks," Burberry designed a tightly woven fabric made from water-repellent linen or cotton yarn. Although sturdy and tear-resistant, this "Burberry-proofed" cloth was lightweight and allowed air to circulate, making it considerably more comfortable than the heavy mackintosh. The tailor trademarked his cloth "Gabardine," a Shakespearean term that referred to shelter from inclement weather. Burberry developed five different weights of gabardine: "Airylight," "Double-Weave," "Karoo," "Wait-a-bit," and "Tropical." He even patented "Burberry-proofed" linings made from silk and wool.
Burberry was a shrewd marketer, employing trademarking and advertising to great benefit. Illustrated advertisements touting the clothing "designed by sportsmen for sportsmen" drew customers to Burberry's retail outlet, which was established in London's Haymarket section in 1891. Having used a variety of labels to distinguish its garments from imitations, the company registered the "Equestrian Knight" trademark in 1909, an insignia used continuously through the mid-1990s. Also employed in the corporate logo, this image represents several Burberry ideals. The armor signifies the protection afforded by the outerwear, the "Chivalry of Knighthood" reflects the company's own standards of integrity, and the Latin adverb "prorsum" ("forward") referred to Burberry's innovative fabrics and styles.
Although the gabardine name was used under exclusive trademark by Burberry until 1917, Britain's King Edward, one of the first members of the royal family to don the gabardine coat, has been credited with popularizing the Burberry name by requesting the garment by name. Burberry garments have enjoyed a loyal following among royalty and celebrities around the world ever since. The company's clientele has included Winston Churchill, Gary Cooper, Joan Crawford, Humphrey Bogart, George Bernard Shaw, Al Jolson, Peter Falk, Ronald Reagan, George Bush, Norman Schwarzkopf, and Paul Newman. The company also boasts warrants (endorsements of quality) from Her Majesty Queen Elizabeth II and H.R.H. The Prince of Wales. Considered a "rite of passage" by some commoners, a Burberry coat was a prerequisite to a first job interview.
By the turn of the century, Burberry offered an extensive line of outerwear for both men and women. The company designed hats, jackets, pants, and gaiters especially for hunting, fishing, golf, tennis, skiing, archery, and mountaineering. The garments' time- and weather-tested reputation for durability helped make them the gear of choice for adventurers of the late 19th and early 20th century. Balloonists and early aviators wore specially made Burberry garments that let neither wind nor rain penetrate. Captain Roald Amundsen, Captain R.F. Scott, and Sir Ernest Shackleton wore Burberry clothing and took shelter in Burberry tents on their expeditions to the South Pole in the 1910s.
Burberry established its first foreign outlet in Paris in 1910 and soon had retail establishments in the United States and South America. It exported its first shipment of raincoats to Japan in 1915. It was World War I, however, that brought widespread acclamation and fame to Burberry. First worn by high-ranking generals during the turn of the century Boer War in South Africa, the Burberry coat soon was adopted as standard issue for all British officers. With the addition of epaulets and other military trappings, the garments came to be known as "Trench Coats," so named for their ubiquity and durability through trench warfare. One Royal Flying Corps veteran wrote a testimonial noting, "During the War, I crashed in the (English) Channel when wearing a Burberry trench coat and had to discard it. It was returned to me a week later, having been in the sea for five days. I have worn it ever since and it is still going strong." The company estimated that 500,000 Burberrys were worn and, perhaps more important, brought home, by veterans.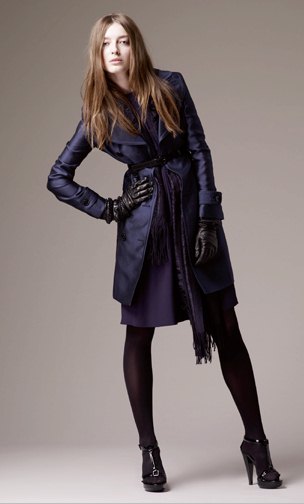 Rainwear became so important to Burberry that the company soon whittled its lines down to little more than trench coats and tailored menswear for much of the 20th century. The notoriously conservative manufacturer stuck primarily to its well-known raincoats until the 1960s, when a fluke led Burberry to capitalize on the garments' trademark tan, black, red, and white plaid lining. It all started with a window display at the company's Paris store. The shop's manager spiced up her arrangement of trench coats by turning up the hem of one coat to show off its checked lining, then repeated the check on an array of umbrellas. The clamor for the umbrellas was so immediate and compelling that Burberry's made and quickly sold hundreds. This experiment eventually led to the introduction of the cashmere scarf, also a perennial best-seller. By the 1990s, Burberry offered six different umbrella models and scarves in eight color schemes. This turning point in the company's merchandising scheme notwithstanding, rainwear remained Burberry's single largest line into the late 1970s and early 1980s, and menswear continued to dominate.
Burberry's export business increased dramatically during the 1980s, fueled primarily by Japanese and American craving for prestigious designer goods. By mid-decade, exports constituted two-thirds of the British company's sales, with more than one-fourth of exports headed to Japan and another 15 percent sold in the United States. By 1996, Burberry had accumulated a record six Queen's Awards for Export Achievement and ranked among Great Britain's leading clothing exporters. Overseas sales continued to grow by double-digit percentages in the early 1990s. Realizing that "A fine tradition is not in itself sufficient today," Burberry sought to broaden its appeal to a younger, more fashion-conscious female clientele. Acknowledging that "The first thing people think of when they hear Burberry is a man's trench coat," U.S. Managing Director Barry Goldsmith asserted in a 1994 WWD article, "That's the image we're up against." One result was the Thomas Burberry collection, first introduced in Great Britain in 1988 and extended to the United States two years later. The new merchandise was priced 15 percent to 30 percent less than Burberry's designer lines, bringing a blouse down to $90 versus the normal $150 to $225, for example. Yet it was not just the price tags that set this "bridge line" apart from the brand's more traditional garb. The collection emphasized more casual sportswear, as opposed to career wear. "Updated classics" included youthful plaid mini kilts, jumpers, and snug "jean fit" slacks. U.S. advertising executive David Lipman called the line and its model, Christy Turlington, "modernly relevant, yet classically beautiful." At the upper end of the scale, Burberry launched a personal tailoring service for the ladies. The company's women's division grew 30 percent from 1994 to early 1996 and was expected not only to overtake menswear, but to constitute more than 70 percent of total annual sales by 1999.
Although it continued to manufacture 90 percent of its merchandise in British factories, Burberry also started licensing its name, plaid, and knight logo to other manufacturers. By the mid-1990s, the Burberry name added panache to handbags and belts, throw pillows and boxer shorts, cookies and crackers, and fragrances and liquor. Childrenswear, stuffed toys, watches, handbags, golf bags, and even a co-branded VISA credit card sported the Burberry check. Burberry's efforts at product and geographic diversification appeared to be paying off in the mid-1990s. Sales (including a small sister subsidiary, Scotch House) increased by more than one-third, from £200.9 million in fiscal 1994 (ended March 31) to £267.8 million in 1996. Net income before taxes grew twice as fast, from £41.1 million to £70 million, during the same period.
Despite diversification efforts, it became clear to company management that the Burberry brand did not have the spark it once claimed. In 1997, Rose Marie Bravo was elected CEO of Burberry. Her expertise in brand management fit in with company plans to strengthen the Burberry brand throughout the United States and Europe. Bravo began focusing on product and design development and hired creative director Roberto Menichetti to head up this initiative. While the company focused on positioning itself among leaders in the fashion industry, it began facing problems caused by its over-dependence on Asian customers. Sales decreased by 7 percent in 1998 and profits tumbled in its retail and wholesale sectors due to the Asian economic crisis. As a major exporter, Burberry also was hurt by the strength of the pound. The company also began to slow down its shipments to the Asian grey market--a market in which its products were sold cheaply or re-imported back to Europe and sold at a discount--and shut down three production facilities in the United Kingdom. Whereas this decision hurt the firm's profits in 1998, management felt it would, in the long run, protect the Burberry image.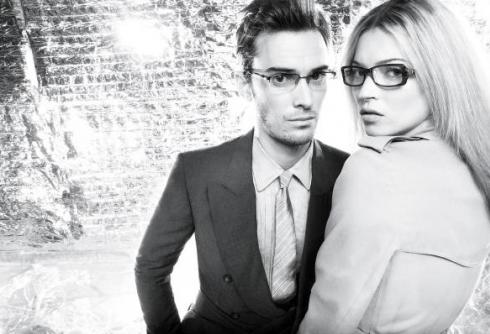 In 1999, the company profits continued to falter. Sales decreased by 19 percent as the firm battled its Asian-related problems. Amidst its financial struggles, however, the company continued to focus on brand development and aggressive marketing. Under the leadership of Bravo, Burberry was once again re-emerging as an international luxury brand. The company launched its Prorsum collections in 1999, a new designer line that was part of Bravo's strategy. According to a June 1999 Daily News Record article, the launch was, "The latest step in the Bravo-directed makeover of the brand. Over the last 18 months, she's trimmed its distribution, cut the number of licensees, and ramped up marketing and advertising. The goal is to turn the Burberry name into a brand as hip as Gucci, Louis Vuitton, or Prada."
As Burberry entered the new millennium, its financial results improved dramatically. The Asian market recovered, its European and American markets grew, and its new brand strategy began to pay off. Trading profits increased 103 percent over the previous year and sales rose by 11 percent. The company also closed nonprofitable stores and opened new stores in Las Vegas, Nevada and in Tokyo. Burberry also opened a new three-floor flagship store in London that was 16,000 square feet in size and featured new product lines including lingerie and swimwear. A new licensing agreement was signed with Mitsui in Japan, securing a greater share of profits from that region, and the firm acquired its Spain-based licensee--Spain was the firm's second largest market after Japan.
Burberry's parent announced in late 2000 that it was planning an initial public offering (IPO) of the company's stock. Great Universal Stores did not consider the company one of its core businesses, and in light of Burberry's recent successes, it considered an IPO much more lucrative than selling the firm. In 2001, Burberry management continued its aggressive brand strategy and focus on its potential in the United States and in European markets such as France and Italy. Burberry's repositioning as a leading luxury brand left its management confident that it would remain successful in the future.