Brides and Bridesmaids
The Fashion eZine - Bridal Fashion
---
This Website is Best Viewed Using Firefox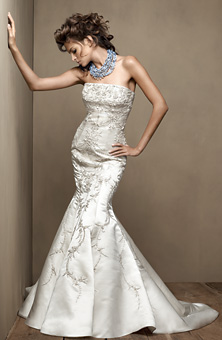 Wedding gowns for the glowing bride
May 31st 2007.
At one time, a woman did her best to hide the fact that she was pregnant at the altar. That's changed, but what hasn't is the lack of wedding gowns for expectant brides.
That's where Sarah Houston sees nothing but opportunity. Houston's Toronto-based bridal label specializes in maternity gowns.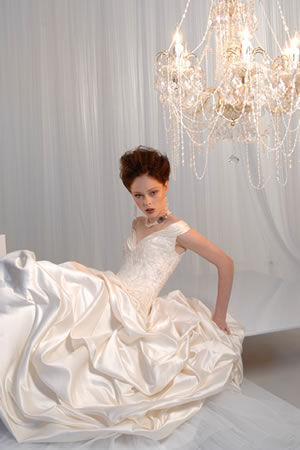 "Many women today live with their partners before they marry and they feel the clock ticking," observes Houston. "They are planning a family anyway, so they aren't as careful as they otherwise might be."
Houston believes nearly one in five women is now pregnant on her wedding day. In England, where her business has taken off, Houston says the figure is as high as 40 per cent. She also sells to five stores in the U.S. and Dina Alonzi in Toronto.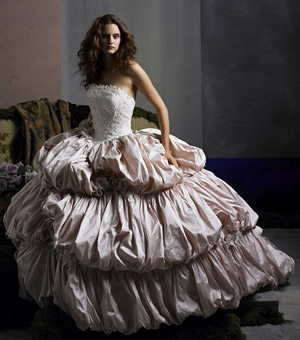 Houston launched her bridal business five years ago, after raising her four children and making clothes for herself and friends as a hobby.
"Then about two years ago there were more and more brides coming to me who were already pregnant," she says. "These women were beside themselves because most of what was available to them were polyester tents. The stores wanted to sell them a dress that was two or three sizes too big and then alter it."
Houston offers expectant brides the same fabrics and details in couture bridal gowns – silk chiffon or charmeuse, Swarovski crystal beading, handmade flowers and covered or pearl buttons. Styles emphasize the bodice, rather than the bump. Houston also developed a measurement system based on weeks of pregnancy so she can predict a bride's shape on the big day. Two-inch seam allowances leave room for adjustment.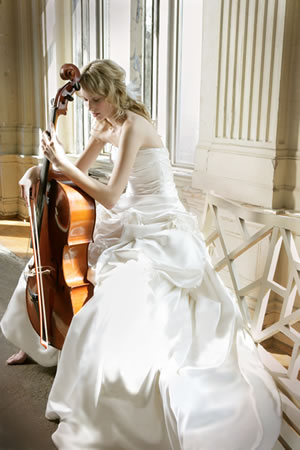 Sarah Houston gowns retail between $2,000 and $3,000. A collection for pregnant bridesmaids will launch in the fall. See sarah-houston.com.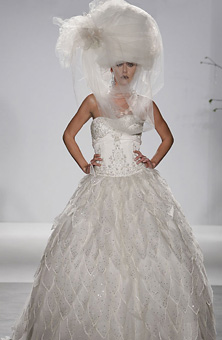 Satish Sikha and Tsufa Bijelic make gowns for the bride who doesn't mind standing out in a crowd. Sikha designs the textiles creating flourishes of floral beading and embroidery crafted in his native India. Bijelic, who he met at the International Academy of Design where both studied fashion, designs the bias-cut siren dresses and full-blown fantasies. "She gives life to my fabrics," he says. "And he gives life to my gowns," replies Bijelic, who emigrated from Croatia in 1991. The team opened a boutique at 102 Yorkville Ave. in October and have built a clientele as far- flung as Paris and Dubai. Prices start at $1,000 for a beaded shrug and $3,000 for an embroidered gown. Much higher are the dresses decorated with real rubies, emeralds and sapphires. They started using precious stones after a client's request and now have a supplier working with laser technology to turn diamonds into sewable beads. "A lot of people believe that stones touching the skin gives them luck," Sikha says. Apparently it does. Who else but a lucky few can afford the $14,500 price tag. Visit sikhatsufa. com.
With increased competition from fast-fashion houses and the Internet, traditional retailers have had to ramp it up. One new strategy is to provide a shopping "experience" and to that end TNT Blu has opened a project space at its Hazelton Lanes store. The first is Saltbox, a beach house by Parsons design student Ely Assaraf. The art, photography and fashions are all for sale.
---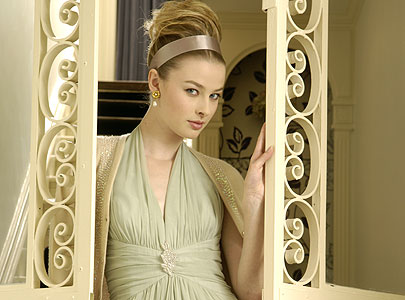 Bridesmaids revisited
May 31st 2007.
They are often the ugly stepsisters in a wedding fairy tale.
Forced to wear a garish gown and ghastly makeup, hair piled in crunchy curls, bridesmaids must stand and smile next to a vision of perfection – the bride, the princess of the day.
Though every other detail of the special day is planned and executed to precision, why is it that the bridesmaids often end up looking like a frightful fashion moment?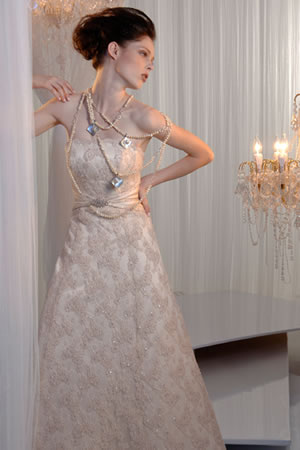 Bridal magazines aren't much help; those currently on the newsstands show a lack of style and fashion advice for matrimony's supporting players. Cover lines breathlessly address everything for the big day regarding decoration, cakes, flowers, napkin folding and chairback covers.
Even the groom, that other supporting player, can find an array of sartorial info, from advice on choosing the right tux to whether berries make good boutonnieres.
This curious lack of editorial attention to bridesmaids is a reminder that they are mere pawns who should do and wear as they are told. Even the adage "always a bridesmaid, never a bride" seems designed to reinforce their inferior status.
With that in mind, we asked local wedding experts for some style advice to ensure these essential secondary characters look their best on the big day, too.
---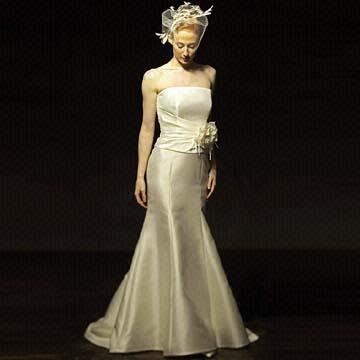 Bridal Fashions Blurring the Line
New York: The dresses are still white, feminine and omantic. But the details in the latest collections of bridal gowns look new.
Take Notice: More ethereal Grecian silhouettes, slender waist lines, bubble hems, mermaid hems, metallics and Chantilly lace.
"Dresses used to be more similar from season to season, but now they're taking inspiration from ready-to-wear," said Theresa DiMasi, editor in chief of Brides.com, after attending a week of bridal collection shows here earlier this month.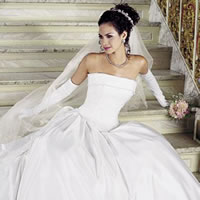 The metallic accents, along with attention to the waistline are straight from the high-fashion runways. It's worth noting that the line between fashion designer and bridal designer is blurring - Oscar de la Renta, Carolina Herrera and Badgley Mischka all present separate wedding collections, and Vera Wang and Monique Lhuillier, who both have their roots in bridal, are full-fledged fashion players.
Brides who like these au courant looks will have to be patient, and hope the fashion details have some staying power. The collections are aimed for release this fall, and most gowns purchased won't be worn until a wedding next spring.
In keeping with spring thinking, many of the dresses were floaty and dreamy, DiMasi said, but there also was an effort to make them body conscious.
"Designers know that brides are in great shape, whether they're 20 or 40, so all the silhouettes aimed to show that off. Mermaid hems, trumpets, fluted gowns - they all have elongated waists and there were not nearly as many ballgowns," she said.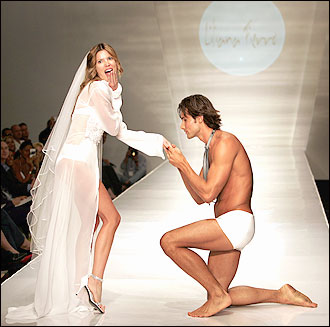 De la Renta said he tried to take into consideration that brides are getting married in a variety of places and destinations.
"For this collection, I designed something for every kind of bride. Flowing silk chiffon draped gowns for an island destination wedding, silk brocade cocktail dresses for the fashion-forward city bride, to romantic embroidered ball gowns for a classic countryside wedding," de la Renta said in an e-mail.
Sequins were more popular for cocktail-length dresses, which plays into another trend - two wedding dresses. One is grand and traditional for the ceremony, the other is shorter for the reception and after-party.