Arm Warmers
The Fashion eZine - Accessorize
---
This Website is Best Viewed Using Firefox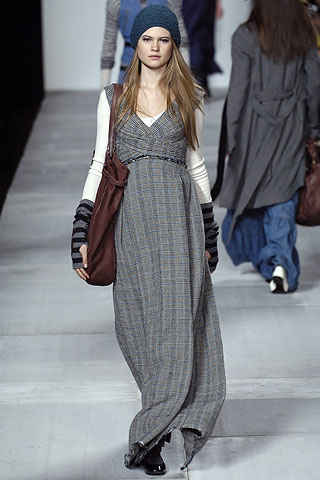 Armed and loaded
Woolly or sleek, punk or demure, this season's must-have accessory will keep you warm and stylish under those trendy three-quarter length sleeves
Arm warmers are not just the purview of Eliza Doolittle, poor little match girls, newspaper vendors, squeegee kids or TTC drivers.
The über cool kids have adopted them. Johnny Depp and Helena Bonham Carter rock them in Sweeney Todd: The Demon Barber of Fleet Street.
Celebrademic danah boyd, the high priestess of social networking on the Net who has done consulting for Yahoo and Google, wears arm warmers and funky glasses as her trademarks.
Aimee Lapedus, a visual merchandiser (which is akin to a trend spotter and demands the ability to reflect fashion trends in outfitting mannequins) has worn arm warmers – usually in multiples of two – for more than five years and has accumulated about 50 pairs.
Toronto Star stylist Derick Chetty attributes the resurgence of arm warmers to the aversion kids have to regular gloves and mitts. The current trend for three-quarter-length sleeves in coats and jackets is also a huge factor – not to mention their original purpose: keeping your arms and hands warm while allowing you to type or drive and get on with the rest of your life.
Lapedus, who's worked everywhere from Mendocino to Club Monaco and is currently at Zola Shoes, started wearing them because her arms are long and her sleeves were always too short. She wears them even in summer and loves layering them.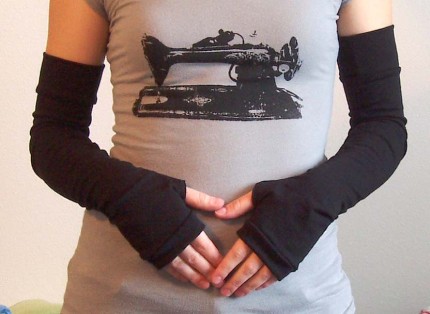 Arm warmers are available at a large and varied assortment of venues from The Cashmere Shop on Bellair Ave. to Courage My Love in Kensington Market, where they are made out of recycled sweater parts. They're also for sale at Frock on Roncesvalles Ave., Accessity and Motion on Cumberland St., Boutique LeTrou on Queen St. W. and locations of H&M, Urban Outfitters and Winners.
Arm warmers are virtually sold out at Holt Renfrew on Bloor St. They still have a version with built-in gloves and fur at the wrist, reduced to $289 from $725 and a fabulous pair built into black patent leather gloves with studs. They are on sale at $99 from $175, probably because the fingers are so long, they channel Cat Woman. But they'd be perfect for the drag queen on your Valentine's list.
Arm warmers come in all permutations: from wild and woolly to sleek and sexy to rock and roll.
"They have become one of our most popular items," says Alison Currie, owner of The Cashmere Shop. Currie carries them in tons of colours and in two styles of two-ply cashmere: the short version for $45 and opera length for $75.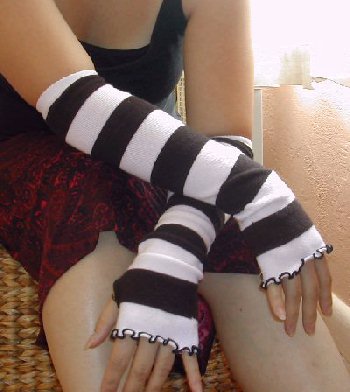 "The short ones sell well even in spring and summer," Currie says. "They are worn with short-sleeved shirts because they look like cuffs."
They come at all price points. I started accumulating them about six years ago and the most I've spent was $55 for a pair of leather ones, reduced from $80. The least I spent was $5 for a pair of Hue arm warmers on sale at one of those shops under the Holt Renfrew Centre en route to the subway.
I bought my first pair at Trash and Vaudeville in St. Mark's Place in New York. They were pink and punk, with bold inscriptions in black that included the now-defunct club CBGB, Smashing Pumpkins, Angry Samoans, Joan Jett, 10,000 Maniacs, Talking Heads, Blondie, Pussy Galore and Wendy O. Williams. What was I thinking, buying them in pink? Fortunately, they have faded to dirty white.
They are available with or without the finger loop. The disadvantage of the loop is that you have to roll them up to wash your hands.
Arm warmers can be co-ordinated with a pair of gloves – or not. You can just go commando.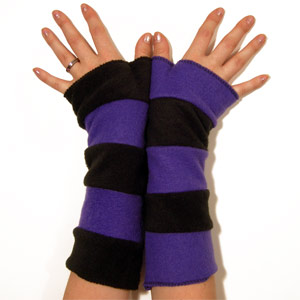 Lapedus is a master of accessorizing them. She's been a stylist since she was 6, when her friends demanded to know what she was wearing and where could they get it. Now women seek out Lapedus to weed through their wardrobes.
"A lot of professional women don't know what they are doing," she says. "I tell them to wear their YSL jacket with an American Apparel T-shirt."
And they can even incorporate arm warmers into the look. "I tell them to wear long-sleeve warmers under a cocktail jacket."
Arm warmers are guaranteed conversation starters.
"People stop me all the time," Lapedus says. "I get ridiculous comments from guys like, `What? Are you in a Rocky match.' If I wear a crème pair with white, they'll say, `Are your arms broken?' Or I'll get, `Are you a squeegee kid?'"
Footnote: old leg warmers (which Lapedus wears with boy shorts) can be adapted easily into arm warmers. She has even made a pair out of old hockey socks.