Aline Nakashima
The Fashion eZine - Supermodels
---
This Website is Best Viewed Using Firefox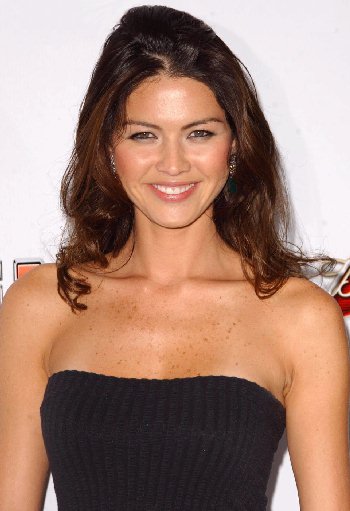 Freckled Beauty
Born in Sao Jose Dos Campos, near São Paulo Brazil in 1982 from a Japanese father and Portuguese-Brazilian mother, Aline Nakashima was discovered 17 years later in 1999 at a model tryout in Brazil.
Raised in Brazil the fresh-faced Aline Nakashima possesses the sort of exotic looks and 34 - 24 - 35 figure are that one generally associates with a jet-setting supermodel. Aline has always been keenly aware of her unique beauty, though it never occurred to her that a career within the modeling industry was a possibility until her late teens. She initially wanted to be a dance teacher. At the encouragement of her family and friends she decided to attend a modeling tryout when she was 17. She was hired on the spot by the Marilyn Agency in São Paulo.
Aline spent the next several years taking on any gig she could find, and eventually began appearing in print ads and commercial spots for such esteemed names as Ralph Lauren, Saks Fifth Avenue and Neiman Marcus.
Since then the 5'9" tall freckled Aline Nakashima has modelled for ALDO, Armani Exchange, DKNY, GAP, Esprit, Kenneth Cole 'Reaction' fragrance, Lycra, MAC, Morgan, Mercedes-Benz, Neiman Marcus, Nordstrom, Playtex, Ralph Lauren, Saks Fifth Avenue, Sephora, Triumph International and Victoria's Secret.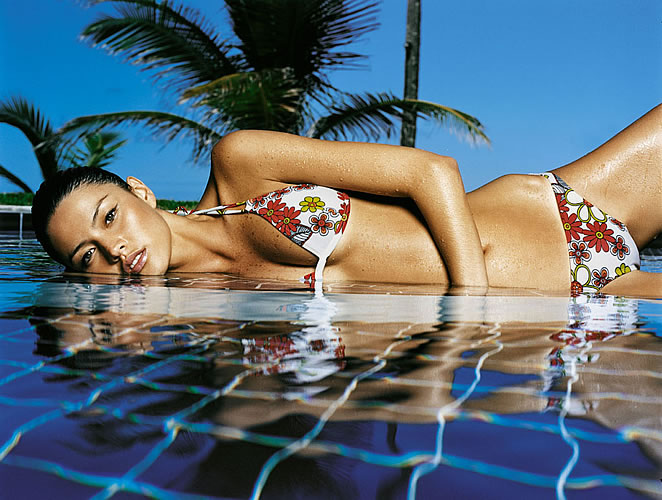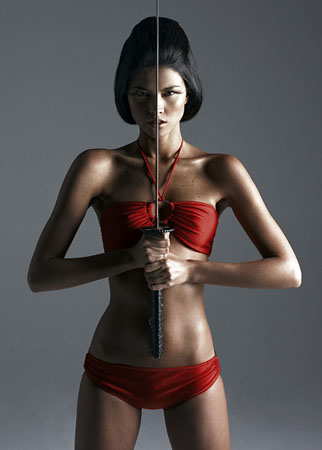 The dark haired and exotic looking green eyed minx biggest break was when she made two appearances in the Sports Illustrated Swimsuit Edition in 2006 and 2007 (Aline made such an impact on the magazine's readers that she was asked to pose again the next year). She was also featured in the Sports Illustrated Swimsuit Edition DVD with six other Brazilian models.
"I have the whole Brazilian thing down. I like to party, but I have an Asian side, so I sometimes like being quiet and having time of my own." - Aline Nakashima.
If Aline Nakashima was not a model she says she would like to be a masseuse.
"I practice on my friends and beg them: Let me do your back, please!" - Aline Nakashima.
Aline enjoys swimming, basketball, soccer and having fun in the sun. The fact that she get freckles doesn't seem to matter. She currently lives and works in New York City.
Photos of Aline Nakashima
Aline Nakashima #01
Aline Nakashima #02
Aline Nakashima #03
Aline Nakashima #04
Aline Nakashima #05
Aline Nakashima #06
Aline Nakashima #07
Aline Nakashima #08
Aline Nakashima #09
Aline Nakashima #10
Aline Nakashima #11
Aline Nakashima #12
Aline Nakashima #13
Aline Nakashima #14
Aline Nakashima #15
Aline Nakashima #16
Aline Nakashima #17
Aline Nakashima #18
Aline Nakashima #19
Aline Nakashima #20
Aline Nakashima #21
Aline Nakashima #22
Aline Nakashima #23
Aline Nakashima #24
Aline Nakashima #25
Aline Nakashima #26
Aline Nakashima #27
Aline Nakashima #28
Aline Nakashima #29
Aline Nakashima #30
Aline Nakashima #31
Aline Nakashima #32
Aline Nakashima #33
Aline Nakashima #34
Aline Nakashima #35
Aline Nakashima #36
Aline Nakashima #37
Aline Nakashima #38
Aline Nakashima #39
Aline Nakashima #40
Aline Nakashima #41
Aline Nakashima #42
Aline Nakashima #43
Aline Nakashima #44
Aline Nakashima #45
Aline Nakashima #46