Alex Lundqvist
The Fashion eZine - Supermodels
---
This Website is Best Viewed Using Firefox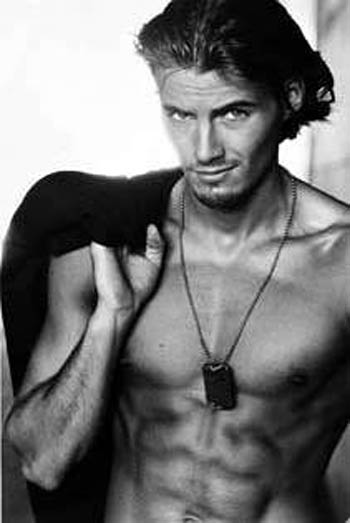 Swedish Stud
Dark blond hair and blue eyes, Alex Lundqvist was born on April 14th 1972 in the Swedish city of Stockholm.
Alex had a idyllic liberal Swedish childhood which came abruptly to an end at eighteen with mandatory one-year national service in Sweden's army. The army transformed him into a muscular tank platoon commander and tall shy boy had to shave his head so often that he swore that when he came out he'd never shave again.
As a result the 6'2" tall Alex Lundqvist has rugged good looks that has become his insignia, combined with a physique that makes women drool. Combined with Alex Lundqvist's somewhat shy, polite and considerate personality he has become one of the world's top male models in the world, often remembered for his "GUESS?" advertising images.
Alex Lundqvist studied computer graphic design after the army and was already set to go into the advertising industry when a girlfriend suggested he should be a male model. With a chin covered with stubble he went out to have some test shots taken.
In the summer of 1994, he met photographer Bruce Weber and Wilhelmina agent Sean Patterson, who tracked him down after spotting Alex Lundqvist's photo in an obscure publication. The two proved instrumental in launching his career. Immediately, Versace booked him for a worldwide campaign with Helena Christiansen, shot by Bruce Weber, which further led to doing the Lagerfeld campaigns in Europe and Guess in the US.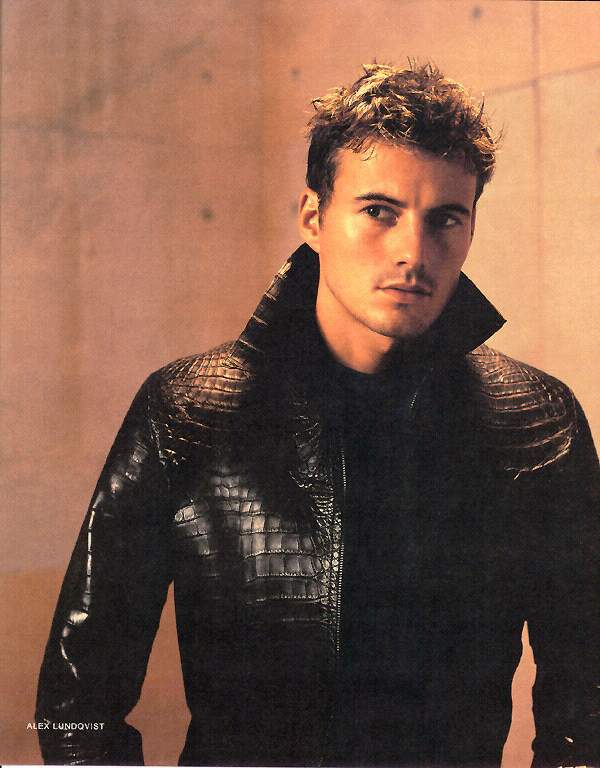 In April of 1995 he appeared in the Lagerfield campaign with Nadja Auermann and less than a week later he was chosen for the 1995 "GUESS?" campaign with Laetitia Casta and Valeria Mazza. From 1995 to 1997 Alex Lundqvist appeared in a number of "GUESS?" campaigns and television commercials.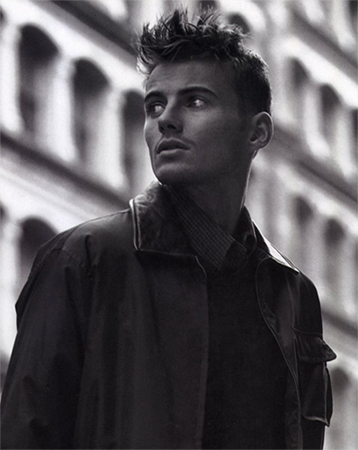 Afterwards Alex Lundqvist Was immediately considered to be a top male supermodel and appeared in magazines such as Playgirl, Elle, Top Model, Paper Magazine, GQ, and New York Magazine and interviewed on MTV's House of Style with his friend and fellow model, Mark Vanderloo.
Alex Lundqvist currently lives in New York and works for a number of designers. He enjoys professional paintball, traveling and modeling, describing himself as a nice individual who loves life.
He is a professional paintball player for the teams Jersey Authority in the National Professional Paintball League (NPPL) and Russian Legion in the Paintball Sports Promotion (PSP) National X Ball League (NXL). He is also the brother of professional paintball player Maximus Lundqvist of Stockholm Joy Division.
As one of world's top male models, Alex Lundqvist appears in countless fashion magazines, and walks the biggest designer's runways. In February 1995 Alex did runway shows in Paris, Milan and New York for Valentino, Versace, Armani, Gucci and Calvin Klein.
Photos of Alex Lundqvist