Ajuma Nasenyana
The Fashion eZine - Supermodels
---
This Website is Best Viewed Using Firefox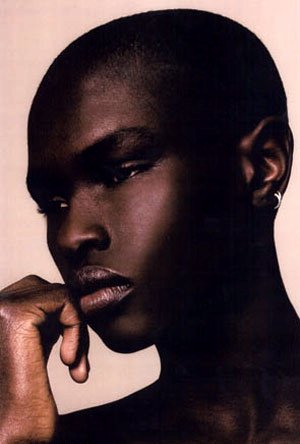 Kenyan Beauty
Ajuma Nasenyana was born in Lodwar, Turkana District in Kenya on August 16th 1984.
The green-eyed beauty's first foray into modelling was in the Miss Tourism Kenya competition in 2003, at which she was crowned Miss Nairobi.
As Miss Nairobi she came to the attention of Lyndsey McIntyre of Surazuri modelling agency, who immediately spotted her international potential.
The Gamma photo agency came to Kenya to do a story on Lyndsey's scouting work and were so taken with the beauty of the 5'10" Ajuma that she became the main feature of the story, which later ran in Gala Magazine, France. The pictures that were taken on this shoot were to provide the basis for Ajuma's portfolio, and these were duly presented to top international agency Ford Models, who signed her up for the Ford Models Supermodel of the World Competition.
In November 2003 Ajuma travelled to Europe to build her portfolio prior to the Supermodel finals in New York. She was soon signed up with top agencies in London, Italy, Austria, Spain, Ireland, Canada and Sweden.
At the finals on January 20 2004, Ajuma sashayed down the catwalk in New York to rapturous applause from both the audience and the press. She made modelling history when she became the first black model to win a contract (worth USD 50,000) in an international competition open to all races, and from then on she has not looked back.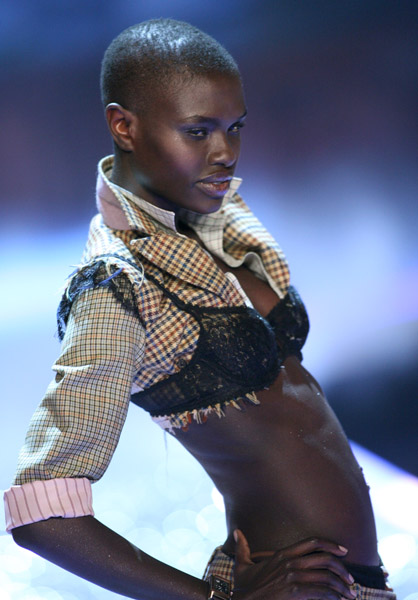 Ajuma participated in the New York Fashion Week alongside Naomi Campbell and Alek Wek for designers such as Baby Phat and Carlos Mienes before travelling to Milan to model for fashion houses such as Ungaro during the Italian Fashion Week. Paris was the final destination during the winter show season and she particularly struck leading British designer Vivian Westwood, who made her the lead model in her show.
She was also featured as one of the Victoria's Secret Angels, in their 2006 fashion show.
Ajuma has continued with her hectic schedule and has shot several magazine editorials, a video for Lacoste and a catalogue for Issey Miyake. She currently lives in London England.
Hair Color: Black
Eye Color: Green
Height: 5'10.5" ; 179cm