Agent Provocateur
The Fashion eZine - Fashion Brands
---
This Website is Best Viewed Using Firefox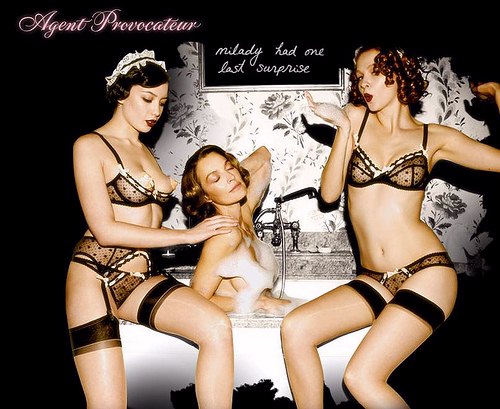 Agent Provocateur
Joseph Corré and Serena Rees opened the first Agent Provocateur shop in December 1994, arousing a media frenzy usually reserved for superstars. The response was both exceptional and overwhelming!
Rees and Corré introduced their vision of lingerie avoiding the British prudery that insists on categorising anything to do with sex as sleazy or smutty. The aim was to create an availability of high quality designer lingerie with creative flair to stimulate, enchant and arouse both wearers and their partners.
"A woman wearing a scrumptious pair of turquoise tulle knickers promotes in herself a sexy superhero feeling which exudes itself as a confident and positive sexuality."
Agent Provocateur has become a phenomenal success with the opening of further stores within the UK, America, Middle East, Russia, Hong Kong and Europe. As well as a thriving mail order catalogue and an award winning website. The unique way that Rees and Corré established the brand through the creative communication of values using shop windows, cinema advertising, catalogues and events which all attracted massive national and international media coverage has firmly secured Agent Provocateur as the only truly credible lingerie brand on the fashion map and spawned the explosion of lingerie into the fashion world. Agent Provocateur has gone on to design and produce complementary products including books, shoes, jewellery and a very successful house of fragrances and beauty products which is now sold in over 65 countries worldwide.
At the heart of Agent Provocateur is a profound belief in the intimacy of the experience that they offer. Corré describes it as the difference between a mass experience, dictated by market forces and meaningless advertising, and an intensely private, wholly personal experience. This 'personal experience' involves the relationship of each individual woman with the garment she selects, and is realised by the company through quality, service, and an absolute refusal to adhere to fluctuating trends. As Agent Provocateur enter their thirteenth year, the company remains committed to investment in creativity led by pure instinct of that which is beautiful, and of course, that which is erotic. Agent Provocateur leads the way where others follow.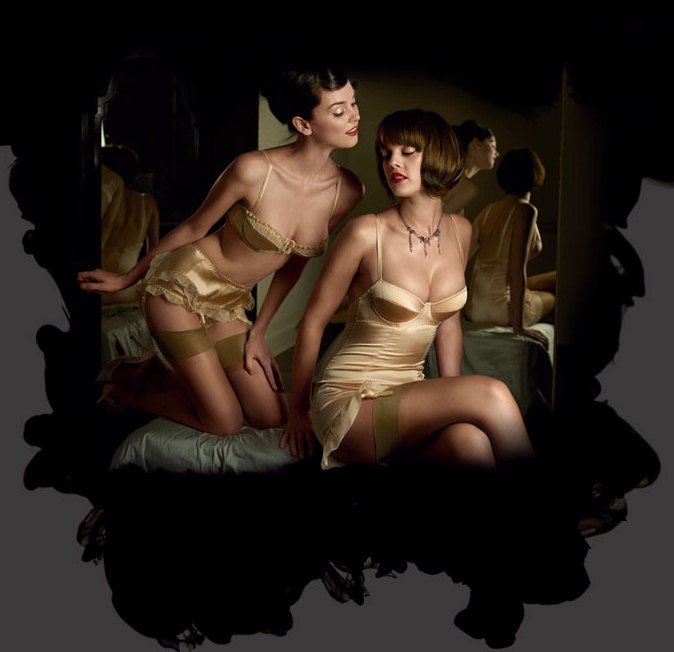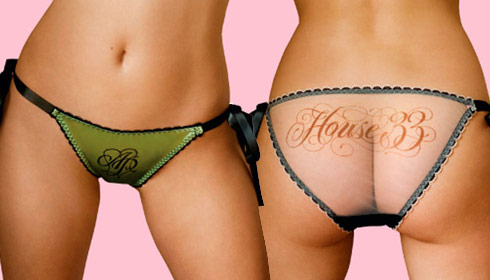 Agent Provocateur Chronology
1994: Birth of Agent Provocateur at 6 Broadwick Street, Soho, London
1999: The now famous and award winning www.agentprovocateur.com was launched to become one of the most sought after sites, gaining over 43 million hits a month.
2000: March: Agent Provocateur adds a touch of spice to Marks & Spencer undies. Commissioned by the high street giant to design an exclusive line of sumptuous smalls, the 'Salon Rose' range brings luxurious designer lingerie to the masses.
2000: August: Marked the launch of Agent Provocateurs first signature fragrance by the same name.
2001: Proving that Agent Provocateur really is the most erotic lingerie in the world Kylie Minogue shows the world how to do it in the 90 second cinematic sizzler 'Proof'. The official advert ran in cinemas in the London area and exclusively at agentprovocateur.com where over million people viewed it. An unofficial version traveled the world via email reaching people up to 4 times a day and coined the phrase 'Viral Marketing'.
2003: Agent Provocateur launches a nationwide search for real women to feature in their new campaign. Thousands of applicants apply casting is extended for extra days, Agent Provocateur invite 50 to final casting. From this, 15 are chosen to front the campaign. The final 15 become Agent Provocateur's deadly agents.
2004: Agent Provocateur's venture into the world of music - 'Peep Show' is launched. Written and produced by Joseph Corré and Luca Mainardi, the album showcases thirteen eclectic tracks
2005: February: Happy birthday Agent Provocateur! Agent Provocateur celebrates a decade of provocation at Café de Paris on Valentines day during London Fashion Week
2005: September: The launch of 'Exhibitionist' a collection of photographs featuring the famous shop window displays, this book was the first official book released in a subsequent succession of Agent Provocateur erotic publishing ventures.
2006: Marks the launch of Agent Provocateurs phenomenal and groundbreaking film 'The four dreams of Miss X'...