Adriana Lima
The Fashion eZine - Supermodels
---
This Website is Best Viewed Using Firefox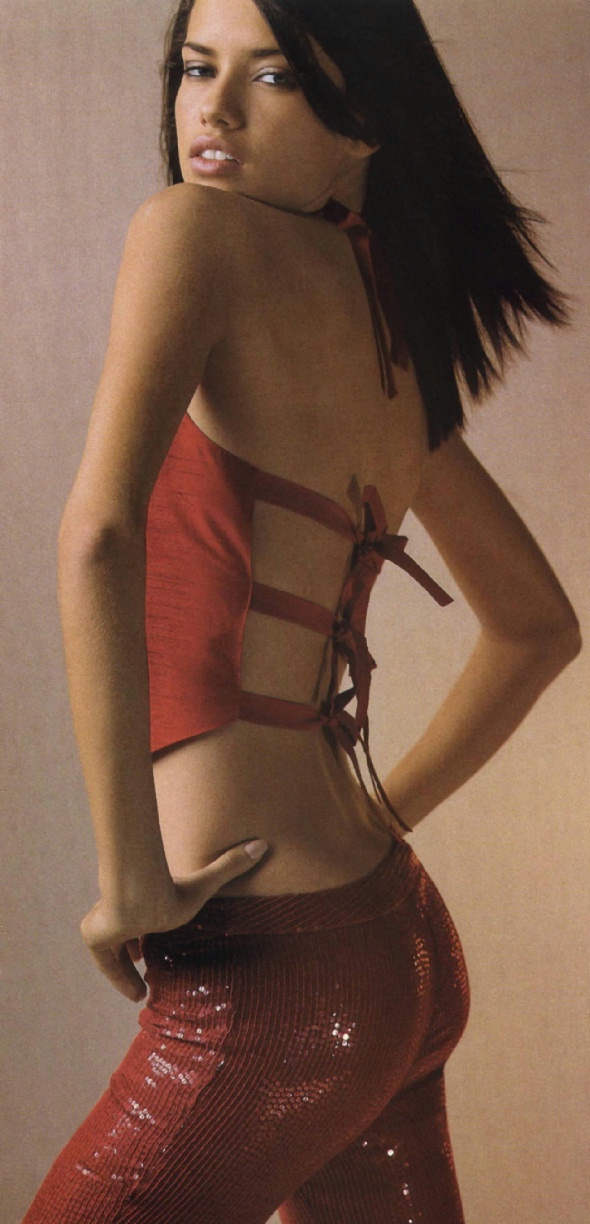 The Virgin Brazilian
Born June 12th 1981 in El Salvador, Brazil.
Adriana Lima began modelling at the young age of 13 when a modelling agent discovered her at a mall. As a child she dreamed of helping other children and is now using her celebrity status to aid orphanages in Brazil. When she was 6 months old her father (Nelson Torres) walked out on her mother (Maria da Graça Lima, a social worker) and she has a strong empathy for the poor, homeless and orphans.
At age 15 Adriana Lima won the Ford Supermodel Of Brazil contest and placed second in the Ford Supermodel Of The World contest. Shortly after, speaking only broken English, she moved to New York City and signed a contract with Elite Model Management. She quickly ended up on the Vassarette billboard at New York City's Times Square and rose quickly to the top of the modelling industry.
Her early career consisted mostly of fashion editorial work (with early appearances in international editions of Vogue and Marie Claire in 1997/1998), as well as runway work (Christian Lacroix, Valentino, and others). Her print career followed and Lima became a GUESS? Girl in their 2000 Costanoa face campaign.
Her unusual mix of African, Swiss, French, Portuguese, Native American, and Caribbean heritages, lithe 5'10" (178 cm), 33 - 24 - 34 figure, dazzling blueish green eyes and brown hair made her stand out in the crowd of skinny blondes that usually traverse the catwalk.
Lima is probably best known for her work with Victoria's Secret.
She first graced the Victoria's Secret Fashion Show in 1999 and has appeared on subsequent shows ever since. Her most notable walk down the runway was in 2003, where she was the show opener. Lima had appeared on several television ads for the brand but her most memorable one, was appearing alongside the legendary rock musician Bob Dylan in 2003 Victoria's Secret Angel in Venice commercial which received both praise and criticism. She is currently a contract 'Angel' and spokesperson for the brand.
Lima is also a spokesperson for cosmetics giant Maybelline New York. She was the world's fourth highest paid supermodel during 2007.
Her April 2006 GQ cover was the highest-selling issue of the year. Her other notable works include the well-famed Pirelli Calendar 2005 and the face of Italy's big cell phone carrier Telecom Italia Mobile where she became known as the "Catherine Zeta-Jones of Italy."
Since her rise to fame Adriana Lima is often cited by popular media as one of the world's sexiest women. She ranked 7th on FHM 100 Sexiest Women 2007 and was chosen as one of People Magazine's annual 100 Most Beautiful People in the World, in May 2007. On June 13, 2007, she was awarded as "Hottest Girl on the Planet" at the first Spike TV Guys' Choice Awards. Lima was also voted on the Maxim Hot 100 2007 as number 53. She was voted as the Most Desirable Woman in 2005 by visitors of the largest men's lifestyle website Askmen.com.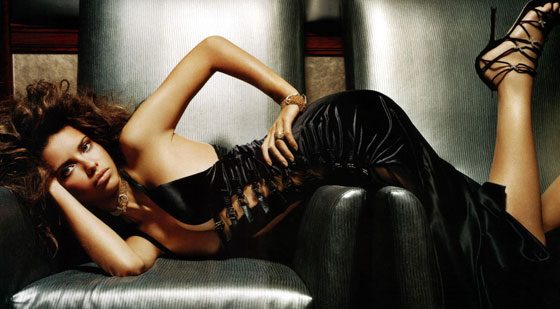 Personal Life
Lima is fluent in three languages—Portuguese, Spanish and English. In her free time, she loves reading a novel by her favorite author, Gabriel Garcia Marquez.
She has has been romantically linked to celebrities in this past, including a rumored engagement with rocker Lenny Kravitz (she appears in his video for the song "Yesterday Is Gone") and Major League Baseball player Derek Jeter. She is currently known to be dating Prince Wenzeslaus of Liechtenstein. This relationship has been a relatively hot topic for gossip columns and celebrity watchers.
Lima claims publicly that she remains a virgin (she is a devoted Catholic who attends church every Sunday) and says that "They (men) have to respect that this is my choice. If there's no respect, that means they don't want me." Lima has admitted that she was shy around boys when she was younger and didn't receive her first kiss until she was 17 years old. US GQ dubbed her as "The World's Most Voluptuous Virgin."
"Sex is for after marriage." -Adriana Lima
Film Career
In 2001 Lima starred in "The Follow", a BMW short film alongside actors Mickey Rourke, Clive Owen, and Forest Whitaker. The film was directed by Hong Kong film director Wong Kar-Wai.
The short film depicts Adriana Lima as an actress being pursued by a hitman sent by her estranged husband.
Charity
Adriana Lima does charitable work helping with an orphanage, "Caminhos da Luz" (Ways of Light), located in her hometown. She helps with construction to expand the orphanage, and buys clothes for poor children in Salvador, Bahia.